Goulash is a very popular meal to enjoy anytime. But eating at restaurants can be boring sometimes. It will be super exciting if we can enjoy it whenever we want. To do so, you need to learn how to prepare it at home. 
However, I personally prefer Trisha Yearwood Goulash Recipe which is absolutely perfect and tangy. Whenever I feel a little bit lazy, I just grab some ground beef and prepare this Michigan goulash recipe in no time. Let's see how I prepare it at home!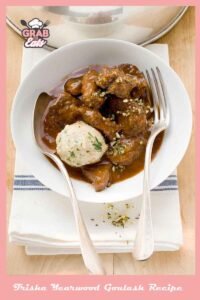 Trisha Yearwood Goulash Recipe: 
To me the preparation process is divine, chopping the vegetables, cutting, slicing ingredients, grounding meats are so satisfying. In this recipe, we don't have much to prepare but I enjoy it a lot even if I'm tired. However, let's see what we need and the process for the recipe. 
Ingredients that you will need are:
2 Lbs of Ground Beef
1 Cup of Yellow Onion, Finely Chopped
1 Tsp of Garlic, Finely Minced
1/2 Tsp of Red Pepper Flakes
½ Cup of Green Bell Pepper, Finely Chopped
¼ Cup of Red Bell Pepper, Finely Chopped
4 Tsp Worcestershire Sauce
1 Tbsp of Granulated Sugar
1 Tbsp of Italian Seasoning
1 Tsp of Sea Salt
1 Tsp of Paprika
1 Tsp of Freshly Ground Black Pepper
2 Bay Leaves
2 Cups of Water
3 Cups of Elbow Pasta, Uncooked
10 Oz of Canned Corn, Drained
1 Cup of Sour Cream (for Serving, Optional)
1 Cup of Shredded Cheddar Cheese (for Serving, Optional)
Methods of Preparing Southern Goulash Step by Step: 
Step 1: Take out a Dutch oven. If you don't have a dutch oven, you can just use a heavy bottom pan. Turn on your stove over medium-low heat and lightly grease the Dutch Oven.
Step 2: Add 2 lbs of ground beef, 1 cup of chopped onion, ½ cup of chopped green bell pepper, and ¼ cup of chopped red bell pepper. Stir with a spatula and let cook for 5 minutes.
Step 3: After 5 minutes or more, when the meat is no longer pink, discard the moisture from the pan. You can save it as well.
Step 4: Return the Dutch oven to heat and add 1 tsp of garlic and ½ tsp of red pepper flakes. Stir and allow them to cook for 1 minute to 2 minutes.
Step 5: Now, add 2 cans of diced tomatoes, 2 cans of tomato sauce, 2 bay leaves, and 1 tbsp of granulated sugar. Give it a quick stir until the sugar dissolves.
Step 6: Time to sprinkle all the seasonings: 1 tsp of freshly ground black pepper, 1 tsp of sea salt, 1 tbsp of Italian seasoning, 1 tsp of Cajun seasoning, and 1 tsp of paprika.
Step 7: Allow the mixture to simmer for 7 minutes to 10 minutes.
Step 8: Afterwards, add 3 cups of uncooked pasta along with 2 cups of water.
Step 9: Cover the lid of the Dutch Oven and continue simmering for approximately 15 minutes to 18 minutes or until you notice the pasta is completely cooked.
Step 10: When done, take out the bay leaves in case you don't bother while serving.
Step 11: Remove the dish from the heat and add your last ingredient 10 oz of canned corn. Give it a stir and it is done!
Serving:
This southern goulash with corn recipe yield is for 6 servings, so divide the dish into 6 serving bowls and sprinkle desired cheddar cheese along with 1 tbsp of sour cream.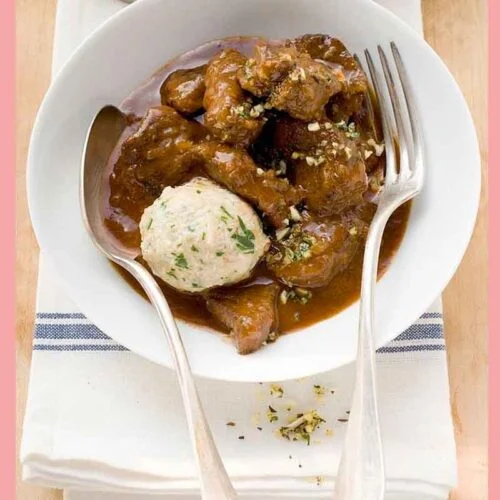 Trisha Yearwood Goulash Recipe
Check out this absolutely amazing Trisha Yearwood Goulash Recipe, very easy to prepare within no time. Grab some fries and enjoy the dish!
Print
Pin
Ingredients
2

lb

ground beef

1

Cup

onion

1

tbsp

garlic

1/2

tbsp

red pepper flakes

½

Cup

green bell pepper

¼

Cup

red bell pepper

4

tbsp

Worcestershire sauce

1

tbsp

granulated sugar

1

tbsp

Italian seasoning

1

tbsp

sea salt

1

tbsp

paprika

1

tbsp

freshly ground black pepper

3

Cup

elbow pasta

10

oz

canned corn
Instructions
Cook the ground beef with onion, garlic, bell peppers.

Add pepper flakes, Worcestershire sauce, and granulated sugar.

Mix the seasonings with tomato sauce and diced tomatoes.

Cook elbow pasta with water in the mixture.
Tips
While cooking elbow pasta, check occasionally whether it is overcooked or not. 

Don't add the canned corn earlier, it will ruin the whole taste of the recipe. 

According to your taste, you can increase or reduce the amount of sea salt. 

If you are using a heavy-bottomed pan, make sure nothing gets stick to the bottom of the pan. 

If you don't have ground beef, process on a food processor and it won't take more than 10 minutes at all.
Nutrition
Nutrition Facts
Trisha Yearwood Goulash Recipe
Amount per Serving
% Daily Value*
* Percent Daily Values are based on a 2000 calorie diet.
Conclusion:
Enjoy all American skillet goulash with your family members and friends in a small get-together. Though I live alone, I like to feed people new new dishes. The taste is so amazing that you can't help trying it at home. Many of you don't live in America, here with the recipe you can enjoy them a lot. Bon Apetite!
You May Also Like: