Store-bought dressings are expensive as hell! It's especially true when you want to buy vinaigrette. Now, you get a versatile flavor from store-bought salad dressings, but homemade ones are best in ensuring quality. This may surprise you, but homemade lemon vinaigrette is an excellent dressing during summer. 
The tangy lemon sauce is surprisingly easy to make at home. So, how can you make it without using any expensive ingredients? Well, we have a copycat of Girodano's Lemon Vinaigrette recipe here. Just follow our instructions to get a jar full of bright yellow salad dressing.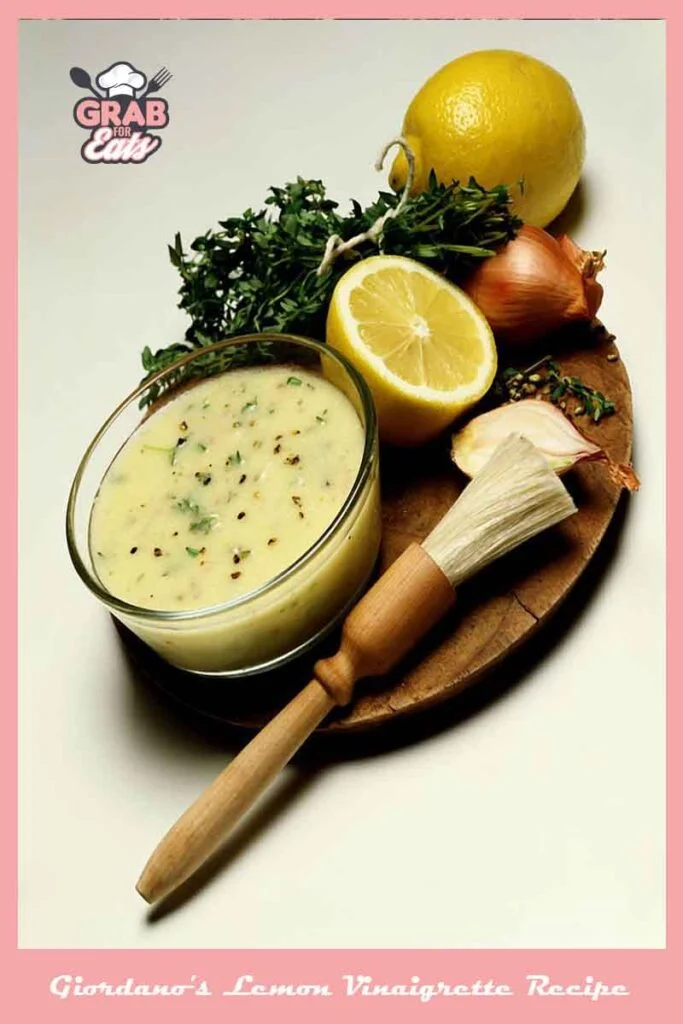 Know About the Recipe and Ingredients
Fresh Lemons: We will need the zest from fresh lemons. The yellow outer layer of a yellow lemon helps obtain a golden color in vinaigrette. Use a knife or spoon to scrape off the lemon zest from a fresh lemon. 
Lemon Juice: Don't throw the lemon away that easily. The citrusy flavor from lemon juice is refreshing for any salad. 
Dijon mustard: Dijon mustard can pack a bit of spicy heat in the zesty vinaigrette. Alongside the sour lemon juice, dijon mustard can blend well. As a result, it will disperse versatile flavors in our dressing. 
Garlic Cloves: Now, the garlic cloves are there to add intense flavors to our salad dressing. It's mainly a flavoring ingredient for the dressing. 
Salt: Now, we should be careful while using salt in the dressing. Adding too much can result in bad results.
Ground Black Pepper: The lime pepper sauce can get the best flavors if we use fresh ingredients. 
Extra Virgin Olive Oil: The oil is obviously the most important base for our lemon dressing. It will add an alight but golden note to the salad dressing. 
How to Make Lemon Pepper Salad Dressing?
Yes, you can try out different fancy store-bought salad dressings. Nonetheless, nothing can beat the flavors and versatility of homemade salad dressing. The tangy lemon sauce is an excellent salad dressing for homemade recipes. The base for this salad dressing is obviously lemon juice. 
Although it may be true that store-bought salad dressings are best for flavors. The lemon and oil are the main ingredients for this Giordano sauce. So, what makes us so confident about this salad dressing? First of all, store-bought dressings never use extra virgin olive oil in any salad dressing. Instead, they use Evoo, which is not a healthier variety. 
With this in mind, homemade dressings offer freshness and authentic flavors. Furthermore, you can make the lemon pepper salad dressing within 5 minutes. Surprising, isn't it? Not to mention the fact that this dim yellow dressing goes well with just about any dish of your choice. 
So, let's not discuss more and look at the preparation for making the salad sauce. 
Ingredients We Need
1/4 Teaspoon of Lemon Zest
1/4 Cup of Lime Juice
1/2 Cup Extra Virgin Olive Oil
1 Tablespoon of Dijon Mustard
1/2 Tablespoon of Salt
1/4 Tablespoon of Freshly Ground Black Pepper
2 Garlic Cloves
Step by Step Instructions
Step 1: Take a small bowl and combine lemon zest, lime juice, dijon mustard, pressed garlic, salt, and pepper. 
Step 2: Then, we start whisking all the ingredients. 
Step 3: Stop to check whether our lime dressing developed a milky being or not. 
Step 4: When we get a milky sauce, slowly start to pour the extra virgin olive oil. 
Step 5: While adding the olive oil, slowly whisk the mixture. 
Step 6: We need to emulsify the whole lemon pepper dressing. 
Step 7: Store the salad dressing in a clean glass jar.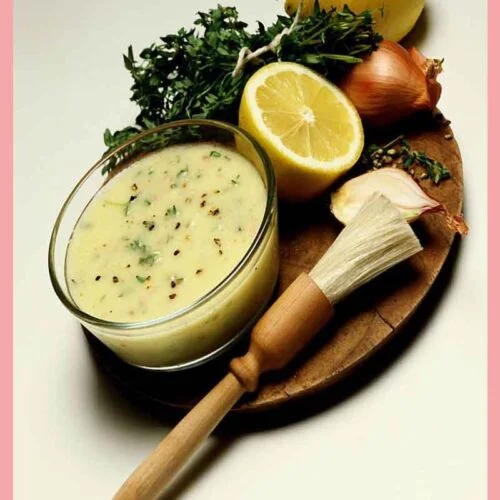 Giordano's Lemon Vinaigrette Recipe
Have you ever thought Giordano's lemon vinaigrette recipe can beat the flavors of any store-bought salad dressings? Follow our recipe here.
Print
Pin
Ingredients
1/4

tbsp

Lemon Zest

1/4

Cup

Lime Juice

1

tbsp

Dijon Mustard

2

Garlic Cloves

(pressed)

1/2

Salt

1/4

Ground Black Pepper

1/2

Extra Virgin Olive Oil
Instructions
Whisk all the ingredients except olive oil.

When we have a milky sauce, start pouring the olive oil

Emulsify the whole lemon pepper dressing and store in a glass jar
Tips
There's another way to emulsify the lemon vinaigrette. Use a glass jar to combine all the ingredients by shaking them together. But whisking is the best way to make this beautiful dressing. 

The saltiness depends on the per tablespoon recommendation from each brand. So, make sure you are careful while using the salt. 

You can store Giordano's lemon vinaigrette in a glass jar and refrigerate the salad dressing for at least 10 days.
Nutrition
Nutrition Facts
Giordano's Lemon Vinaigrette Recipe
Amount per Serving
% Daily Value*
* Percent Daily Values are based on a 2000 calorie diet.
Wrapping Up
Our lemon vinaigrette calories can brighten your days. Not to mention, the yellow tangy salad dressing can pair with just about any kind of salad on the menu. And it's pretty easy to make – just 5 minutes of whisking together all the ingredients. So, why spend extra cash on store-bought lemon vinaigrette? Just make it yourself at home.
You May Also Like: