Prego Spaghetti sauce has retained its fame worldwide for the delicious sauce which incorporates so well with spaghetti or any other kind of pasta. This Italian Spaghetti sauce ensures your spaghetti tastes tomato-y, creamy, and flavorful. What makes their sauce so unique is the rich, thick flavor that gives the total dish an earthy and herby vibe. However, since it is a canned condiment, the freshness can't be always guaranteed. If you want a similar flavor and texture of the sauce but fresh and homemade, this Prego spaghetti sauce recipe is the hidden gem you were looking for. 
So, without further ado, let's make some copycat Prego spaghetti sauce.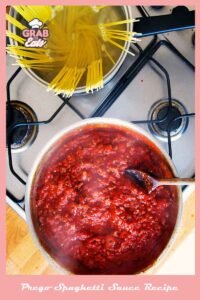 Prego Sauce Ingredients
Crushed tomatoes: Since we want this recipe to come out fresh, you need to use fresh crushed tomatoes. You can control the chunkiness of the tomatoes as per your desire. You will need 28 ounces or 1 can of crushed tomatoes. 
Tomato puree: For this homemade Prego spaghetti sauce, the first element is tomato puree. For the best result, you need to make a puree with garden fresh tomatoes. If not possible, the store-bought puree will work fine as well. Here, you will need 1 can or 29 ounces of tomato puree. 
Olive oil: Italian dishes can't be imagined without olive oil as their fat source. So, include 2 tbsp of olive oil in the recipe. 
Sugar: The sauce has many spice components. To balance the flavor, you will need 4 tbsp of sugar. 
Onion: Onion will provide a pungent and sharp flavor to the copycat Prego spaghetti sauce. 1/2 an onion, finely chopped will work.
Garlic: Garlic flavor is always an integral part of this Prego spaghetti sauce recipe, especially an Italian sauce. You need 1 large garlic clove, minced properly. 
Black pepper: The crucial spice element. 1/2 tsp of freshly cracked black pepper will do. 
Dried oregano: Italian sauce without oregano will never be complete. So, add 1/2 tsp of dried oregano. 
Dried parsley: Parsley gives a fresh, minty flavor to the recipe. 1 tsp of dried parsley should be included. 
Dried basil: 1 tsp of dried basil will give a green mosaic pattern to the Prego spaghetti sauce recipe. 
Salt: for taste, 1 tsp of salt.
How to Make Prego Spaghetti Sauce Step by Step?
Step 1: In a large pot, heat the olive oil at medium-low temperature. 
Step 2: Add garlic and cook until it reaches a golden brown tone. 
Step 3: Soften the onion with garlic and stir until golden brown color comes out.
Step 4: Add the ingredients one by one. Keep stirring. 
Step 5: Let the concoction boil for 10 minutes. 
Step 6: Turn the heat to low flame and simmer the concoction for 1 hour. The lid should be loosely attached and stir the mixture occasionally so that the tomatoes do not gets stuck. 
Step 7: When the sauce reaches perfect consistency, turn off the heat and pour over the hot spaghetti.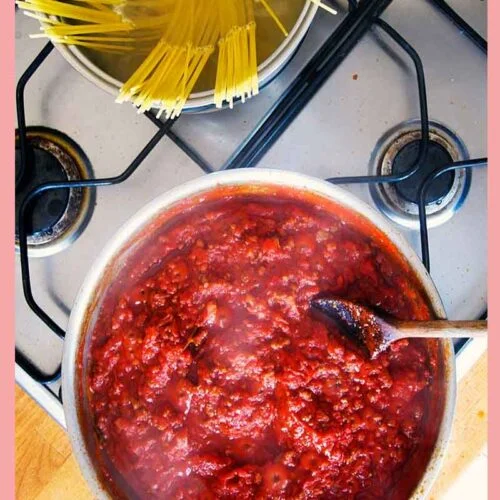 Prego Spaghetti Sauce Recipe
This fresh and flavorful Prego spaghetti sauce recipe incorporates amazing with any sort of spaghetti or pasta. 
Print
Pin
Ingredients
28

Ounces

Crushed tomatoes

29

Ounces

Tomato puree

2

Tbsp

Olive oil

4

Tbsp

Sugar

1/2

Onion

1

Large garlic clove

1/2

Tsp

Black pepper

1/2

Tsp

Dried oregano

1

Tsp

Dried parsley

1

Tsp

Dried basil

1

Tsp

Salt
Instructions
Sauté garlic and onion over a medium-low flame.

Add the seasoning and tomato components.

Loose the lid and let it simmer for 1 hour.

Turn off the heat and serve hot.
Nutrition
Nutrition Facts
Prego Spaghetti Sauce Recipe
Amount per Serving
% Daily Value*
* Percent Daily Values are based on a 2000 calorie diet.
Sum up:
Now you know the recipe of Prego sensitive pasta sauce. You can prepare them very easily with some easy ingredients available on the market. Since this is homemade Prego spaghetti sauce, make sure the ingredients, especially tomato components are fresh and juicy. You can serve them for lunch, dinner or any special occasion and date night. 
So, when are you trying out this Prego spaghetti sauce recipe?
You May Like Also: