Craving a mexican-inspired dish but don't want to spend hours in the kitchen?  Making dorito pie is the way to go. Known for its gooey yet crunchy texture, dorito pie is packed with flavors. Whether you're hosting a party, or looking for a quick weeknight meal, this recipe is truly a lifesaver.
From the signature crunch of doritos to the melty goodness of cheese and a variety of toppings, this dish offers a delightful burst of flavors in every bite. The best part? You can make it using ingredients you probably already have in your kitchen.
So, the next time you're in the mood for a Mexican dish without the hassle, make sure to give this dorito pie recipe a try!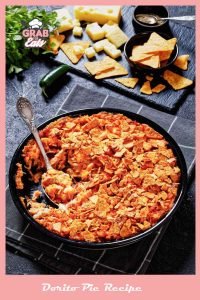 Know about the Dorito Pie Ingredients
Dorito pie proves that sometimes the simplest ingredients make the most delicious dishes. All you need are just a handful of everyday pantry staples like Doritos, cheese, and  meat. But it's the secret ingredients that take this dish to a whole new level. Now, let's have a look at the ingredients that bring this delicious dish to life. 
Ground Beef: Ground beef is a key ingredient in this recipe. Lean beef works best for this recipe, given the lower fat content. As the ground beef cooks, it becomes tender while absorbing the flavors of the spices. This results in a rich and flavorful filling for the pie. If you want ample meat filling in every bite, it's best to get 1 lbs of ground beef for the recipe. 
Taco Seasonings: Here comes the secret ingredient that adds an incredible mexican flavor to this dish. Dorito pie is kind of like a taco pie with doritos. Thus, the dish would be incomplete without some taco seasonings. 
The special blend of spices in the seasoning helps the meat burst with flavors. And the best part is you won't have to mix and measure diffrent spices. Just throw in two tablespoons of seasonings and you're good to go. 
Crescent Roll Dough: A flaky crust is what makes a pie truly special. However, creating a perfect dough from scratch can be really challenging. This is where crescent roll dough comes in. You can find crescent roll dough at any convenience store. 
All you have to do is unroll it, and place it in the dish. For this recipe, you'll need only one tube of crescent roll dough. If you have some leftover dough after making dorito pie, you can use it to make  some dorito casserole with crescent rolls as well!
Dorito Pie: A dorito pie is incomplete without Doritos. The single most important ingredient that sets this dish apart. For this recipe, take a medium-sized bag of doritos, and gently crush them using a rolling pin. Crushed doritos work great for layering the pie. 
Cheddar Cheese: You'll need one cup of shredded cheese to layer the pie. When melted, the cheese will become gooey and creamy, adding richness to the dish. 
Sour Cream:  Sour cream does a great job in balancing out the richness of beef and cheese. It also adds a tangy flavor that goes really well with the flavors of the pie. You'll need only one cup of sour cream for this recipe. 
Salsa: Given almost all the ingredients used are pretty rich in flavor, salsa helps add a bit of freshness to this recipe. It will also add a touch of spiciness. However, if you want to keep the flavor mild, go for a regular salsa. Around ¼ cup of salsa will do the job. 
Butter: You'll need ¼ cup of melted butter to brush the dough for a flaky and golden crust. 
How to Make a Dorito Pie?
Now, let's have a look at the simple steps that go into making delectable doritos pie-
Step 1
Cook the ground beef in a skillet over medium heat. Break it up into small pieces as it cooks.
Step 2
Add taco seasonings and stir well. Make sure the beef is evenly coated with the seasoning.
Step 3
Grease a pie dish with butter. Press the crescent roll dough into the dish and form a crust.
Step 4
Sprinkle half of the crushed Doritos on the crust.
Step 5
Next, create layers on top of the Doritos crust. Start with a layer of the seasoned ground beef, followed by a layer of shredded cheese, sour cream, and salsa.
Step 6
Add the remaining doritos. 
Step 7
Pour the remaining melted butter evenly over the dorito layer. 
Step 8
Once the crust is golden and the cheese is melted and bubbly, remove the Doritos pie from the oven.
Step 9
Serve while piping hot.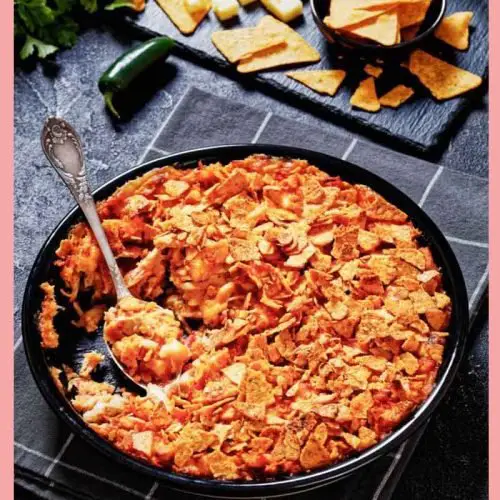 Mexican Style Dorito Pie Recipe
Bring a Mexican twist to your evening snack with this Dorito Pie recipe. Layers of flavorful meat, gooey cheese, and crunchy dorito make for an incredible dish that will leave you yearning for more!
Print
Pin
Ingredients
1

Lb

Ground beef

2

Tbsp

Taco seasoning

1

Tube

Crescent roll dough

1

Medium-sized bag

Doritos

Crushed

1

Cup

Shredded cheddar cheese

1

Cup

Sour cream

1/4

Cup

Salsa

1/4

Cup

Melted butter
Instructions
Cook ground beef with taco seasoning.

Press crescent roll dough into a greased pie dish.

Sprinkle half of the crushed Doritos on the crust.

Layer ground beef, cheese, sour cream, and salsa.

Add remaining crushed Doritos.

Pour melted butter over the top.

Bake until golden and bubbly.
Tips
Doritos come in so many different flavors. Choose a flavor that complements the other ingredients in the pie. Consider flavors like Nacho Cheese or Cool Ranch, as they tend to work well with this dish.

Feel free to experiment with the ingredients. You can use diced onions, bell peppers, corn, or other veggies of your choice to enhance the flavor.

Make sure to serve the pie with some extra salsa, and sour cream on the side. It really does make a difference in terms of the taste and flavors!
Nutrition
Nutrition Facts
Mexican Style Dorito Pie Recipe
Amount per Serving
% Daily Value*
* Percent Daily Values are based on a 2000 calorie diet.
Final Words
Why did the pie get a standing ovation? It gave a truly 'filling' performance! With this pie pun out of the way, we've made it to the end of this article. Whether you're looking to spice up your weeknight dinner or impress your guests at a party, dorito pie always delivers!
So, the next time you're in the mood for something Mexican, give this Dorito Pie recipe a try. It's quick and convenient, with an unmatched flavor that will leave everyone craving for more!
Read More: