Prime rib is famous for its juicy and tender taste. This part of the beef is as tasty as the round beef. Cooking the prime rib with the bone in will allow you to add more moisture to your recipe. 
If you like prime rib, try Lawry's prime rib recipe. It's a unique way to taste prime rib. Before buying the prime rib, check out whether the buying store is reliable. Or make a special order online.
Prime rib will be a high price tag if you can cook it properly. There are a number of techniques to cook prime ribs. And, we've shared the easiest one.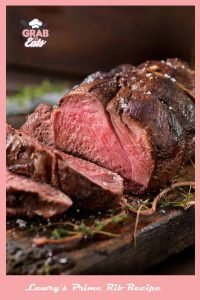 Lawry's Prime Rib Ingredients 
Only three ingredients you need to make your favorite prime rib recipe. And these are-
Rib Roast (1 Standard Rib Roast of 4 lbs Weight)
To make this recipe, you'll need 4 lbs of rib roast with 4 ribs. 
Rock Salt (1 Bag of 5 lbs)
Since you'll cook a whole rib, you need a huge amount of rock salt. And that should be a packet of 5 lbs salt. 
Lawry's Season Salt 
Take the season salt of Lawry as per the size of your rib. Lawry's seasoned salt prime rib taste different than the regular salt.
How to Make Lawry's Prime Rib?
Although it seems too tough to manage such a bigger part of beef, the cooking process is effortless. You don't have to add any spices, veggies, or any other creams. All you need is to prepare the baking pan and season the roast before cooking. That's all. Let's check out lawry's prime rib cooking instructions-
Step-1
Take a big size roasting pan and sprinkle the rock salt. Cover the entire roasting pan with rock salt.  After that, place a wire rack in the middle of your roasting pan. 
Step-2
This time take the whole prime rib with 5 lbs weight and place it on the wire rack. Keep the fatty side up of the roast while placing it on the wire rack. 
Warning: Don't let the roast touch the rock salt. It will spoil your recipe. 
Step-3
Use a standard amount of seasoned salt over the roast and let it season well. Once you finished seasoning the roast, place the roasting pan in your oven and cook it for 30 minutes (each pound) at 350° F. 
NB: If each pound requires 30 minutes, the total cooking time will be 150 minutes for this 5 lbs roast. It means 2 hours and 30 minutes. So, allow the prime rib to cook for a long time without any interruption. 
Step-4
Take the roasting pan out of the oven and let the roast cool for 20 minutes. Let the temperature of the rare part reach 130° and the medium part at 140°.  After that, slice the meat into 1-inch thick pieces.  And serve them with grains, mashed potatoes, or any other dishes you like. You're Done!
Best Side Dishes to Serve With
Fondant Potatoes
Red Wine
Garlic Green Beans
Garlic Mashed Potatoes
Creamy Horseradish Sauce
Tomato Sauce
Roasted Broccoli with Parmesan and Garlic
Roasted Brussels Sprouts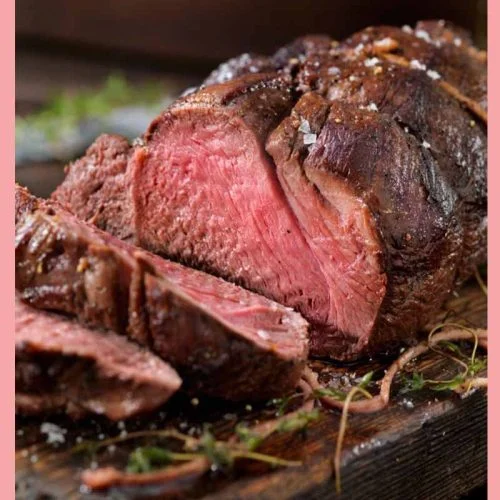 Lawry's Prime Rib Recipe
Cook Lawry's prime rib recipe if you have enough time in hand. It's a delicious recipe to get protein, zinc, iron, and selenium, at the same time.
Print
Pin
Ingredients
4

Lbs

One Standard Rib Roast

5

Lbs

Rock Salt

One Bag

Lawry's Season Salt 

As you need
Instructions
Spread rock salt on a big-size roasting pan.

Place a wire rack in the middle of your roasting pan.

This time, place the prime rib on a wire rack with the fatty side up of the roast.

Season the prime rib with Lawry's season salt.

Place the roasting pan in your oven and cook it for 30 minutes (each pound) at 350° F.

Take the roasting pan out of the oven and let it cool for 20 minutes.

Slice the meat and serve it with grains or mashed potatoes.
Tips
In restaurants, the prime ribs roast comes so tender. It's because of their low-temperature cooking style. If you want your prime ribs more tender, cook them at 200° F. But, make sure, you have plenty of time.

Don't skip the cooling time before slicing the meat. Cooling time let the meat rest at room temperature and allow it to be moister.

Adding chopped parsley or celery at the top of the slices will add a unique flavor.
Nutrition
Nutrition Facts
Lawry's Prime Rib Recipe
Amount per Serving
% Daily Value*
* Percent Daily Values are based on a 2000 calorie diet.
How Long to Defrost 5 LB Prime Rib in Fridge?
Since it's a total of 5 lbs of whole prime rib, generally it takes quite a long time to defrost or thaw.  If you count per pound, you need 4 to 7 hours. It means the average defrosting time for the whole prime rib varies from 20 to 35 hours depending on how fleshy the prime rib is.  
How to Defrost Prime Rib?
Ways how you can defrost the prime rib are-
Refrigeration 
Now the concern is how you can defrost this big-size roasting beef piece. In this case, the Food Standard Agency prioritizes refrigeration the most. You cannot keep this 5 lbs prime rib a room temperature for this long time. So, the safest method to defrost the prime rib is to keep it in the fridge for an ideal thawing. 
Cold Water
You also can keep the rib under a large bucket of cold water for the entire time. Cold water also can speed up the defrosting process. It will defrost perfectly. 
Conclusion 
Prime rib is the most delicious part of a cow. And almost everyone likes having prime rib in various ways. One of the best ways to prepare this prime rib is Lawry's prime rib recipe. 
Surprisingly, cooking this tasty dish necessitates only 2 ingredients except for prime rib. And both these ingredients are salt. Imagine how easy it is to manage the ingredients for this recipe. 
However, before planning for this dish, you must ensure enough time is available in your hand. Because it requires more than 2 hours to cook and prepare.
You May Also Like:
 Colorado Cache Prime Rib Recipe