Have you ever made a mini conchas recipe? Do you know the most important meal of the entire day is morning? So always try to make a healthy breakfast. You can make the tastiest and nutritious snack is the mini conchas, which are made quickly. 
You will need some super inexpensive ingredients to make this mini concha. These pillowy soft, and perfectly sweet conchas will make you fall in love. Also, the entire process is super easy and super yummy. All ages of people, from children to the elderly, love this.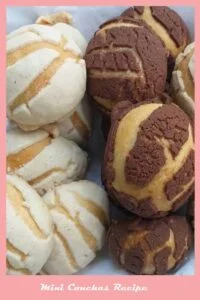 Know About Mini Conchas Recipe and It's Ingredients 
To make mini conchas subtly, you must know the details about the making materials.
Dry Yeast
Yeast helps to raise the bread properly. Here we recommend dry yeast, not regular yeast.
Vegetable Oil
You will need vegetable oil when kneading dough and before baking the bun. It helps to keep the moisture of the bread. 
Melted Butter
This is the most crucial part of bringing a wonderful smell and texture to your bread. Never forget to use melted butter in the dough. 
Sugar
As this bread is sweetish, try to use the proper sugar measurement. You make use of it according to your taste. 
Evaporated Milk 
Another essential ingredient is milk. The first ingredient you will need is evaporated milk. It makes the taste of the conchas bread rich and flavorful.  
Ground Cinnamon 
For richness, flavor, and taste, the chef usually uses cinnamon. If you don't like it, you can avoid it. It depends on your preference. 
How to Make Conchas ?
In Spanish, conchas mean shells; basically, Mexico's national sweet bread. It comes in two flavors, one vanilla another chocolate. Conchas wasn't anything modern or fancy, especially for the poor people; most of the Hispanic and Mexican people's used to bake them with pork lard instead of butter.
The other name of conchas is Pan Dulce. Making conchas is super easy and time-saving. Here we are sharing the actual recipe of conchas.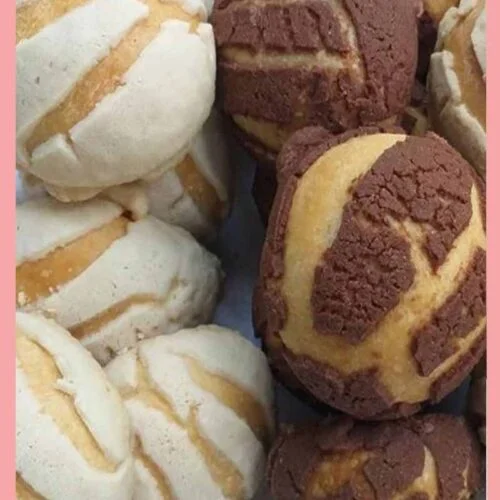 Mini Conchas Recipe
This mini conchas recipe is for you if you like Mexican concha bread. Make this delicious recipe for breakfast and make your leisure morning cheerful.
Print
Pin
Ingredients
2

tbsp

Dry yeast

4

tbsp

Warm water

1/2

cup

Melted butter

1/3

cup

Sugar

1/4

cup

Evaporated milk

1/2

tbsp

Salt

2

tbsp

Ground cinnamon

2

tbsp

Vanilla

1

tbsp

Eggs

4

cup

Flour

2/3

cup

Vegetable shortening

1

cup

Powdered sugar

1

cup

Cocoa powder
Instructions
Step 1:

First off, warm ¾ cup of milk to 110°F. But you can also mix the milk as it is, but as it is a cold day, it is better to warm this up. If you use cold milk, add warm water to maintain a pleasant, cozy temperature.

Step 2:

Now add the sugar with milk. Here add yeast, and mix all of the ingredients. Set aside until it is friendly and bubbly.

Step 3:

While the yeast warms up, measure out the flour, add one teaspoon of salt, give that a little bit of a mix, and set this aside.

Step 4:

When your yeast is all nice and bubbly, and it might take a little longer than you expect just because this is a very enriched dough, now add the eggs in it one by one along with the remaining sugar.

Step 5:

Now add the magical ingredients, which is vanilla. It's time to give this a good whisk. The batter should be very thick and runny.

Step 6:

Here, add about two cups of flour. It gives an excellent head start; you will see the batter come together so well.

Step 7:

Now pop this onto your mixer, get the dough hook out. Don't forget to add the melted butter. After using the butter, the dough will be so silky and smooth.

Step 8:

Add the flour in and mix it very well for a few minutes. When you are done, you will get the silky and bouncy dough. If you use the mixer, you don't need to knead it.

Step 9:

Get a big bowl and lightly oil it. Get it all up the sides cause this dough will be rising. Now transfer the dough into the oiled bowl, and it is going to rest and rise in a warm cozy place for a while.

The dough takes time to be ready as the pizza dough, but this dough is much delicious. Cover this up with plastic. This will go into a warm and cozy place for about 2 hours.

Step 10:

While the dough rests, let's make the topping cause it is easy. Take one cup of powdered sugar with one cup of flour and half a cup of very soft butter. Add a few drops of vanilla. 

Now mix them all up if you want; you can use your hand to mix them. Here you can use cinnamon and a tablespoon of cocoa powder if you like it to be chocolate. Now divide the mixer into two batches. One will be pink, and another is going to be plain white.

Step 11:

Take the dough off and make it divide. Before cutting flour on the surface of your cutting board, dump the dough out. Divide it into tiny pieces. Take a piece and pinch it together and make a circle.

Step 12:

Place your rolls on a baking sheet, set all the rolls correctly because they will get a little bigger. Now divide your pink and white topping into six batches each.

 So take this, and you can either use a tortilla press. Use your hand to get a thin layer of this to make it a circle. And then drape it across your bun repeat the same process.

Step 13:

This is the fun part take a knife and carve across the top of the bun. No need to make it perfect. Now cover it with plastic very loosely and bake it for 30 to 40 minutes.

 You can preheat your oven to 350°F. Bake the bun until you see the golden brown color in it. Then it is ready to enjoy.
Tips
The secret of making a great dough is to whisk the dough nicely. Instead of just popping this onto your mixer, you can add half the flour.
Vanilla is an option; you can use cocoa powder if you don't like it. This is absolutely up to you.
Sprinkle flour on the bowl where you place the dough to prevent roughness.
Nutrition
Nutrition Facts
Mini Conchas Recipe
Amount per Serving
% Daily Value*
* Percent Daily Values are based on a 2000 calorie diet.
Final Thought
It would be nice to eat this bread with tea. You can make it as breakfast in a short time. Mini conchas recipe ingredients are very reasonable and always at your fingertips so that nothing can beat this recipe to sparkle to your daily boring breakfast.
I hope you enjoy this recipe; we try to explain it as simply as possible. You can make it your breakfast or for any special occasion kids will love it.