The beef chop suey recipe is a traditional dish in Chinese restaurants because of its dark color and intense flavors. With this 30-minute recipe, any home cook can enjoy the same authentic, sweet, and savory flavor.
Everyone is always in the mood for Chinese comfort food when the sweet smell of caramelizing onions, ground beef, molasses, and soy sauce fills the air. Everyone loves this dish because of the thick brown gravy with a side of rice to soak up the tasty juices. It's excellent for a quick and simple weeknight meal when you're busy.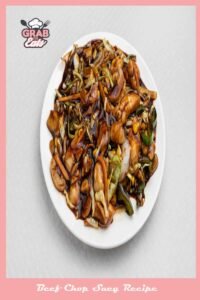 Know About Your Ingredients:
Vegetable oil: 1 tablespoon of vegetable oil. Vegetable oils enhance the flavor of food, improve the texture, and conduct heat while cooking.
Beef: 2 lbs of beef stew meat. Beef is an excellent source of iron.
Onion: 1 white onion. Onions add flavor to recipes without adding a lot of calories.
Celery: 3 stalks of celery. Celery is low in sugar and has a lot of vitamins and minerals.
Water: 8 1⁄2 cups of water. It is an ingredient used to make drinks and food.
Soy sauce: ⅓ cup of soy sauce. Soy sauce has salty, sweet, umami (savoury), and even a little bitter flavor.
Molasses: 1 tablespoon of beaded molasses. Molasses adds flavor, texture, and colour to baked items and thickens barbecue sauce for meats.
Bean: 14 ounces of bean sprouts, drained. Beans provide the majority of the protein in the human diet.
Chestnuts: 8 ounces of water chestnuts, drained. Raw chestnuts are hard and harsh, but cooked they're buttery, sweet, and mushy, like sweet potatoes.
Cornstarch: 5 tablespoons of cornstarch. Corn starch thickens sauces or soups and makes corn syrup and other sugars. 
How to Make Beef Chop Suey?
Step 1: A large pot with heated oil is used to brown the beef. Put the meat on one side of the pan and add the garlic, onions, and celery.
Step 2: Add soy sauce, molasses, and beef broth when the meat is tender.
Step 3: Put the beef to a boil, then reduce the heat to a simmer, cover, and cook for about an hour.
Step 4: Add the chop suey vegetables, bean sprouts, and mushrooms. 
Step 5: Dissolve the cornstarch in the reserved liquid from the chop suey vegetables and add it to the pan. 
Step 6: To thicken the mixture, turn up the heat and bring it to a boil. Add hot cooked rice and chow mein noodles to the dish.
Old-fashioned Chop Suey Recipe
Chop suey is a popular dish in American and other Chinese cuisines. It is made by cooking meat (often chicken, pork, beef, shrimp, or fish) with eggs and vegetables (such as cabbage, bean sprouts, and celery) in a starch-thickened sauce. Usually, it's eaten over rice, but if you want the Chinese American version of chow mein, you can make it using stir-fried noodles instead.
Chop Suey Ingredients:
1 & 1/2 lbs. of beef
1 tablespoon of oil
Salt and pepper
6 celery stalks—cut on the diagonal
2 large onions—chopped into bite-size pieces
8 oz. of mushrooms-sliced
1 lb. of bean sprouts
1 can of water chestnuts
1/2 cup of soy sauce
8 cups of water
4 tablespoons of flour mixed with 1/2 cup of water
How to make Chop Suey:
Prepare the beef by chopping it into small pieces and seasoning it with salt and pepper. Put the oil in the pan and add the meat in several batches to brown it.
When all the beef is browned, put it in the pan with the water and soy sauce and cook it over medium heat.
Add the onions and celery. Cover the pan and cook the beef for 30 minutes or until it's soft. Add the mushrooms and water chestnuts. Cook for another 15 minutes.
Mix the flour and water. Stir it into the chop suey. Cook for another 5 minutes.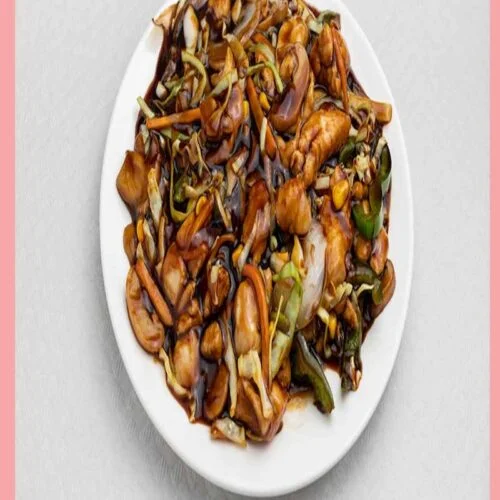 Beef Chop Suey Recipe
The beef chop suey recipe is a traditional dish because of its dark color and intense flavors. It's an excellent choice for a quick weeknight meal
Print
Pin
Ingredients
1

Tbsp

Vegetable oil

2

Lbs

Beef stew meat

1

White onion

3

Stalks

Celery

8

Cups

Water

1/3

Cup

Soy sauce

1

Tbsp

Beaded molasses

14

Ounces

Bean sprouts

8

Ounces

Water chestnuts

5

Tbsp

Cornstarch

1/2

Cup

Water
Instructions
Brown beef stew meat, stirring in cut-up onions and celery.

Add the water, soy sauce, and beaded molasses. Simmer it.

Add bean sprouts and water chestnuts.

Add cornstarch and water to the chopped suey and stir. Heat it until it thickens.
Tips
If you cut your vegetables to the same size, they will all cook at the same time when you put them in the pan.

Mix some beef bouillon cubes with the hot water and cornstarch, and then add the mixture to the skillet.

If you want to make this dish sweeter or  spicier, try adding 1 or 2 finely chopped chilis, a pinch of black pepper, and a tablespoon of brown sugar.

Having all the ingredients ready will help you make stir-fry quickly. Also, start the rice first if you want to serve it with this.

It's important to use a hot pan when stir-frying, so the chop suey doesn't get soggy.

Using a wide range of different vegetables gives this dish a nice look and a lot of different textures, making each bite more interesting.
Nutrition
Nutrition Facts
Beef Chop Suey Recipe
Amount per Serving
% Daily Value*
* Percent Daily Values are based on a 2000 calorie diet.
Final words: 
Chop Suey is a stir-fried dish with meats like chicken, pork, and vegetables. You can also add shrimp or other seafood. This chop suey recipe is unique because it has almost every ingredient. The recipe used fresh vegetables, chicken, pork, shrimp, and hard-boiled quail eggs.
The beef chop suey in this dish is cooked in a single skillet and serves four people. It has a fantastic Asian taste thanks to the garlic, ginger, beansprouts, and soy sauce. Get it ready for the table in about 30 minutes.