Pioneer woman egg custard pie is one of the richest pies in this whole world. Let me tell you why! It is really amazing that you are preparing this delicious recipe with simple pantry ingredients. However, if you are looking for an authentic recipe, this one is what I got from my granny's old cookbook.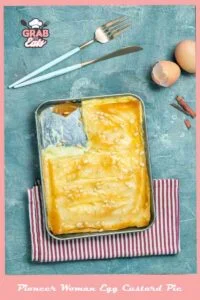 Know about Your Ingredients and Recipe: 
We have divided the ingredients into parts for your shake. However, check this out. 
Ingredients for Pie Crust:
Unsalted Butter: Here, you will need super cold and cut into cube-size pieces 1/2 cup of unsalted butter. In making pie crust, using salted butter is prohibited.  
Kosher salt: To make the pie crust, you will need ½teaspoon of Kosher salt. 
Powdered Sugar: It tends to dissolve more easily than regular or granulated sugar. Thus, 1 teaspoon of powdered sugar will be enough.
Cold Water: It's better to use cold water while preparing crust. Use 1/4 cup of cold water or you may need up to 1/3 cup if the crust dough is dry. 
All-Purpose Flour or whole wheat flour: It creates a structure in the egg custard pie. It would otherwise be runny. So, it's a vital ingredient for our recipe. Use 1 1/4 cup of all-purpose flour or whole wheat flour for this recipe. 
Ingredients for Egg Custard Filling:
Whole Milk: Rich, thick milk makes the best filling. Make sure you use fresh, high-quality milk. This will enrich the taste 100 times more than non-fat milk. However, the whole milk must be at room temperature. Measure 1 cup of whole milk for this recipe.
Salted Butter: By balancing out the sugar in your recipe, salted butter achieves a more balanced taste. Measure 4 tablespoons of salted butter to get the perfect custard filling. 
Granulated Sugar: The pie isn't too sweet, despite its sweetness. Sugared just enough, it puffs the correct level of sweetness. Use 1 cup of granulated sugar. 
Vanilla Extract: 1 ½ teaspoon of vanilla extract will enrich the flavor of your recipe. 
Ground Nutmeg: The nutmeg spice has both a nutty and slightly sweet aroma, making it one of the most flavorful spices. Lastly dusting with it is optional but it looks good as well as provides a sweet aroma. Measure ¼ teaspoon of ground nutmeg.
All-Purpose Flour: Here 1 1/2 tablespoon of all-purpose flour will thicken the filling. It will stay in the place where you want, not sliding down from your crust. 
Eggs: This pioneer pie recipe calls for fresh eggs with rich flavor. Look for eggs with bright yellow yolks. Use 3 large eggs that must be at room temperature. 
How to Make Egg Custard Pies
First of all you need to prepare the pie crust, then prepare the filling, and then overall assembling. Let's see how to do it step by step:
Preparing the pie Crust:
Step 1: Take out a medium-sized bowl and add 1 ¼ cup of all-purpose flour, 1 teaspoon of powdered sugar, and 1 tsp of kosher salt. Mix them with a spatula to combine finely. 
Step 2: Now, add ½ cup of unsalted butter to the cubes. You will notice, there will be various size crumbs. 
Step 3: Pour ¼ cup of cold water into the flour and stir until the dough is formed. If needed, add some more water.
Step 4: Start kneading the dough immediately in order to bring them together and form a nice ball shape. 
Step 5: Wrap the ball dough tightly with plastic wrap and keep the dough in the refrigerator for at least 50 minutes. 
Now we will move on to the filling part. 
Preparing the Filling: 
Step 1: Bring out a saucepot and place it on the stove over medium heat. 
Step 2: When the saucepot is hot, pour 1 cup of milk with 4 tbsp of salted butter. When the butter is completely melted, remove it from the heat. 
Step 3: Let the butter-milk mixture cool at room temperature. 
Step 4: Take out a large bowl and add 3 eggs, 1 cup of granulated sugar, 1 ½ teaspoon of vanilla extract, 1 ½ tbsp of all-purpose flour, and ¼ tsp of ground nutmeg. Whisk finely.
Step 5: Pour the prepared butter-milk mixture into the large bowl and whisk them until very smooth. 
Assembling:
Step 1: Set the oven for preheating to 425 degrees F. 
Step 2: Removing the dough from the refrigerator, sprinkle flour to the flat surface where you will be working.
Step 3: Immediately start rolling the dough with a rolling pin. The thickness should be about ¼ to ⅓ inches thick. 
Step 4: In a pie plate, place the rolled pie dough.
Step 5: Bake it in the preheated oven, setting the timer for 10 minutes. 
Step 6: By this time, prepare the egg wash. You need to just whisk 1 egg with 1 teaspoon of water.
Step 7:  Carefully remove the pie crust, reducing the heat to 325 degrees F. 
Step 8: It's time to pour the filling and brush the crust with the prepared egg wash. 
Step 9: Again, place the pie plate into the oven and bake it for 50 minutes or more until you notice the slice jiggle to your pie. 
Remove from the oven and let cool. Dust with the nutmeg powder and serve.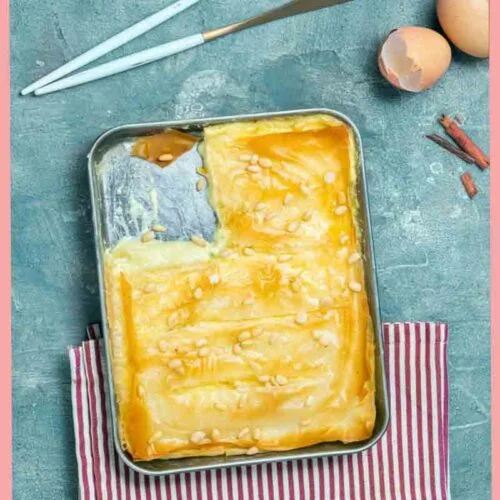 Pioneer Woman Egg Custard Pie
Check out this Pioneer Woman Egg Custard Pie recipe, very easy to prepare if you have proper guidelines. However, share this recipe and give it a try as soon as possible.
Print
Pin
Ingredients
1

Cup

Milk

4

tbsp

Salted butter

1

Cup

Granulated sugar

1 ½

tbsp

Vanilla extract

¼

tbsp

Ground nutmeg

1 ½

tbsp

all-purpose flour

3

large

Eggs

1/2

Cup

Unsalted butter

½

tbsp

Kosher salt

1

tbsp

sugar

1¼

Cup

all-purpose flour
Instructions
Prepare the pie crust with flour, sugar, salt, butter cubes, and water.

Place the dough in the fridge for 50 minutes

Prepare the buttermilk mixture.

Whisk egg, sugar, flour, vanilla, and nutmeg with the cold buttermilk.

Remove the dough, roll it, and place it on the pie plate.

Bake in the preheated oven in 3 batches, reducing the heat.
Tips
If your pie crust has started browning super quickly, cover with foil paper to prevent that. 

Be careful while pouring the egg mixture. 

Most importantly, don't overbake. Keep a close eye on it.
Nutrition
Nutrition Facts
Pioneer Woman Egg Custard Pie
Amount per Serving
% Daily Value*
* Percent Daily Values are based on a 2000 calorie diet.
Wrapping Up
You won't believe how tasty this simple is! On any occasion, this will surely be the best-served dish on the table. Nutmeg should be grated freshly whenever possible! The aroma and taste of freshly grated or ground nutmeg are indescribably rich.Enjoy this cooking experience and satisfy your tastebuds.
You May Also Like: