When I was little, fortunately, I got enjoying my grandmother's foods. That was a very amazing childhood memory cause she could cook super well. She is no more with us but last year, I have found a treasure "Her Old Cookbook". From there I got this ancient-style pioneer woman chow chow recipe.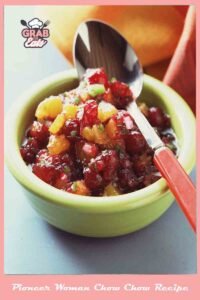 I saw that with some simple vegetables, I can prepare this tangy dish. I couldn't help trying it out.And holy crow, it is amazingly delicious. I and my husband nearly have eaten 4 pint jars within just 1 week. Now he demands to have it everyday. 
So, it has to be shared with you guys. There is no option left. Here you can find the actual recipe with some important tips for it. However, let's check out the recipe. 
Know about your ingredients and the Recipe: 
Green Tomatoes: In addition to providing multiple nutrients and hydration, green tomatoes also contain antioxidants. It gives this recipe a great flavor as well. Roughly chop 4 cups of green tomatoes. 
White Onion: White onions have a smooth, paper-like skin that is more supple than yellow or red onions and have a more mild taste, although they are still sharp. So, finely slice 4 cups of white onion.
Cabbage head: Cabbage head is one of the vital ingredients in our recipe. Despite being so low calories (22 calories per 100 g), it has amazing nutritional value. It contains vitamin A, riboflavin, and iron. Make your children this chow chow, they will surely eat vegetables. So, you will need 4 cups of the finely shredded cabbage head.
Celery Seed: It is common knowledge that celery is a popular vegetable, but this plant is more than just the stalk. The seeds of celery are also tasty and healthy but are less common. Measure 1 tbsp of celery seed.
Mustard Seed: Mustard seeds contain selenium, a mineral known for its anti-inflammatory properties. Measure 2 tbsp of mustard seed. 
Granulated Sugar: Granulated sugar is mostly common sugar type to be found. It is also called regular sugar. In this recipe, you will need a pretty hygge amount of sugar, 6 cups. 
Coarse Salt: Compared to common table salt, it has much larger grains. It remains quite popular not because saltier or more flavorful it is than regular salt, but because its impact on flavor is more pronounced.
Red Bell Pepper & Green Bell Pepper: Both red bell pepper and green bell pepper are very popular vegetables in many dishes. These plants are native to North and South America and are part of the nightshade family. Summer and fall are the best seasons to grow them in the USA. They are a great source of vitamin A, vitamin C, vitamin E, florate, and fiber. Get 2 cups of finely sliced green bell peppers and 2 cups of finely sliced sweet red bell peppers.
Turmeric: Here turmeric adds a nice flavor along with yellowish color. Due to its antioxidant and anti-inflammatory properties, the spice can contribute to healthy digestion. Get 1 ½ tsp of turmeric powder.
White Vinegar: Vinegar is a solution that contains 4–7% acetic acid along with 93–96% water. You will need 4cups of white vinegar
Water: Water will be needing for boiling the vegetables along with the vinegar. Have 2 cups of water. 
How to Make Chow Chow With Cabbage
To make homemade chow chow with cabbage first of all you need to cut the vegetables finely like slicing the white onion, green bell peppers, red bell peppers, shredding the cabbage head, chopping the tomatoes. In a large mixing bowl, add the veggies with a huge amount of salt. However, we will divide it in 2 phases: preparing the vegetables and then the canning process. 
.This healthy chow chow only contains 121 calories. Let's see step by step instructions. 
Step 1: Bring out a glass container and add 4 cups of onion, 4 cups of cabbage, 4 cups of tomatoes, 2 cups of green bell peppers, and 2 cups of red bell peppers.
Step 2: Now sprinkle ½ cup of salt and mix it with the vegetables finely. 
Step 3: You need to cover the container with a lid and allow the vegetable to rest overnights. 
Step 4: After that in a colander, transfer the vegetables and rinse them very well. Drain finely if there is nothing left. 
Step 5: Place the vegetables in a large stockpot. 
Step 6: In the stockpot pour 4 cups of vinegar with 2 cups of water.
Step 7: Also add 6 cups of granulated sugar, 1 ½ tsp of turmeric, 1 tbsp of celery seed, and 2 tbsp of mustard seed.
Step 8: Turn on the stove over high heat until the pear chow chow has started boiling. 
Step 9: When it is boiling, reduce the heat to medium-high and let cook for 7 minutes to 10 minutes. 
Canning the Prepared Chow Chow: 
Step 1: Take out 8 pint jars and make sure you have sterilized them in boiling water. If not, do it right now before ladleing. 
Step 2: Ladle the spicy chow chow into the sterilized pint jars and seal with the lids (must be sterilized). 
Step 3: Process the jar in the boiling water bath for 8 minutes to 10 minutes.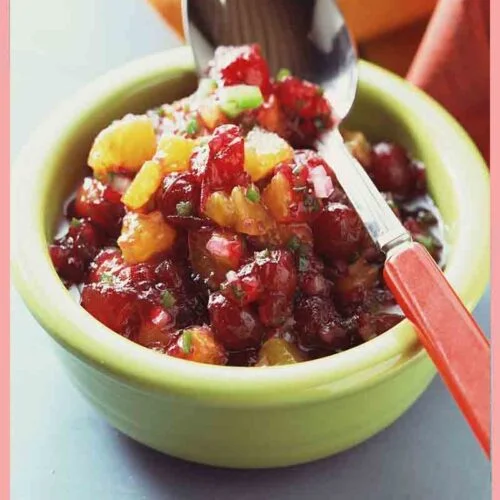 Pioneer Woman Chow Chow Recipe
Pioneer woman chow chow recipe is an easy pie recipe. You can use it as topping in hamburgers, hot dogs or salad items in a side.
Print
Pin
Ingredients
4

Cup

white onion

4

Cup

cabbage head

4

Cup

Green tomatoes

2

Cup

Green bell peppers

2

Cup

Sweet red bell peppers

½

Cup

 Coarse salt

6

Cup

Granulated sugar

2

tbsp

Mustard seed

1

tbsp

Celery seed

1 ½

tbsp

turmeric

4

Cup

white vinegar
Instructions
Prepare the pie crust with flour, sugar, salt, butter cubes, and water.

Place the dough in the fridge for 50 minutes

Prepare the buttermilk mixture.

Whisk egg, sugar, flour, vanilla, and nutmeg with the cold buttermilk.

Remove the dough, roll it, and place it on the pie plate.

Bake in the preheated oven in 3 batches, reducing the heat.
Tips
While washing the vegetables, you can the vegetables divide into couple of smaller batches. This will make the wash easier. 

You can also add 1 tsp of ground cinnamon to add the spice hint to the recipe. The original recipe doesn't have it. So, I didn't write on the recipe. 

Sterilizing the pint jars is a must because if not you can't store it for too long. It will go completely rotten.
Nutrition
Nutrition Facts
Pioneer Woman Chow Chow Recipe
Amount per Serving
% Daily Value*
* Percent Daily Values are based on a 2000 calorie diet.
You May Like Also: