If you have enough skills to make jello at home, you can make homemade gumdrop. Yes, it's not hard once you learn the techniques. There are plenty of recipes online, and every recipe has its own ingredients. However, Pioneer woman gumdrops are the most popular ones so far.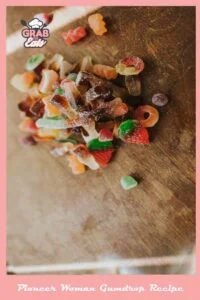 The simplicity and adaptability of the gumdrops make this candy a delicious treat. Now, the gumdrops are delicate, and you can still carry them inside your purse or a bag. So, how do you make it at home? Follow our Pioneer Woman Gumdrop Recipe to learn how to make these gumdrops home. 
How to Make Gumdrops with Jello?
Making homemade gumdrops is pretty easy when you can make Jello. However, the recipe can yield a lot of variations in flavors. Although, it's straightforward to make at home. There are two ways to make these beautiful gumdrops at home. 
You can pour them in a candy mold or just pour them in a small pan. After the candy is ready, you can cut them into small pieces. However, there's another easy way to make these soft candies. Just use a small mold to get accurate shapes. 
Just as we said, you can use different food colors to make different versions of this candy. The option for switching up the flavors makes this gumdrop recipe a crowd favorite. You can complete the preparations a day earlier. After making the candies, refrigerate the candies overnight. The problem is that gumdrops tend to get harder once you start to store them. So, keeping them for a long time will make the gumdrops lose moisture. 
Anyway, we need five 15-count gumdrop molds for the ree Drummond gumdrops. And once all things are ready, we can start cooking. We need ingredients for the Gelatin mix and the sugar syrup. Finally, you will need ingredients for flavoring our gumdrops. 
Ingredients We Need
For the Gelatin Mix, we need:
Cold Water: We need ½ cup worth of cold water for the gelatin. Coldwater can easily mix our gelatin. 
Unflavored Gelatin: We will be using 3 envelopes of plain gelatin. Thanks to the unflavored gelatins, we can adapt any flavors we love. But if you don't find envelopes, you can just use 2 tablespoons of unflavored gelatin. 
For Sugar Syrup We Need
Water: For making the sugar syrup, we need ¾ cups of water. Don't add too much – measure them depending on the ingredients. 
Sugar: Use 2 cups of sugar for the syrup. 
Other Ingredients We Need
Flavor Extract: Now, it's better to mix things up. That's why we are going to use five different flavors. This way, we can get gumdrops in different colors. We will use peppermint, rum, lemon, cinnamon, and Cherry extracts. 
Granulated Brown Sugar: Keep the granulated sugar for coating
Coarse White Sugar: We also need white sugar for coating. 
Step by Step Instructions
Step 1: Pour cold water into a large bowl to prepare the gelatin mixture. While the gelatin mixture is soaking, we start preparing the sugar syrup. 
Step 2: Take a saucepan and combine 3/4 cup water and 2 cups of sugar. 
Step 3: Bring the sugar syrup to a boil and let it simmer for at least 5 minutes. 
Step 4: Time to add the sugar syrup to our gelatin mixture. Be careful while adding the hot sugar. 
Step 5: Stir to combine until the gelatin is completely dissolved. 
Step 6: We will split the syrup and jello mixture into separate bowls. Now, you can break them into a lot of batches. Mainly, we will use extracts, and you don't want to mix flavors in one bowl. 
Step 7: On each bowl, we add the food coloring. Just 4 drops or 1/4 teaspoon of food coloring is enough. Add food color bit by bit to get the exact color. 
Step 8: Now, take the 15-count mold to pour the mixture. 
Step 9: Chill the gumdrops overnight in the refrigerator. 
Step 10: Remove the gumdrops from the 15-block mold. 
Step 11: Now, roll the gumdrops in granulated or white sugar.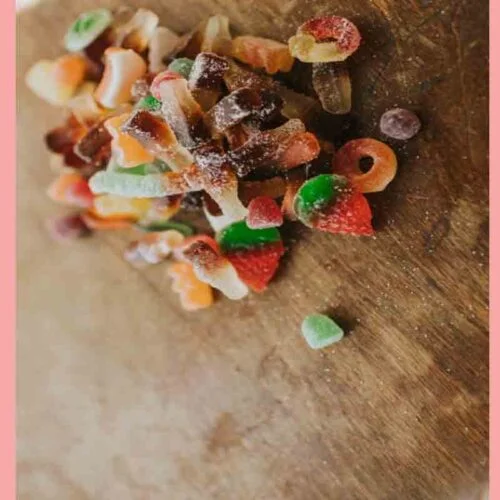 Pioneer Woman Gumdrop Recipe
Ever tried Pioneer Woman Gumdrop Recipe at home? It's super easy to make and adaptable.
Print
Pin
Ingredients
1/2

Cup

Cold Water

3

Envelopes

Unflavored Gelatin

3/4

Cup

Water

2

Cup

Sugar

Food Color

(Peppermint)

Rum

Lemon

Cinnamon

Cherry Extract

Granulated Sugar

White Sugar
Instructions
Prepare the gelatin mixture

Add sugar syrup to the gelatin mixture and stir.

Split the jello mix in separate bowls

Add 4 drops of food coloring on each bowl

Pour the mixture into different bowls

Remove gumdrops from the mold
Tips
You pry the gumdrops out of the molds. Well, that's hard work for sure. But be careful while prying them out.
Nutrition
Nutrition Facts
Pioneer Woman Gumdrop Recipe
Amount per Serving
% Daily Value*
* Percent Daily Values are based on a 2000 calorie diet.
How to Soften Gummy Candy?
Gummy candies are made of water, sugar, gelatin and food additives. Once the water inside gumdrops evaporates, the candy will get hard. Now, you have to rehydrate them. Just toss the gumdrops in a bowl of warm water. Make sure you don't use cold water. It's because gummy candies are soluble to only warm water. The longer you keep the Gumdrops in warm water, the more water it absorbs. 
But keeping it in warm water for 20 minutes is enough to make the candies softer.
Wrapping Up
See? It's not hard to make Christmas jelly candy. Just follow our simple instructions and you can prepare these candies at home.
You May Like Also: