Shepherd's Pie or Cottage Pie is known as the mother of flavors. The flavorful bust of meat, butter, cream, vegetables, cheese, etc. is meant to be make your meal enjoyable. Campbell Soup Shepherd's Pie Recipe brings the authentic American-Irish flavor to the dish. So, without wasting any time let's learn about our dish!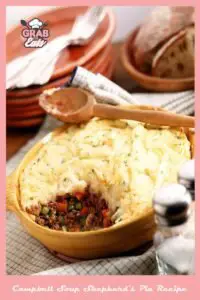 Know about Your Ingredients for Campbells Shepherds Pie
Delicious shepherd pie with tomato soup is a combination of minced meat (beef or lamb), topped with creamy cheesy mashed potatoes. We need to prepare mashed potatoes, and the filling, It is easy to prepare with proper instruction and there are several steps to follow.  I'm measuring the amount for 12 servings. So, reduce or increase the amount proportionally if you want a smaller or larger amount to prepare. The leftovers can be stored in an airtight box for up to 5 days.  
For Russet Potatoes:
Russet Potatoes: I have used russet potatoes for the base of cheesy mashed potatoes. Take 2 ½ lbs of fine and fresh of this to make a tempting dish.
Butter: For a rich buttery flavor to the dish, measure 8 tbsp of butter. We will use it for both mashed potatoes and filling.
Sour Cream: ½ cup of sour cream would add a creamy savor to the mashed potato. You can use half and half as well.
Milk: ½ cup of milk prevents mashed potatoes from being too dry. Here you can use water instead. But milk makes mashed potatoes much more flavorful and rich. As shepherds pie is a rich classy dish, I recommend making it with milk.
Sea Salt and Black Pepper: Use 1 ½ tsp of sea salt and ½ tsp of black pepper. It is always better to ground the black pepper before adding it. It makes a good smell.
Garlic Powder: ¼ tsp of garlic powder would add a great odor.
Parmesan Cheese: This ingredient is kind of optional, some says. But cheesy mashed potato is nothing without parmesan cheese. I usually add ¼ cup for a smooth texture.
For the Filling
Ground Beef: I recommend using 90% lean ground beef. Measure 1 lb to make Campbells shepherds pie for 12 servings
Campbell's Tomato Soup: This tomato soup is very special. Get 1 can of it and pour the whole to the recipe. 
Carrot: Take one carrot and finely dice it. The amount has to be 1 cup. Carrot makes the dish colorful. However, carrot contains beta-carotene along with vitamin A that helps to control blood sugar level.
Onion: 1 small sliced onion would be enough for this recipe.
Ketchup: Add tangy sweetness with ½ cup of ketchup.
Brown Sugar: 1 tbsp of light brown sugar will add a perfect balance to the filling.
Frozen Peas and Corn Kernels: These frozen veggies will give a colorful look to the dish and of couse, they add nutritional value. Measure ½ cup peas and ¾ cup corn kernels.
Red Wine Vinegar: Just 1 tsp of it make a very distinctive tang. 
Sea Salt and black pepper: Measure ¾ tsp of sea salt and ½ tsp of freshly ground black pepper. 
How to Make Shepherd's Pie Step by Step?
Preparing the Mashed Potatoes
Step 1: Peel and cut into cubic size. It's better to keep the pieces smaller. Rinse the potatoes with water.
Step 2: Take out a large pot and place the potato cubes into the pot. Fill the pot with water and turn on the heat to high.
Step 3: Bring the water to a boil and cook the potatoes until they are fork tender. This will take no more than 15 minutes.
Step 4: Drain the potatoes and put back to the pot for drying out.
Step 5: Transfer the potatoes in a large mixing bowl and add 4 tbsp of butter.
Step 6: Using a potato masher, mash the potatoes finely until smooth.
Step 7: Now add ½ cup of milk, ½ cup of sour cream, 1 ½ tsp of salt, and ½ tsp of freshly ground black pepper, keeping the heat on low. Keep mashing until you get a perfect consistency.
Step 8: Finally, add ¼ cup of grated Parmesan cheese and stir until finely combined.
When done, keep the bowl aside and start preparing the filling of cream of mushroom shepherd's pie.
Preparing the Filling
Step 1: Take out a large skillet and turn on the stove over medium heat.
Step 2: Add 2 tbsp of butter to the preheated skillet and allow to melt. You can use any type of cooking oil instead.
Step 3:  Add 1 cup of diced carrots and stir in butter for 4 minutes to 5 minutes.
Step 4: Add sliced onion and saute for 3 minutes or until the onions are translucent. You will notice a fine odor.
Step 5: Now, in the veg mixture add ground beef and cook for 7 minutes to 10 minutes until you notice the meat is no longer pink. I recommend you to drain the extra fat.
Step 6: Now add 1 can of campbell's special tomato soup and ½ cup of ketchup. Give it a good stir and allow to cook for 5 minutes.
Step 7: If you prefer thinner mixture, you can add ¼ cup of water. I don't like adding water. In some recipes you would find this.
Step 8: Pour 1 tsp of red wine vinegar. Then add 1 tbsp of brown sugar, ¾ tbsp. of sea salt, and ¼ tsp of freshly ground black pepper.
Step 9: Add ½ cup of frozen peas and ¾ cup of corn kernels. Stir the mixture to combine finely. At first bring it to a boil and then allow the filling to a simmer for 5 minutes to 7 minutes.
Assembling
Step 1: As all the other process is done, set the oven for preheating. The temperature is 400 degrees F.
Step 2: Bring out a 9×13inch baking dish and grease lightly with a non-stick cooking spray.
Step 3: Gently place the filling evenly on the surface. Using a spatula make the layer even as possible.
Step 4: Very carefully spread the mashed potato without ruining the filling. I always scrap the mashed potato layer using a fork. It looks great!
Step 5: Melt 2 tbsp of butter and brush lightly on the top!
Step 6: Place the baking dish in the preheated oven and bake for 15 minutes.
Step 7: Proceed to the broiler to 500 degrees F and allow to broil for 5 minutes in order to have a brown spot on the top.  
Carefully remove the baking dish from the oven and let cool for 10 minutes before serving.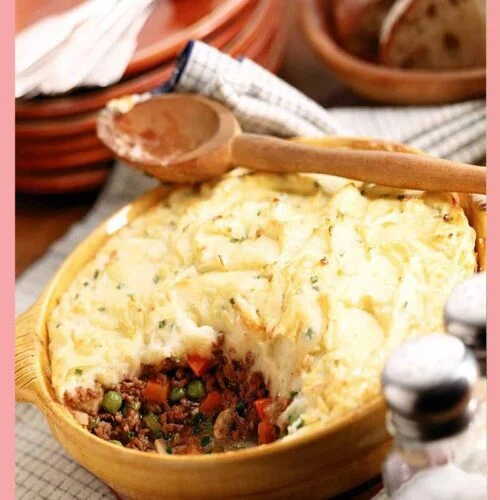 Campbell Soup Shepherd's Pie Recipe
Campbell Soup Shepherd's Pie Recipe brings a heavenly savor to your special dinner. Prepare with veg-meat and mashed potatoes on the top!
Print
Pin
Ingredients
Filling Ingredients:
1

lbs

Ground beef

1

small onion

finely sliced

1

Cup

carrots

finely diced

1/2

Cup

frozen peas

3/4

Cup

frozen corn kernels

1

Can

Campbell's Tomato Soup

1/2

Cup

ketchup

1/4

cup

water

optional

1

Tbsp

red wine vinegar

1

Tbsp

light brown sugar

3/4

Tbsp

sea salt

1/4

Tbsp

black pepper

freshly ground
Mashed Potato Ingredients:
1/2

lbs

russet potatoes

8

Tbsp

butter

1/2

Cup

 milk

1/2

Cup

sour cream

1/4

Cup

Parmesan Cheese

1½

Tbsp

salt

1/2

Tbsp

black pepper

¼

Tbsp

garlic powder
Instructions
Prepare super rich mashed potatoes with russet potato, butter, sour cream, milk, cheese and so on

Prepare the filling with ground beef, onion, vegetables, tomato soup, ketch up, sugar and spices

Assemble in a baking dish and bake in the preheated oven for 20 minutes in total
Nutrition
Nutrition Facts
Campbell Soup Shepherd's Pie Recipe
Amount per Serving
% Daily Value*
* Percent Daily Values are based on a 2000 calorie diet.
Wrapping Up
I hope you have found this recipe easy. Let me tell you that this recipe is very adjustable. So, feel free to change any amount of ingredients. Like, whoever loves a thinner mashed potato layer, they can reduce the layer density. Have a great food journey!
You May Also Like: