Everybody knows how much I admire seared tuna. Being a home cook, I always want to explore recipes, especially which ones are my favorite. However, a few days ago in my 2nd avnniversary, I wanted to prepare something with ahi tuna. So, after searching my old cook book which I got from my great grand mother when I was littile, I found the Ruth's Chris Ahi Tuna Appetizer Recipe.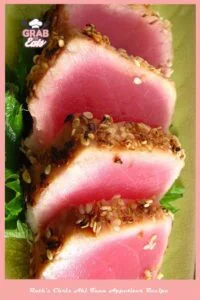 Instantly I went to shopping and grab my ingredients. The ahi tuna appetizer was so savory that I couldn't help licking my fingers at the end. So, I had to share this recipe with you guys.
Tuna Appetizer Recipe
Preparing ruth chris ahi tuna recipe can be sensitive in some points like they are costly and only be enjoyed at restaurants occasionally. The timing is very important in this recipe and if slightly mistaken, the whole dish can be ruined. Still there is some hope to enjoy homemade amazingly savoy dish, sometimes better than restaurants.
So, here you will need ahi tuna steaks, fresh lime juice, soy sauce, sesame oil, ginger, and black pepper. You need to make a mixture of wet ingredients and marinade the tuna steak and dip into the marinade for 15 minutes.
In order to cook it you need to be very careful about timing, each portion of the steak should be finely cooked for 2 minutes.
Ingredients that You Will Need Are:
1 Tbsp of Fresh Lime Juice
2 Tbsp of Soy Sauce
2 Tsp of Sesame Oil
1 Tbsp of Fresh Ginger, Thinly Sliced
26 Oz of Ahi Tuna Steaks, about 1-Inch Each
1/2 Tsp of Freshly Ground Black Pepper
Methods of Preparing Step by Step:
Step 1: Take out a small bowl.
Step 2: One by one add 1 tbsp of fresh lime juice, 2 tbsp of soy sauce, and 2 tsp of sesame oil in the bowl. Whisk them finely using a fork.
Step 3: Take out a large size reseal-able plastic bag.
Step 4: Pour the oil-juice mixture into the bag.
Step 5: Add 1 tbsp of ginger slices.
Step 6: In a plate, place the ahi tuna steaks and season finely with ½ tbsp. of freshly ground black pepper.
Step 7: Transfer the marinated ahi tuna steaks to the seal bag.
Step 8: Keep them inside for marinating for 15 minutes.
Step 9: Take out a glass bowl (medium in size) and microwave it for 1 minute.
Step 10: Also, bring out a non-stick skillet and warm it up over medium-high heat.
Step 11: Sear ahi tuna for 2 minutes per side or until the tuna fish is finely cooked and reached to the desired degree of doneness.
Remove from heat and thinly slice the seared ahi tuna. You can garnish with green onions or parsley and serve with ahi tuna steak sauce.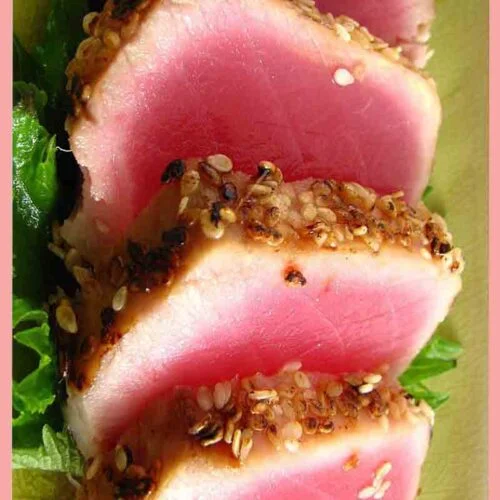 Ruth'S Chris Ahi Tuna Appetizer Recipe
Make restaurant like seared ahi tuna at home with the help of Ruth's Chris Ahi Tuna Appetizer Recipe. The taste will surely blow your mind!
Print
Pin
Ingredients
1

tbsp

fresh lime juice

2

tbsp

soy sauce

2

tbsp

sesame oil

1

tbsp

fresh ginger

thinly sliced

26

oz

ahi tuna steaks

about 1-inch each

1/2

tbsp

freshly ground black pepper
Instructions
Prepare a mixture of sesame oil, soy sauce and lime juice and pour them in a bag.

Season the ahi tuna steaks with black pepper.

Cook for 5 minutes to get the desired inside temperature.
Tips
Don't keep ahi tuna for marinating more than 15 minutes. Give a close eye to that or else the fish will start cooking right inside of the marinade period.

If you don't have non-stick skillet, cast iron skillet or grill pan can do the same work. Additionally, you have to heat up all of them over medium-high (400 degrees F) heat.
Nutrition
Nutrition Facts
Ruth'S Chris Ahi Tuna Appetizer Recipe
Amount per Serving
% Daily Value*
* Percent Daily Values are based on a 2000 calorie diet.
Conclusion:
The whole recipeof ruth's chris ahi tuna is super quick but can be tricky sometimes. As i said before, this is my all time favorite dish for any occassion. this I'm sure you will love it too. Explore your cooking experience and bon appetit!
You May Also Like: