For those who crave sausage but can't eat it because of the pork or beef, here is a great solution. Minnesota Potato Sausage Recipe is prepared with chickens, onions, and potatoes. We know that there are many religions like Islam, Hinduism where it is prohibited to consume beef, pork, etc.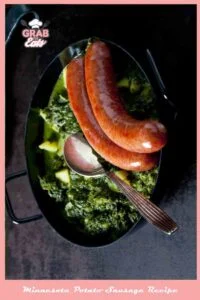 Anyone from any part of this world can prepare these potato sausages at home without any problem. Let's learn what we have in this recipe. 
Potato Sausage Recipe
Making sausages is not easy I will say but it is not impossible. To make this you will need at least 2 essentials. One meat grinder and the other one is sausage stuffer. To prepare potato sausage using chicken you need to make a puree of potato, onion, and mushroom. Then grind the chicken finely. with a meat grinder. 
Combine them all with salt, pepper, all spices, nutmeg powder, and whole milk. With the help of a Sausage Stuffer prepare the sausages. Cook them in a simmering mood for 25 minutes to 30 minutes. 
The ingredients list and step by step instructions are given below. 
Essentials that you will need are: 
Meat Grinder
Sausage Stuffer
Food Processor
Ingredients You will need are: 
2 Lbs of Chicken Breasts, Boneless and Skinless
4 Lbs of Chicken Thighs, Boneless and Skinless
3 Lbs of Russet Potatoes
2 Lbs of Yellow Onions, Finely Chopped
1 Lb Baby Bella Mushrooms, Finely Chopped 
3 Tbsp of Kosher Salt
2 Tbsp of Freshly Ground Black Pepper
1 ½ Tsp of Allspice
¾ Tsp of Nutmeg Powder
¼ Cup of Whole Fat Milk
How to Make Potato Sausage Step by Step:
Step 1: Take out a microwave-safe plate. 
Step 2: Peel 3 lbs of russet potatoes using a peeler. It will help you and save your time peeling. 
Step 3: Chop the potatoes into 1-inch cube pieces. 
Step 4: Place the potato cubes on the microwave-safe plate. 
Step 5: Cook the potato cubes over high heat (400 degrees F) for 15 minutes or until tender enough. Removing from heat, set the 
Step 6: Chop onions, mushrooms and place them in the food processor you have. Keep processing them until you get them pureed. 
Step 7: Add the onion-mushroom puree to the prepared potato cubes bowl. 
Step 8: Also, mash the mixture of potato and puree. You will stop when the mixture is super smooth. 
Step 9: Bring out your grinder and set the function to coarse form. 
Step 10: Process the chicken thighs and chicken breasts until super smooth.
Step 11: Add the chicken mixture to the potato onion-mushroom mixture. 
Step 12: Now, one by one add 3 tbsp of kosher salt, 2 tbsp of freshly ground black pepper, 1 ½ tsp of all spices, ¾ tsp of nutmeg powder, and ¼ cup of milk.
Step 13: Mix them finely. 
Step 14: Follow the instructions of your sausage stuffer. Also, set the appropriate nozzle in order to make your Swedish potato sausages. 
Step 15: Prepare the sausages of whatever size you like. 
Step 16: Using a fork make tiny wholes, tying off the ends of the sausages.
Cooking the Minnesota potato sausage:
Step 1: In order to cook, place the sausages in a steel bowl of boiling water. 
Step 2: Reduce the heat to a simmer and cook them for 25 minutes to 30 minutes. 
When done, remove from heat.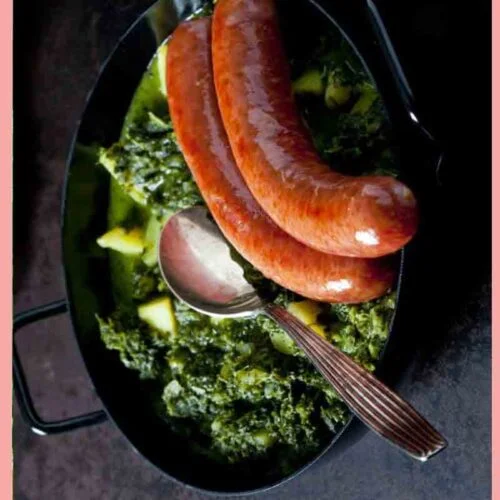 Minnesota Potato Sausage Recipe
Here we have a super delicious Minnesota potato sausage recipe that can be enjoyed anyone whenever you crave for sausages. Besides it is healthy.
Print
Pin
Ingredients
2

lbs

Chicken Breasts

4

lbs

Chicken Thighs

3

lbs

Russet Potatoes

2

lbs

Yellow Onions

1

lbs

Baby Bella Mushrooms

3

tbsp

kosher salt

2

tbsp

freshly ground Black Pepper

1 ½

tbsp

All spice

¾

tbsp

Nutmeg powder

¼

Cup

whole fat Milk
Instructions
Make a puree of yellow onions and mushrooms.

Mix them together by smashing.

Grind the chicken breasts and thighs.

Add rest of the ingredients and combine them finely.

According to the instructions of your sausage stuffer, make the sausages.

Cook the sausage and serve with butter, cheese, roaste broccoli, etc.
Nutrition
Nutrition Facts
Minnesota Potato Sausage Recipe
Amount per Serving
% Daily Value*
* Percent Daily Values are based on a 2000 calorie diet.
How to Serve Swedish Potato Sausage:
Slice the potato sausages or you can add up the whole. On a side of the plate add salted butter.  This is a basic technique of serving. 
You can melt cheddar cheese and pour it over the sausages. You can also serve it with fries or roasted broccoli or grilled Brussels sprouts.
Wrapping Up
Don't tension about sudden guests at all. If you follow the recipe, you will find out how easy and quick it is to prepare. Feed your whole neighborhood and you still won't be tired. Enjoy your cooking experience and stay with us !