The Smoothie King Hulk recipe is amazingly delicious and healthy. All the ingredients are really nutritious and you can find all the things you need in your closest grocery stores. The method of preparing this smoothie is very simple. Even if you are just starting out with making smoothies or if you have just started trying your hand in cooking, you will be able to make this smoothie fast and perfectly! So, why not try it out as soon as you can? You will find everything you need to know right here.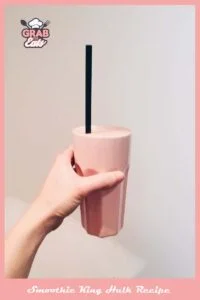 Know about the Ingredients and the Recipe:
Bananas: This recipe will need 4 frozen bananas. They must be ripe enough but not too ripe. The aim is to keep the flavor and texture smooth and fresh.
Pecan: You will need 2 tablespoons of pecans. You need to wash them and chop them up accordingly.
Soy Milk: Use ½ a cup of unsweetened soy milk. This recipe uses soy milk as an alternative to animal-based milk because of a multitude of reasons. If you wish, you can use animal-based milk too. The decision is up to you.
Vanilla ice cream: Use ½ a cup of serving of vanilla ice cream in the smoothie. This will help thicken the smoothie as well as add more flavor to it.
Protein powder: You must add 1 tablespoon of protein powder. This helps in boosting energy and provides the smoothie with the extra element needed.
How to Make the Hulk Smoothie from Smoothie King
The method of preparing a smoothie is pretty straightforward. Any amateur can make it to their will. You can even customize it to your desire. The hulk smoothie king is one of the easiest smoothies you can attempt to make. 
You must have a blender to make this smoothie. If you are a fitness enthusiast, you will have a blast making this smoothie! 
You can enjoy it after your workout or when you wake up in the morning. You can toast the pecans and chop them up for a better mix. Puree the pecans first. After that, you can put the ingredients into the blender. The bananas need to be properly ripe and frozen. You can obviously use whole milk but the recipe mentions soy milk. So, you can replace the milk choice according to your preference. When you're done with mixing all the ingredients up, pour it into a tall glass and enjoy! 
Here is the full recipe that you can follow step by step and review if you need. Let's dive into the recipe now. Step by Step Instructions to make the hulk blend is given below:
Step 1: Make sure the blender does not have any residual and wiped with a clean cloth to make sure the inside is completely clean. Toast the pecans for a minute or so. You can opt to chop the pecans into rough pieces to make the process easier. Then puree the pecans. Firstly, blitz them in high mode for a few minutes. Then keep blending for a bit more in normal mode.
Step 2: Cut the bananas in big chunks. Pour them in the blender. Blitz at high speed again. Then blend in a normal speed. Make sure there are no lumps left in the mix. You can stop the blending for a bit and take the lid off. Then dip a spoon into the blender to make sure that there are no lumps left. After you've made sure the lumps are non-existent, blend the rest of the mix. 
Step 3: Now, add the protein powder, vanilla extract and milk into the blender. You can also mix the protein powder with the milk to dissolve the powder. This will get you a smoother mix. 
Step 4: When the blending is done, pour some ice cubes into a tall glass, pour the mix into the glass, serve and enjoy!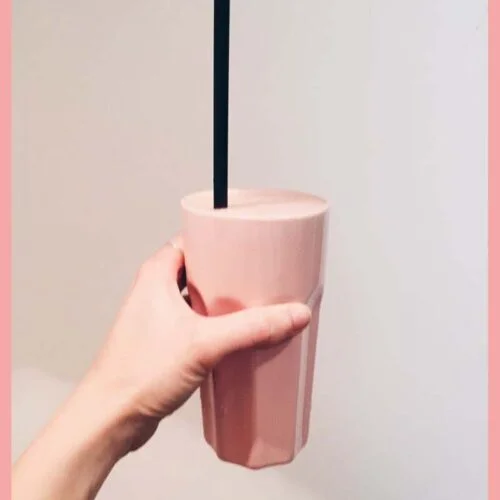 Smoothie King Hulk Recipe
Smoothie king hulk recipe is one of the best smoothie recipes you could try to make to start your morning
Print
Pin
Ingredients
4

frozen bananas

2

tbsp

pecan

½

unsweetened soy milk

½

Cup

vanilla ice cream

1

tbsp

protein powder
Instructions
A vanilla hulk smoothie is made with peanut butter, soy milk, and chopped nuts; you can also add frozen banana

protein powder, and vanilla ice cream for a great dessert

Additional flavors like chocolate, coffee, and strawberry can be used to personalize this super-nutritious treat.
Tips
To make a strawberry hulk smoothie king, you only need to replace or add strawberries into the mix. You can have a cup of cut up strawberries. You must wash and de-leaf the strawberries first. Then cut them up to measure the cup. 

If you want to add more types of nuts, just follow the same process of the way you will be pureeing the pecans. 

You can use chocolate too if you want. In order to do that, you can use chocolate sauce. You can also melt chocolate bars and then pour it into the blender. But you must follow the steps to puree the nuts first, then the bananas as base. Add chocolate sauce or chocolate melt into the rest of the mix. You also have to pour the vanilla extract and the milk of your choice. 

If you want a coffee flavored hulk shake, you can add a teaspoon of coffee to the mix. There's something else you can do, you can brew some coffee and mix it with the rest of the ingredients. But you have to make sure you balance the bitter taste of coffee with some honey or white granulated sugar. 

You can obviously have the type of milk you prefer. But the best ones to go with this smoothie is oat milk, almond milk and soy milk (as mentioned in the recipe) You can also use whole milk or half milk. If you want the smoothie to be extra thick, you can also use heavy cream. You do not necessarily have to do all the additional steps but these are here for your benefit and you can have more options.
Nutrition
Nutrition Facts
Smoothie King Hulk Recipe
Amount per Serving
% Daily Value*
* Percent Daily Values are based on a 2000 calorie diet.
Wrapping Up
So, as you can see, the hulk smoothie is so easy to make that you may just get addicted to making this everyday! You can start making this every morning and have it before your morning workout routine. It will feel really refreshing and the bonus point being you will feel very energetic before your workout.
The best part is that you can make more in advance and store it in the freezer on a daily basis. But you have to make sure you don't store it more than a day. Since it is made from fresh fruits, the more you store it the more possibility arises of the smoothie going bad.