During our visit to Mexico, we had this delicious street food called Chicken Taco Paco. Basically, it's another form of chicken taco, and even though we hate to admit it – it's much healthier compared to other fried appetizers. Now you know what they say – every street food is pretty easy to make at home.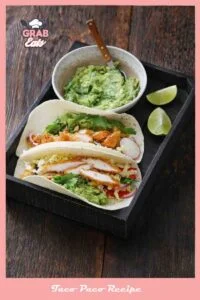 Soon after returning, we made Taco pacos at home, and it's a great addition to American breakfast. You are sure to be surprised to learn how easy it is to make at home. We make the filling, pizza dough and bake the taco until a crispy crust is on the top. 
Now, if that's clear – let's move on with the recipe. 
Taco vs Burrito Rules – Difference Between Taco and Burrito
You may wonder, what's the primary difference between a Taco and a Burrito? It's an obvious question as both of them have shells and delicious fillings inside. Apart from the name, you may not find any difference between the food combinations. 
However, tacos and burritos are not the same. Just consider an Indian Puri and Shawarma. Of course, both have different cooking methods, and they are not the same. Similarly, the difference between taco and burrito is the shell size. 
Simply put, Taco is a light meal while walking around in the streets. On the other hand, a burrito calls for a hearty and complete meal. Tacos usually have small corn tortillas, and the shell may be hard or soft. However, Burritos will have a large pitta bread wrapping the fillings. 
So, the basic rule that separates the two is the bread shells. 
How to Make Taco Pacos? 
Taco Paco is a popular street food in Mexico. It's a type of taco, and you have to make the fillings right. Now, you don't make the filling spicy. You can pair it up with salsas or hot sauce for a bit of heat. 
Mainly, the filling has plenty of depth in flavors. You can taste the cumin and mix of chilli in the taco paco. Also, the dough will attain a crunch, and it tastes much better. 
In this recipe, we are following the standard recipe for Taco Paco. You gather all the ingredients and prepare the way we tell you. If you are a novice in the cooking arena, you need to know the ingredients first. Once you know how the ingredients compliment your Taco Paco, you are all set. 
Ingredients We Need are Followed
We will divide the ingredients list into two sections. To make things easier, we will list ingredients for the filling and the dough separately:
Ingredients for the Filling
Nonstick Cooking Spray: We will bake the cookie taco, so we don't need plenty of oil. So, using nonstick cooking spray gives us a healthier option. 
Monterey Jack Cheese: It's a Mexican cheese version and works perfectly with our taco. For the filling, prepare 3/4 cup shredded jack cheese. 
Cooked Chicken: It's a light meal, so we need 1/2 cup shredded chicken. 
Granulated Garlic: Yes, garlic powder can release intense flavors quickly. However, the coarser grind in granulated garlic will keep the flavors intact. Just 1/ 2 teaspoon of granulated garlic is enough.
Onion Powder: 1/2 teaspoon of onion powder will disperse evenly throughout the filling with allover onion flavors. 
Chili Powder: We don't want to miss out on the spiciness of Mexican street foods. Just 1 teaspoon of chili powder is plenty. But you can add more if you wish. 
Ground Cumin: We want smoky and earthy flavors from our tacos. It will taste even better while you eat it piping hot. Just a pinch of ground cumin can deliver a smoky flavor. 
Paprika: Even though paprika is not that spicy, it can bring out the depth in flavors and increase the smokiness. To season our filling, we will add 1/2 teaspoon of paprika. 
Tomato: 1 Medium size tomato will bring out refreshing and juicy flavors in our taco. 
Pinto Beans: We did say it's a healthier variation of street foods. However, it's packed with fibers and protein. Prepare 1 cup refried mashed pinto beans on our filling. 
Bacon Fat: It's good to add 1 tablespoon of bacon fat to gain delicate and rich flavors. Anyway, you don't need to use bacon fat as it's an optional ingredient. 
Egg: We will add just 1 egg to the filling. The egg can dish out flavors from the granulated garlic and other seasonings. 
Homemade or Store-bought Pizza Dough: You can make the dough yourself to control the dough texture. We will also instruct the dough recipe here. 
Ingredients for the Dough
Warm Water: We don't want a smooth and delicate shell for the taco. So, we will use 1/4 cup of warm water to get a crispy shell after baking. 
Sugar: We need 2 teaspoons of sugar not to puff the taco shells. 
Rapid Rise yeast: One 1/4-ounce package of rapid rise yeast will make preparation faster. 
All-purpose flour: 3 1/2 cups of all-purpose flour with extra dusting for a better dough. 
Olive Oil: Keep the authentic dough Mexican; add 1 tablespoon of olive oil. 
Salt: We need 1/2 teaspoon of salt for our dough. 
Step by Step Instructions
Step 1: Preheat your oven to 350 degrees Fahrenheit. 
Step 2: Spray the cooking spray over a 12-cup muffin tin. Place the rack right in the center of your preheated oven. 
Step 3: Use a medium bowl to combine chicken with cheese, 1 tsp granulated garlic, onion powder, chili powder, 1/2 tsp cumin, paprika, and diced tomatoes. Set the bowl aside. 
Step 4: To stir pinto beans with bacon fat, take another medium bowl. 
Step 5: Mix in the remaining granulated garlic, a pinch of cumin, and 1/2 teaspoon onion powder. 
Step 6: Now, separate the dough into 12 equal pieces. Then, roll the dough into a 6-inch circle shape. Make sure the dough is 1/4-inch thick. 
Step 7: Take one dough piece and fit it into the muffin tin. Press the dough into the bottom and  press the side to get even. Please do it for all the dough pieces. 
Step 8: Beat 1 egg in a small bowl combining it with 1 tablespoon of water. 
Step 9: First, place 1 tablespoon of pinto beans at the center of the cup, on top of the mashed bin, place chicken mixture. 
Step 10: Fold the dough up around the filling. Pinch the dough so that there are no gaps. 
Step 11: Use the egg wash on top of the taco shell. 
Step 12: Bake the taco pacos for 30 minutes until you get a golden crust. 
Step 13: Transfer it to a wire rack for the tacos to cool down. 
Making the Dough
Step 1: Take a large bowl and combine warm water, sugar, and yeast. 
Step 2: Wait for 5 to 8 minutes until the mixture becomes foamy.
Step 3: Bit by bit, stir in the oil, flour, and salt. Mix all the ingredients until you get the dough form. 
Step 4: Knead the dough over a lightly floured surface. Start kneading. 
Step 5: After 5 minutes, place the dough in a lightly oiled bowl. Now, cover and set aside the dough in a warm place for 45 minutes.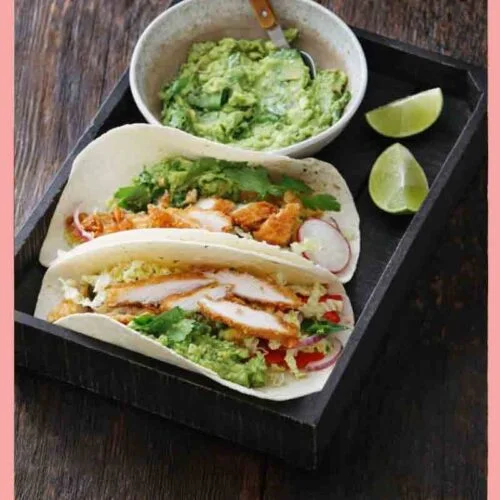 Taco Paco Recipe
Follow this Taco Paco Recipe to make a light, healthy and delicious snack for breakfast or afternoon snacks.
Print
Pin
Ingredients
Nonstick Cooking Spray

3/4

Cup

Monterey Jack Cheese

1/2

Cup

Cooked Chicken

1/2

tbsp

Granulated Garlic

1/2

tbsp

Onion Powder

1

tbsp

Chili Powder

1

Pinch

Cumin Powder

1/2

tbsp

Paprika

1

Medium-sized

Tomato

1

Cup

Mashed Pinto Beans

1

Egg

Homemade or Store-bought Pizza Dough
Instructions
Preheat the oven to 350 degrees F and prepare a 12-cup muffin tray

Combine chicken, cheese, granulated garlic, onion powder, chili powder, cumin, paprika, diced tomato in a medium bowl.

In another bowl, mix bacon fat, garlic, cumin, onion powder, and pinto beans

Prepare the dough and separate the dough into 12-pieces

Place the dough into the muffin tray and the pinto beans and on top of the dough with the chicken mixture

Cover the filling, close the dough and brush with egg wash.
Nutrition
Nutrition Facts
Taco Paco Recipe
Amount per Serving
% Daily Value*
* Percent Daily Values are based on a 2000 calorie diet.
Final Verdict
See? It's not tough to make Chicken Taco Pacos. Once you bake them, they will become a great addition to your favorite snack list.