When you don't find taste in your food, adding the sauce in it increases the taste. In terms of seafood, the tarter sauce comes into consideration. Because the tarter sauce fits seafood the most. 
Go for the cracker barrel tartar sauce recipe to explore uniqueness. Cracker Barrel is a traditional Southern-themed restaurant and gift store. Tarter sauce will enhance the taste of your dishes. 
It's versatile enough to serve with different menus. From fish sandwiches to fried seafood dishes, it goes with any dish. Most importantly, it requires no baking or cooking. So, making your tarter sauce anytime will be great fun for you.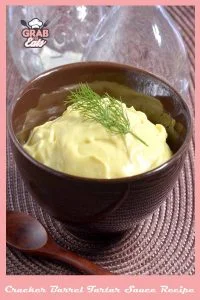 Cracker Barrel Tartar Sauce Ingredients
To make the Cracker Barren Tarter sauce, you require to have mayonnaise, Worcestershire sauce, lemon juice, dill relish, dried parsley, and dried onion flacks. 
However, if you don't have them available, go for the following ingredients. And you can make the same-
Pickle (1 Small)
We will add lots of flavor and texture to our tarter sauce dish. So, we like to take a small pickle and cut it into tiny pieces. Put the chopped pieces into a bowl and keep them aside. 
Mayonnaise (2 Cups)
Mayonnaise will deliver the creamy base to prepare your tarter sauce. So, you need to take 2 cups of mayonnaise. You either can use store-bought mayonnaise or can use homemade mayonnaise. Take 2 cups for this recipe. Or you can take 1 cup if the serving is single.
Chopped Capers (1 Tbsp)
When you make your tart sauce, especially for seafood, you must add capers. It makes the sauce perfect for baked tuna, pasta, and other dishes. So, take 1 tbsp of capers and chop them into small pieces. Adding capers will bring a nice savory flavor to your dish
Chopped Dill (½ Cup)
If you want an ingredient that works as both spice and flavor agents, take fresh dill. Usually, the tarter sauce of Cracker Barrel is made with dried dill in the Cracker Barrel. However, We like to use fresh dill. So take ½ cup of thinly chopped dill. 
Lemon Juice (2 Tbsp)
Lemon juice is what you cannot make the tarter dill without it. So take 2 tbsp of lemon juice. 
Worcestershire Sauce ( 1 Tsp)
This ingredient works as a condiment in the tarter sauce recipe. Don't add much of this ingredient. Your sauce will be distasteful. So, 1 tsp will be perfect.
Dijon Mustard (1 Tsp)
It's optional if you want to increase the flavor. But, if you have it available in your kitchen, we recommend adding 1 tsp of Dijon mustard. 
Salt & Pepper (½ Tsp Each)
Adding pepper powder will also spread a nice flavor. So, take ½ tsp of pepper powder. And finally, you need ½ tsp of salt to season the sauce. 
How to Make Cracker Barrel Tartar Sauce?
It's surprisingly easy a recipe that requires only mixing ingredients. No cooking, baking, or cooling process is required. Here's how-
Step-1
Take a bowl and pour mayonnaise into it. Now add chopped pickles, capers, and chopped dill. 
Step-2
This time, add lemon juice with all other ingredients. No need to mix them yet. You need to add some more ingredients. 
Step-3
After lemon juice, add the Worcestershire sauce. Take a teaspoon and take 1 tsp of this sauce and add to the sauce recipe. 
Step-4
Add Dijon mustard with other ingredients. Don't add excessive. It will make the sauce stronger and distasteful.
Step-5
Once you have finished adding all the ingredients we instructed, keep stirring to mix them. Make sure all the elements are properly mixed with one another. 
Step-6
Your Cracker Barrel tarter sauce is ready. Now, serve it with any of your favorite dishes. 
NB: Ingredients for the original Cracker Barrel tarter sauce are mayonnaise, Worcestershire sauce, lemon juice, dried dill relish, dried parsley, and dried onion flacks. The additional elements are optional. You can add them or skip them. But these are game changers to bring a huge taste to yoru tarter sauce. 
Best Side Dishes to Serve With 
Fish Fingers
Fish Sandwich 
Chops
Fried Garlic Scallop
Fried Garlic Oyster
Calamari
Crab Cakes
Crispy Baked Vegetables
Potato Wedges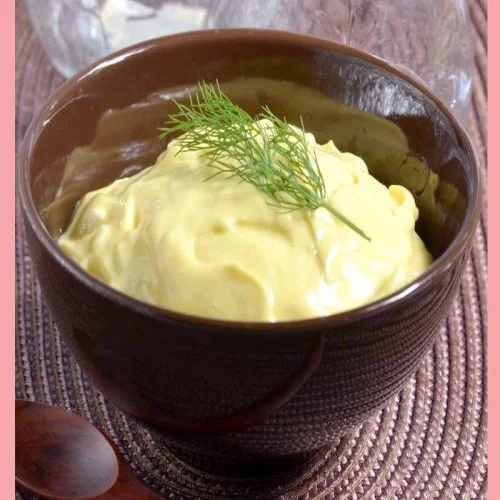 Cracker Barrel Tartar Sauce Recipe for Sea Food Dishes
If you're fond of seafood, increase your taste with the Cracker Barrel tartar sauce recipe. The tarter sauce made of Cracker Barrel is one of the top spreads for seafood.
Print
Pin
Ingredients
1

Pickle

Small

2

Cups

Mayonnaise

1

Tbsp

Chopped Capers

½

Cup

Chopped Dill

2

Tbsp

Lemon Juice

1

Tsp

Worcestershire Sauce

1

Tsp

Dijon Mustard

½

Tsp

Salt

½

Tsp

Pepper
Instructions
Mix mayonnaise, chopped pickles, capers, and chopped dill, lemon juice, Worcestershire sauce, Dijon mustard 

Your Cracker Barrel tarter sauce is ready to serve 
Tips
Adding Dijon mustard increases the taste into doubled.

You also can add parsley instead of Dill.

To add heat, add chopped jalapeno of ½ tsp.
Nutrition
Nutrition Facts
Cracker Barrel Tartar Sauce Recipe for Sea Food Dishes
Amount per Serving
% Daily Value*
* Percent Daily Values are based on a 2000 calorie diet.
Conclusion
Making the Cracker Barrel tartar sauce recipe is so much easy. You can make this recipe anytime due to its quick-making process. If you have 10 minutes, you're ready to make it. The original recipe requires only a few ingredients. And, all of them are clearly mentioned above. 
However, add the additional ingredients to bring more more flavor. Serving this spread with your dishes will change the taste and flavor. And allow you to enjoy your moments more spontaneously. 
You May Also Like:
Cheddars Honey Hot Sauce Recipe