Hey! It's a warm evening, and nothing can top seafood for your dinner table. During summer, it's better to cook homemade seafood dishes, and Alaskan Pollock Recipes are the best choice. Now, which Pollock Recipes can you easily prepare at home?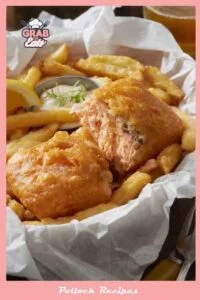 This mild-tasting fish has a similar flavor to cod. However, during summer, you can enjoy fresh pollock at its peak. Therefore, during summer, we like to cook fine quality Pollock fish recipes. Today, we are going to discuss two different recipes here. Hope you enjoy the summer night with comforting seafood. 
About Alaska Pollock Recipe: 
Alaskan Pollock is the most consumed seafood item in the whole United States. Well, there's a good reason behind pollock's popularity. First, you will find the taste of this fish similar to the cod. The light and flaky texture of the pollock is pleasing to the taste buds. Not to mention, the fish is loaded with lean protein that most people prefer. Also, the essential nutrients call for a proper healthy dish. 
There are a number of ways to cook pollock. You can pan-sear it, grill it, bake it, or even prepare a stew. No matter what cooking method you wish, it can pair with just about any side dish. 
Aside from the cooking method, pollock is widely used in fast food. You won't believe it, but we had this Pollock taco the other day. And immediately after taking a bite, we were surprised by the meat's versatility. 
You will find most Pollock recipes that prefer baking. Whether you bake the meat in an oven or dutch oven – depends entirely on you. Mainly, the most important thing is to prepare the fillets. Once you get those beautiful filets ready, you can try out different recipes at home. 
So, let's learn the basics for preparing a Pollock. 
How to Cook Pollock Fish Fillets?
While you fillet a pollock, there's no need to remove the skin. You can keep the skin on and pan fry it. So, how can you fillet a pollock? Just follow these simple instructions and prepare the fillets without ruining it:
To Make Things Easier at Home, It'S Better to Remove the Head First. Cut the Head from behind the Fins so that You Don'T Waste Any White Meat. 
after Removing the Head, You Need to Cut the Fish down the Backbone, Opening It up. of Course, You Have to Be a Little Forceful in the Head End. 
once You Get the Fillet – Separate It from the Main Body. Make Sure You Trim off a Little Bit of Belly Fat from the Pollock. 
There Will Be a Few Pin Bones in the Lateral Line – We Want to Get Rid of Them for Good. so, Make a V Cut to Get Rid of the Pin Bones. 
Now, We Have to Prepare the Other Side with the Backbone. This Is Going to Be a Little Tricky at First. First, You Have to Run Your Knife Half the Way down to the Head. 
We Need to Use a Quarter of the Blade to Get the Other Fillet Ready. after Cutting the First Half, You Have to Run the Knife All the Way to the Tail. 
once We Get Our Second Fillet – Trim Excess Fat and Pin Bones like the Previous One. 
After preparing the fillet, we can make baked pollock fish recipes. Here we will show you two different dishes we tried at home and want everybody to try on their own. 
How to Cook Alaskan Pollock? (Baked Pollock)
There are two ways you can cook Alaskan pollock at home – oven-baked or baked pollock. Generally, oven-baked pollock requires only 4 simple ingredients. However, we will be making baked pollock using sour cream, melted butter and parmesan cheese. 
So, how to cook this baked pollock at home? Just gather all the ingredients and follow our simple instructions to make this easier. 
Ingredients You Need:
Pollock Fillet: Prepare 4 pollock fillets for our baking dish. 
Sour Cream: Sour cream can do wonders with any baked goods. It will pack an acidic punch to the final dish. For our dish, we need ¾ cup of sour cream. 
Parmesan Cheese: There is no need to get worked overseeing parmesan cheese with Pollock. The cheese can complement the flaky texture of the white fish. Prepare ½ cup of parmesan for the dish. 
Melted Butter: Melted butter is best for baking seafood. It will blend with the seasonings to bring out the mellow flavors. Further, your fish will stay soft and dense even after bringing it out of the oven. Cooking 4 fillets requires ¼ cup of melted butter. 
Salt: It's better to use ½ teaspoon salt to the fillet. 
Black Pepper: Adding ⅛ teaspoon of black pepper will elevate the flavors. 
Step by Step Instructions for Baking Pollock Recipe
Step 1: Preheat your oven to 350 degrees Fahrenheit
Step 2: Use a brush to grease a 9×13 inch baking dish. 
Step 3: Place the four prepared pollock fillets in the baking dish. Place them in a single layer. 
Step 4: Use a bowl to stir together parmesan cheese, sour cream, salt, pepper, and melted butter. Mix all the ingredients into a delicate cream. 
Step 5: Spread the cream evenly over our pollock fillets. 
Step 6: Place your baking dish inside the oven. Now, bake the fish uncovered at 350 degrees Fahrenheit. Wait for 30 minutes and check whether the fish is cooked all the way through. 
Note: Use a fork to check whether the pollock is cooked or not. When the fish flakes easily with a fork, it's ready. 
Recipe 2: How to Cook Pollock from Frozen?
Now, even if you can't cook fresh pollock, there's always an alternative, and that's to cook frozen pollock. Trust us; you can make a great dish from frozen pollocks. But first, you need to choose the right fish. Choosing the frozen pollock is the key to cooking the best fish. 
Choose packages of wraps that are completely intact, and the fish is completely frozen. If you plan to cook the fish for the next day – seal the frozen fish inside a plastic bag and thaw it inside the refrigerator. Make sure the fish is immersed in cold water overnight. On the other hand, just use the microwave and turn to the defrost setting if you want to cook it right away. 
Anyway, the best way to cook frozen fish is by baking, grilling or sauteing. So let's have a look at the recipe for frozen wild pollock:
Ingredients you Need
Frozen Pollock Fillets: We will be making a dish for 4. So, we need 4 frozen pollock fillets. Once you get the fillets, defrost them in any method you prefer. Don't let the water make the white meat mushy. 
Garlic Cloves: Simply put, garlic can kill any parasite in frozen fish. Not just that, it also acts as a flavoring agent for our fish. So we need just 2 garlic cloves to get the aroma working for us. 
Melted Butter: The melted butter will develop a Maillard reaction with the white fish meat. As a result, you will get complexity with the flavors that make you crave more. Further, the melted butter will result in a delicate golden crust on the fish. For this recipe, we need ¼ cup melted butter. 
Parsley: Parsley can dish out a classic aroma and flavor in our dish. Also, it can generate a delicate but sharp punch in our baked fish. We only need ½ teaspoon of dried parsley for our frozen pollock. 
Lime Juice: The acidity of the lime juice can help us break the proteins inside the fish. This way, we can hope for well-cooked fish. For this recipe, we will add 1 teaspoon of whole lime juice. 
Salt and Pepper: Use salt and flavor to taste. 
Step by Step Instructions
Step 1: Preheat your oven to 400 degrees Fahrenheit
Step 2: Grease a baking dish using oil
Step 3: Lay the pollock fillets in a single layer over the baking dish
Step 4: Use a small bowl to combine garlic, parsley, melted butter, and other ingredients. Whisk them to a mix. 
Step 5: Pour the mixture over your fillets. 
Step 6: Bake the fish for 30 minutes and bring it out when it flakes with a fork.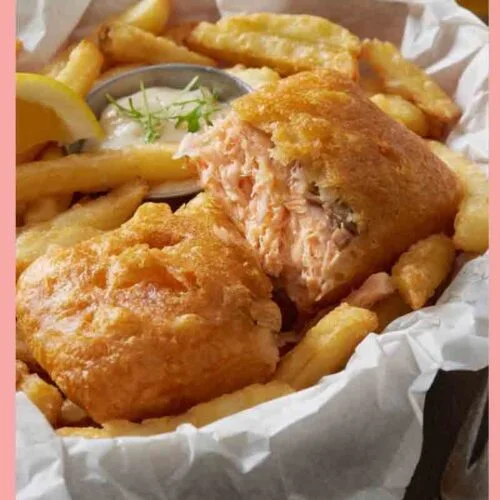 Pollock Recipes
We have 2 delicious pollock recipes to try out at home. This calls for a great seafood night on the table.
Print
Pin
Ingredients
4

Pollock Fillets

3/4

Cup

Sour Cream

1/2

Cup

Parmesan Cheese

1/4

Cup

Melted Butter

1/2

tbsp

Salt

1/8

tbsp

Black Pepper
Instructions
Set the oven for preheating to 350 degrees F and prepare a baking dish.

In a bowl, prepare cream  with parmesan cheese, sour cream, salt, pepper, and melted butter.

Place the fillets on the baking dish and top with cream.

Bake for 30 minutes or until completely cooked.
Tips
You can steam the fish to redeem the natural fishy flavor.

If you want to fry the fish, use breading for better texture.
Nutrition
Nutrition Facts
Pollock Recipes
Amount per Serving
% Daily Value*
* Percent Daily Values are based on a 2000 calorie diet.
Final Verdict
There's always a panicking evening where you cannot think of anything for dinner. Well, if it's summer, we have two recipes for you. Try these recipes at home, you are sure to fall in love with the white meat.