Imagine yourself making dinner on a hot summer day. Well, Pittsburgh salad can go toe to toe with steak during a hot day. There was this time when we had this salad in a hotel. Right away, we were impressed with its soothing taste. Of course, the riviera dressing had a big role in making the salad refreshing for our pallet.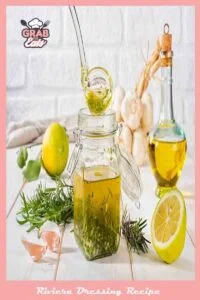 That's why we were curious to try out the Riviera dressing recipe. And as it turns out, it's a great dressing for a cool salad dish. Now, let's look at making this salad dish at home. 
What is Riviera Dressing?
There's another name for the Riviera dressing, and that's Riviera vinaigrette. You can adjust the riviera salad any way you want. However, the magic is on the salad dressing. Simply put, you can taste the Riviera herb in the salad. 
Making the Riviera dressing is straightforward enough. Don't let the price fool you – you don't have to spend plenty of money on the ingredients. Once you peek at the ingredients, you will know what we mean. 
Also, there are ways to improve dressing the way you love. For example, the riviera dressing is not like champagne vinaigrette. Instead, it uses riviera and has a different taste to it. But you can still use champagne vinegar to enhance the dressing. 
Now, what makes this side menu so refreshing? You can top this salad on meat, fish, chicken, or any other heavy dish. It has a slightly sweet taste with a little bit of vanilla extract flavor. You can even eat only the salad, and just the dressing is enough to cool you a bit. 
Just a single serving of salad with riviera salad contains 120 calories, 9g carbs, and 9g fat. So, Riviera salad dressing stands out the most during summer days in terms of nutritional value. You can preserve the salad dressing in an airtight jar and use it anytime. The oil on the dressing can hold the ingredients for at least a month or two. 
Know about Your Recipe and Ingredients
French Riviera Herbs: Riviera Herbs can relish bold flavors from onions and other dressing ingredients. It has a mild aroma and can deliver a soothing after effect in a salad dish. 
Distilled White Vinegar: Instead of mild champagne vinegar, we need distilled white vinegar. Mainly, it's an acid without flavors, and other ingredients from the dressing will enhance the acidic taste. 
Salt: For seasoning, normal table salt is preferable. 
Honey: You can use sugar, but honey is an excellent alternative for sweetness. Also, honey can add better consistency in our dressing. Not to mention, it's a healthy alternative over regular sugar. 
Hot Sauce: Adding chili flakes can help, but if you don't like flakiness in the vinaigrette, you can use hot sauce. Even we like hot sauce for our salad dressing. 
Onion Powder: There's a reason why we will avoid fresh onions. If you want to preserve the salad dressing, you better use onion powder. The onion powder will disperse evenly throughout the dressing for an all-over and rich onion flavor. 
Garlic Powder: We will use garlic powder instead of freshly minced garlic. The garlic powder can help us keep the dressing in the refrigerator for longer. 
Olive Oil: Olive oil can add a fragrant aroma in the dressing. Also, olive oil is refreshing for the salad dressing. 
How to Make Riviera Dressing?
Riviera dressing is pretty easy to make at home. You can find every ingredient in any grocery store. It's a soothing salad dressing that calls for fresh ingredients. The dressing can be used in Russian salads or any normal salad with fresh veggies. 
It's a tad bit sweet and also has a little spicy kick to it. That's why the dressing is so refreshing. You can taste the earthy flavors of Riviera herbs and, at the same time, feel the spices blend together. 
Maybe you have meat for dinner. If the meat is spicy, the Riviera dressing salad will be a treat to enjoy. Most of the store-bought riviera dressings are expensive. But once you start to make the dressing at home, you can make them at half the price compared to store-bought dressing. 
Generally, there are two methods for making the salad – whisking all the ingredients in a bowl and mixing all the ingredients in a glass jar. We will show you how to make Riviera dressing using a glass jar in this recipe. 
We love this method because we don't need to waste a bowl or other utensils. So, let's have a look at the amount of each ingredient. 
Ingredients You Will Need Are
1 Tablespoon of French Riviera Herbs
1/2 Cup Distilled White Vinegar
1/2 Cup Olive Oil
1 Tablespoon of Salt
2 Tablespoon of Honey
1 Tablespoon of Garlic Powder
1 Tablespoon of Onion Powder
1 tablespoon of Hot Sauce
Step by Step Instructions
Step 1: Get a clean glass jar with a leak proof lid. 
Step 2: Measure all the ingredients and keep them separate in a bowl
Step 3: Add the 1/2 cup olive oil and 1/2 cup white vinegar and stir them to a mix. 
Step 4: Bit by bit, add the garlic powder, onion powder, hot sauce, salt, honey, and Riviera herb.
Step 5: Close the jar lid and shake it well to mix perfectly.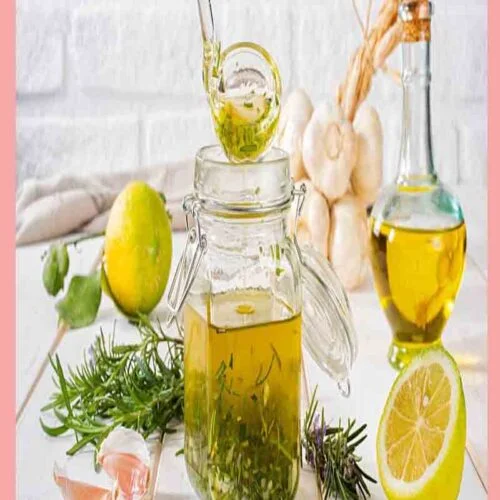 Riviera Dressing Recipe
The Riviera salad recipe calls for a soothing salad dish during any hot summer day.
Print
Pin
Ingredients
1

tbsp

French Riviera Herbs

1/2

Cup

Distilled White Vinegar

1/2

Cup

Olive Oil

1

tbsp

Salt

2

tbsp

Honey

1

tbsp

Onion Powder

1

tbsp

Garlic Powder

1

tbsp

Hot Sauce
Instructions
In a clean jar with a leak-proof lid add white vinegar, olive oil, garlic powder, onion powder, hot sauce, honey, and riviera herb.

Closing the lid, shake and mix the ingredients perfectly.
Tips
Get a larger glass jar to get extra room for shaking the dressing. 

You can use a bowl to make the salad dressing. Just whisk all the ingredients together and preserve them in a clean jar.
Nutrition
Nutrition Facts
Riviera Dressing Recipe
Amount per Serving
% Daily Value*
* Percent Daily Values are based on a 2000 calorie diet.
Wrapping Up
We gave you an easy-to-prepare Riviera vinaigrette recipe. However, you can use a bowl and whisk all ingredients together to make the salad dressing. There's another way, use a blender to blend the ingredients until you get a puree. Once you make this dressing at home, it's a great way to lighten up your salad with a bold taste.
You May Like Also: