Paula Deen ham recipe is a great recipe that you can try out without having to go through the trial and error period of cooking too many dishes that don't turn out as promised. If you can follow the instructions properly, we can guarantee that this recipe will not disappoint you.
The best part about glazed ham is the glazed part itself. A burst of flavor in every layer of the ham is a delightful cooking and dining experience for sure. If you can perfect cooking this dish, it will surely be very fruitful for you!
Here are the details to make sure you get a perfectly glazed and cooked ham to enjoy this holiday season!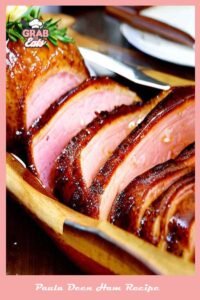 Ingredients
Brown Sugar: 2 cups of packed light brown sugar. Brown sugar adds a different flavor than regular white sugar, especially in a savory dish.
Dijon Mustard: ⅓ cup of Dijon mustard. Dijon mustard is different from regular mustard and the taste is enhanced more in savory dishes like this one.
Honey: ¼ cup of honey. To balance all the other elements in the dish, honey is the best choice. It also helps with the consistency and texture of the dish.
Red Pepper: Pinch of ground red pepper. Red pepper adds a fresh and spicy taste to the dish.
Ham: 1 fully cooked spiral-cut ham. This is the primary ingredient and star of the dish.
Pineapple Slice: 20 ounces or a can of pineapple slices. Pineapple slices add an acidic flavor which counters the sweetness and neutralized the balance to the proper amount. 
Cloves: 15 -20 whole cloves. Cloves add a great aroma and a herby flavor to the dish. 
Maraschino Cherries: 8 ounces or a jar of maraschino cherries. Cherries add a subtle sweet and sour taste to the dish, making it feel wholesome and fulfilling. 
How To Make Paula Deen Hams ?
Step 1: Preheat the oven as indicated on the ham packaging and bake the ham as directed. Remove the ham from the oven approximately 30 minutes before the warming time is over.
Step 2: Arrange the pineapple slices decoratively on top of the ham, fastening them with whole cloves or toothpicks, if needed. 
Step 3: Insert a cherry into each pineapple and fasten it with a clove or toothpick.
Step 4: Bake for the remaining 30 minutes, spooning the glaze over the ham. 
Step 5: Remove the ham from the oven and place it on a cutting board to carve. Serve warm and enjoy.
How To Make The Brown Sugar Glaze For Ham 
Ingredients To Make Paula Deen Ham Glaze With Brown Sugar
3⁄4 cup packed light brown sugar
2 tablespoons yellow mustard
2 tablespoons pineapple juice
Instructions
In a small bowl, combine the brown sugar, mustard, and just enough of the reserved pineapple juice to make a thick glaze. Beast them thoroughly to make a concoction. Baste it as necessary on the ham.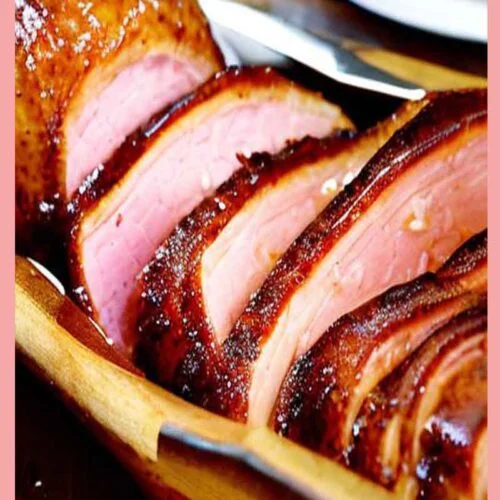 Paula Deen Ham Recipe
With the holidays upcoming, why not try out a popular and widely loved dish? Check out this delicious Paula Deen ham recipe that is glazed and tender!
Print
Pin
Ingredients
2

Cups

Firmly packed light brown sugar

1/3

Cup

Dijon mustard

1/4

Cup

Honey

2

Tbsp

Pineapple juice

A

Pinch

Ground red pepper

1

Fully cooked spiral-cut ham

20

Ounces

Pineapple slices

15-20

Whole cloves

8

Ounces

Maraschino cherries

3/4

Cup

Packed light brown sugar

2

Tbsp

Yellow mustard
Instructions
Preheat the oven to 325 degrees F.

Whisk together the sugar, mustard, honey, pineapple juice, and ground red pepper in a medium mixing bowl.

Drizzle the sugar mixture over the ham in a large roasting pan. Wrap with aluminum foil.

30 minutes in the oven Bake for 45-60 minutes more, basting with pan drippings and ham glaze every 15 minutes.

Serve warm with sides of your choice and enjoy!
Tips
To get a crunchy ham glaze, baste the ham every few minutes and you can turn the dish around after each glazing for an evenly cooked ham

You can reserve the pineapple juice from the can of pineapple to make the ham glaze and you can save the ham glaze mix for future use as well!

You can heat up a pan and mix the glazed ham with a little bit of flour and butter, a bit of salt and pepper for an easy gravy to have with the ham. 

Baked or mashed potatoes, sourdough bread, and a simple light salad can be used as sides with the delicious ham.
Nutrition
Nutrition Facts
Paula Deen Ham Recipe
Amount per Serving
% Daily Value*
* Percent Daily Values are based on a 2000 calorie diet.
Final Words
Make your dish the star of the table with this glazed ham recipe. You can make alterations to it once you have perfected the instruction manual thoroughly and can try out your own little experiments.
This upcoming holiday season, make sure you cook this delicious mouth-watering dish by following the recipe above, we guarantee you that you will not be disappointed!