If you're a fan of Mexican food, then you may know that Carne Asada is the king of all dishes. And when it comes to Carne Asada, nobody does it better than King Taco. But have you ever wondered what goes into making this mouthwatering recipe? Stick around to find out!
King Taco is a prominent Mexican fast-food chain that's been around since 1974. They offer a wide range of options from, but their Carne Asada is a cult-favorite that customers simply cannot get enough of.
Made with tender flap meat, mojo criollo, and secret seasoning, Carne Asada is a versatile dish that pairs well with almost anything. If you are looking forward to recreating this delectable dish, copycat King Taco Carne Asada recipe is here to save the day!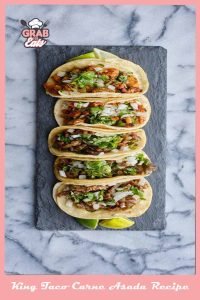 Know about the King Taco Carne Asada Recipe? 
When it comes to King Taco's famous carne asada, the ingredients are what make it truly special. We've uncovered all the secret ingredients that go into making this Mexican classic. And the best part is you don't need to get your hands on any fancy ingredients. Everything you need is probably already in your kitchen. 
Flap Meat: First things first, the key ingredient of the recipe. Flap meat is a lean and tender cut of beef that comes from the sirloin area of the cow. It is a relatively thin cut that cooks quickly and evenly, making it perfect for grilling. 
The meat has a rich flavor that is delicious on its own. But when marinated in spices and seasonings, it becomes even more flavorful. For this recipe, around 2 lbs. of flap meat should do the job. 
Mojo Criollo: Marinade is a key component in this recipe. A good marinade helps tenderize the flap meat and infuse it with flavor. And this is where mojo criollo comes in. It is a traditional Cuban sauce with a tangy, savory, and slightly spicy flavor. You can use the store bought one or make it from scratch. 
All you have to do is take a few cloves of garlic, orange juice, olive oil, and some salt and pepper. Now, blend all the ingredients in a blender, and voila! If you want to add some depth to the mojo criollo, consider adding some cumin powder, and dried oregano. You will need around cups of criollo sauce for this recipe.
Limes: Here comes the secret ingredient that makes all the difference. King Taco tends to use a lot of acidic juice in the marinade to tenderize the meat. Lime juice contributes to the juiciness of the meat and balances out the richness. 
Take at least two large limes and squeeze them. Freshly squeezed lime juice works best for the recipe. However, you can opt for the store bought one too. 
Onions: Onions are a great addition to the recipe. They add a sweet and savory flavor that complement the meat very well. They also add a nice texture to the dish, providing a bit of crunch in contrast to the juicy meat. You will need two large onions for this recipe. White onions work best, but you can go with the red ones as well. 
Oil: While it's obvious that you'll need oil to cook the meat on a griddle, you'll need some for the marinade too. Adding a bit of oil in the marinade will help distribute the flavors more evenly. Moreover, it will prevent the meat from sticking to the pan while creating a nice sear. You'll need about 1 tbsp. of oil for the marinade, and around 3 tbsp. for cooking the meat. 
Cilantro: Cilantro is typically used as a garnish when serving Carne Asada. A handful of cilantro adds a fresh flavor and nice pop of color to the dish. 
Seasoning: While salt and black pepper may seem like basic seasonings, they are key ingredients that give this dish a well-rounded flavor. You can also use garlic powder, cumin powder, and paprika according to your taste if you want to add a hint of heat to the dish. These are optional, so you can skip them if you want. 
How to Make King Taco Carne Asada?
While the exact recipe for King Tacos carne asada is a secret, we've come up with a version that comes pretty close to the real thing!
Step 1
Cut the flap meat into thin and long strips.
Step 2
In a large mixing bowl, combine Mojo Criollo, oil, lime juice, and seasonings. Give it a good mix. Place the flap meat in a large zip lock bag and pour the marinade over the meat.
Step 3
Seal the bag and make sure the meat is evenly coated.
Step 4
Place the bag in the refrigerator and allow the meat to marinate for at least 6 hours, but preferably overnight.
Step 5
Preheat a grill or griddle over medium-high heat.
Step 6
Lightly oil the cooking surface and cook the meat until it is nicely browned.
Step 7
Remove the meat from the heat and let it rest for a few minutes before serving.
Step 8
Serve with tortilla, freshly sliced onions, and some cilantro.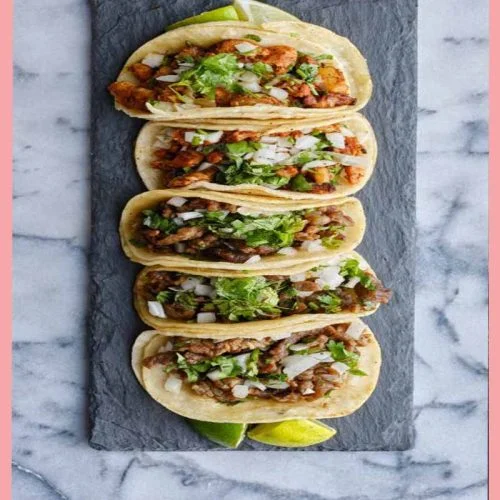 King Taco Carne Asada Recipe
Carne Asada a classic Mexican dish that is now enjoyed around the world. Follow this king taco carne asada recipe for a simple yet delicious meal that can be enjoyed any time of day.
Print
Pin
Ingredients
2

Lbs

Flap meat

2

Cups

Mojo Criollo sauce

2

Squeezed limes

Large

2

Diced onions

Large

1

Tbsp

Oil

For marinade

3

Tbsp

Oil

For cooking

Cilantro

As you need

Salt and pepper

To taste
Instructions
Combine the meat, mojo criollo, oil, lime juice, and seasonings in a bowl.

Place the meat in a ziplock bag and marinate for 6 hours in refrigerator.

Preheat a griddle over medium-high heat.

Cook the meat until it's nicely browned.

Serve with tortillas, onions, and cilantro.
Tips
If you're craving

carne asada chicken tacos

, then you can substitute the flap meat with boneless chicken thigh meat.

Feel free to experiment with different toppings such as sliced avocado, shredded cheese, hot sauce to add your own spin to the recipe. 

If you don't have access to a griddle a regular cast iron skillet will do the job.

If you want to make the

kind of tacos

they serve at King Taco, heat your tortillas on a dry skillet over medium-high heat for about 30 seconds on each side. Make sure to add a spoonful of salsa over the meat toppings before folding the tortilla. 

You can use leftover carne asada to make burritos as well.
Nutrition
Nutrition Facts
King Taco Carne Asada Recipe
Amount per Serving
% Daily Value*
* Percent Daily Values are based on a 2000 calorie diet.
Final Words
Eating out can be super tempting, especially when you're craving some delicious carne asada. But let's be real, it's not always the healthiest option. Not to mention how expensive it can be to eat out these days. 
Now that you have the foolproof King Taco carne asada recipe, you can satisfy your craving in the comfort of your own home. So, what are you waiting for? Give this recipe a try!