Paula Deen goulash is a classic comfort food with savory ground beef, spicy tomato sauce, and hearty macaroni noodles. This Paula Deen's Goulash Recipe is an American Goulash. This cheap, easy-to-make, one-pot recipe can feed a large group of hungry people.
Southern goulash is mostly a soup or stew made of meat and vegetables with paprika and other spices. Goulash is a typical dish in Central Europe and other parts of Europe. It came from Hungary. It is one of the national dishes of Hungary and a symbol of the country.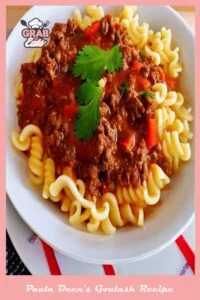 Know About Your Ingredients:
Bay leaves: 3 bay leaves. The bay leaf is a commonly used aromatic leaf in cooking.
Water: 3 cups of water. Water is an essential element in all food processes.
Ground beef: 2 pounds of lean ground beef. Ground beef consists of skeletal muscles, muscles attached to bone, and no other types of meat.
Yellow onions: 2 large yellow onions, chopped. Onions are a flavour powerhouse. They are sweet, savoury, and aromatic, adding extra depth to any dish.
Garlic: 3 cloves of garlic, chopped. Garlic has a strong flavour that's almost spicy when raw and tastes nutty when cooked.
Tomato sauce: Two 15-ounce cans of tomato sauce. Tomato sauce can refer to a variety of sauces primarily composed of tomatoes.
Tomato: Two 15-ounce cans of diced tomatoes. Tomatoes are a great source of umami flavour. 
Seasoning: 2 tablespoons of Italian seasoning. It gives food a lot of flavour and balance by combining different ingredients.
Soy sauce: 3 tablespoons of soy sauce. Soy sauce is a versatile sauce used as a dipping sauce and a seasoning salt.
Salt: 1 tablespoon of seasoned salt. It balances the sweetness and helps hide other flavours, like bitterness.
Elbow macaroni: 2 cups of elbow macaroni, uncooked. Macaroni is dry pasta that looks like narrow tubes. 
How to Make Paula Deen's Goulash:
Step 1: In a Dutch oven set over medium heat, break up the ground beef as it cooks and browns it.
Step 2: Add garlic and onions to the pot and cook for five minutes or until they are tender.
Step 3: Add the diced tomatoes, tomato sauce, bay leaves, Italian seasoning, seasoned salt, and soy sauce to a pot with 3 cups of water and stir to combine.
Step 4: Mix in the elbow macaroni well, then replace the top and allow it to simmer for 30 minutes.
Step 5: After removing the bay leaves and turning off the heat, allow the goulash to cool for half an hour before serving it with garlic bread and salad.
Southern Style Goulash Recipe
The southern goulash with stewed tomatoes is a hearty one-pot meal the whole family will enjoy. It's a quick, economical dinner with a hearty tomato meat sauce and pasta.
Know About Your Ingredients:
2 pounds of lean ground beef
1 yellow onion, chopped
1/2 red or green bell pepper, chopped
2 cloves of garlic, minced
1/2 teaspoon of red pepper flakes
1 (28-ounce) can of Tomato Sauce
1 (28-ounce) can of diced tomatoes
1 ½ tablespoons of Worcestershire sauce
1 tablespoon of sugar
1 tablespoon of Italian seasoning
1 teaspoon of Cajun seasoning
1 teaspoon of seasoned salt
1/2 teaspoon of paprika
1/2 teaspoon of black pepper
2 bay leaves
2 cups of water
3 cups of uncooked elbow pasta
1 (11-ounce) can of corn, drained
Shredded Cheddar cheese and sour cream for serving
How to Make Southern Style Goulash:
Step 1: Melt some butter in a Dutch oven and then add the ground beef, onion, and bell pepper.
Step 2: After one minute, take the Dutch oven off the heat and add the garlic and red pepper flakes. Cook until the meat is no longer pink; drain any extra liquid or grease.
Step 3: Add tomato sauce, diced tomatoes, Worcestershire sauce, sugar, Italian seasoning, Cajun seasoning, seasoned salt, paprika, pepper and bay leaves. Simmer for 5 minutes.
Step 4: Add the pasta, water, and bay leaves, and let it cook for about 15 minutes.
Step 5: Mix in the corn and serve with sour cream and cheddar cheese.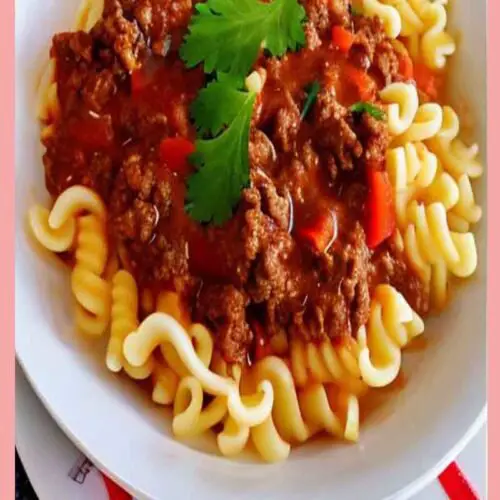 Paula Deen's Goulash Recipe
This Paula Deen's Goulash Recipe is a comfort food classic! It takes about 30 minutes to make and has hearty ground beef and tender pasta with tomato sauce.
Print
Pin
Ingredients
3

Bay leaves

3

Cups

Water

2

Pounds

Lean ground beef

2

Large yellow onions

3

Cloves

Garlic

Two 15-ounce

Cans

Tomato sauce

Two 15-ounce

Cans

Tomatoes

2

Tbsp

Italian seasoning

3

Tbsp

soy sauce

1

Tbsp

Salt

2

Cups

Elbow macaroni
Instructions
Brown the ground beef in a Dutch oven over medium heat.

Add garlic, onions to the pot and cook for five minutes.

In a pot with 3 cups of water, add diced tomatoes, tomato sauce, bay leaves, Italian seasoning, salt, and soy sauce.

Cover and boil elbow macaroni for 30 minutes.

Remove the bay leaves and turn off the heat before serving the goulash.
Tips
Add your favourite vegetables to the basic ingredients to make

Paula deen beef goulash

even better. Add corn, beans, carrots, peas, zucchini, spinach, and mushrooms.

You can replace ground beef with other meats. Turkey is great for dieters.

It's easy to overcook pasta when creating a single-dish meal. Consider using a separate pot to boil the macaroni and avoid overcooking.

Cheese makes everything better, especially meat and tomato sauce. Add lots of cheddar cheese to your goulash to make it tastier.

Adding paprika will enhance the meat's natural flavour. Deglaze it with some red wine if you like.

Use egg noodles instead of macaroni for a different taste and texture.
Nutrition
Nutrition Facts
Paula Deen's Goulash Recipe
Amount per Serving
% Daily Value*
* Percent Daily Values are based on a 2000 calorie diet.
Final words: 
The traditional Paula Deen goulash recipe is a vegetable and meat dish with a hint of spices. It's a hearty and satisfying meal with rich and aromatic flavours.
If you're looking for a truly delicate dish, look no further than this goulash recipe. You can have something hot, tasty, satiating, hearty, and simple to make in a single pot. All the ingredients go in at once, and then it cooks. This is a great option for a quick dinner with the family.
You May Like Also: