Fruit cake gradually attached to the celebration of traditional holidays over the last few years. And when it's about homemade fruitcake, the old fashioned rum fruit cake recipe comes into consideration in the first phase. 
Applying rum alcohol ingredients on the fruitcake brings a moist texture which increases the taste and also preserves the cake perfectly. But, there are several tricks to applying rum to the fruit cake; for example, adding rum to the fruitcake before and after baking gives your fruit cake a perfect texture. 
To get more tips to make this popular rum fruitcake recipe at home, go through this precise guide. Master your skill with the shared tricks. And be an expert in making your favorite recipe of making rum fruit cake.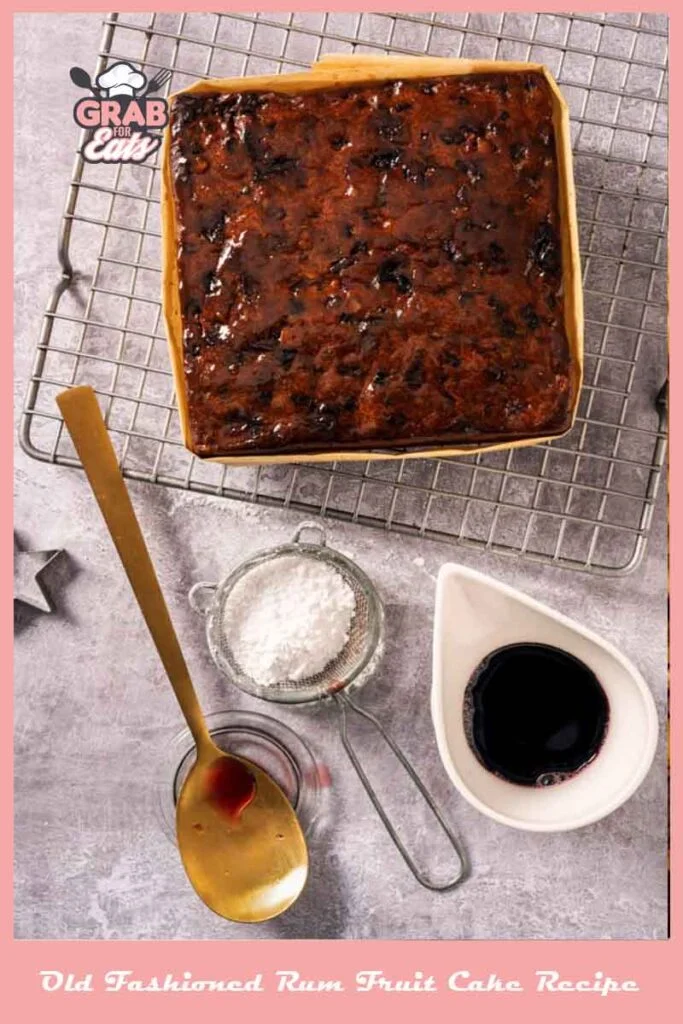 Know About the Old Fashioned Rum Fruit Cake Recipe
Fruitcake is the most common that people like preparing at home during their holidays rather than buying it from stores. If you want to take the taste of your homemade fruit cake to the next level, the rum alcohol ingredient comes in handy. 
This amazing alcoholic ingredient will make your fruit cake more flavourful and will also give it a delicious look. Here's the detail to get the best of it-
Ingredients You Need
Rum 
You'll need 2 cups of rum, but if you want to make the cake a bit bigger, take 3 cups. Rum is the key ingredient to making your rum fruitcake recipe.
Dried and Candied Fruits 
The next essential ingredients are the dried and candied fruits. Several dried and candied fruits are available there, but you don't need to pick them all. The ideal candied and dried fruits for this recipe are, for example- 
1. Candid Fruits– Fresh cherries, pineapple, grapefruit peel, and orange. If you want to make your fruit cake sweeter, choose a candid fruit like banana, mango, or cherry. Take 30 ounces in total
2. Dry Fruit– Date, prunes, raisins, figs, peaches, apricots. Take 20 ounces in total
All-Purpose Flour
We suggest all-purpose flour to get the best result from your used flour. It will act perfectly while making the batter by mixing rum and fruits. 3 cups of flour will be sufficient for a cake to serve 6 people.
Caster Sugar
It depends on how sweeter you want to make your fruit cake. If you like sweet, 1.5 cups of caster sugar will be more than enough. However, for a regular taste, get 1 cup of caster sugar. 
Orange Peel
To add some nutrients like Vitamin C, Fiber, or Polyphenols to the cake, add 1 cup of orange peel powder. We recommend it to add especially when you prepare your cake for kids. It will also add an additional citrus flavor to your cake. However, orange peel is an optional ingredient. 
Salt 
1 tablespoon of salt is alright for fruit cake.
Egg (As you prefer)
You need no egg to add to an old fashioned rum fruit cake recipe. Still, if you want, add 2 eggs, making your batter feathery and fluffy. 
Pecans
1 cup of pecans will be sufficient for making the batter.
Fruit Juice/ Liqueur
½ cup of fruit juice or liqueur
Butter
You need butter in 1 cup to mix with other ingredients while making the batter.
Cake Flour
½ cup to lessen extra rum from the batter
Pumpkin Pie Spice
It's the substitute for mixed spice, which can enhance the taste of your Rum Fruitcake and keep it fresh for longer. We recommend ¼ teaspoon Pumpkin Pie Spice instead of a typical mixed one.
How to Make Rum Fruit Cake: 10 Steps to Follow
Prepare your favorite spiced rum fruit cake effortlessly following the given steps- 
Step-1
Take your chosen mixed dry and candied fruits and the orange peel and soak them in 2 cups of rum overnight. However, if you're in a rush and have no time to wait the whole night, go for 2 hours of soaking at least. Once the fruits are soaked well, strain them to remove the extra rum. 
NB: Take the amount of rum as per the amount of your mixed fruits

Step-2
You'll notice that the extra rum still remains in the soaked fruits. So, add ½ cup of cake flour to absorb the excessive or additional rum in the fruit mixture. 
Step-3
Take 1 cup of pecans and fry them in a dry pan. Chop up the pecans while cold and keep them aside for later use. 
Step-4
Now you'll have to make a mixture of caster sugar and butter. In the meantime, let your oven be preheated at 180°C.
Step-5
Whisk the caster sugar and butter on medium speed and ensure the mixture seems fluffy. Now add 2 eggs and mix. If the eggs are mixed well, add a pinch of salt and Pumpkin Pie Spice. And, again, stir them well to mix properly to create a spiced rum fruit cake batter.
Step-6
At this time, add the mixed fruit and chopped pecans to the mixture you made in Step 5. Continue stirring until it mixes evenly. Your non-liquid batter is ready to bake.
Step-7
Take a non-stick mold and pour the batter you made into it. Grease the mold if it's not a non-stick one. And bake at 180°C in your oven. Depending on your small or large amount of batter, it can take either 30 minutes or 60 minutes.
Step-8
Get the mold out and wait for 3 hours. Within this time, your cake will be cool. 
Step-9
Brush the cake evenly with either ½ cup of fruit juice or liqueur.
Step-10
Add toppings and cut into pieces (6 pieces) in the size you like. Serve the cake to your family members. 
Toppings
Although it should be your preference, we recommend using chocolates, dry fruits, candied fruits, and nuts as your rum soaked fruit cake toppings. These toppings will make the cake look more attractive and increase the taste.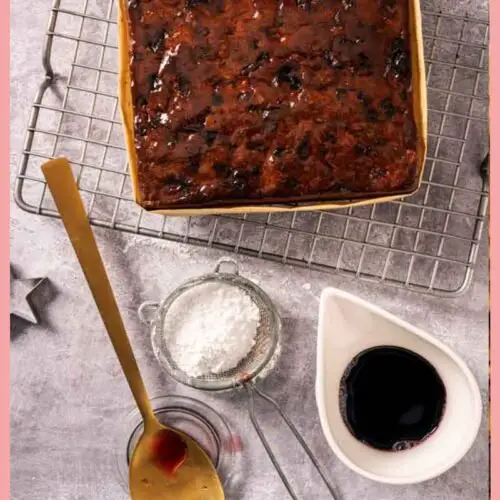 Old Fashioned Rum Fruit Cake Recipe
The old fashioned rum fruit cake recipe is one of the top recipes for the winter holiday celebration like Christmas. Here's how to prepare rum fruit cake at home. 
Print
Pin
Ingredients
2

Cups

Rum

20

Ounces

Dried Fruits

30

Ounces

Candied Fruits

1

Cup

Sugar

1

Cup

Orange Peel

2

Eggs

1

Tbsp

Salt

1

Cup

Pecans

½

Cup

Cake Flour

1

Cup

Butter

¼

Tsp

Pumpkin Pie Spice 

½

Cup

Fruit Juice or Liqueur
Instructions
Soak the dry fruits, candied fruits, and orange peel together into rum

Reduce the additional rum with cake flour

Fry the pecans and chop them into pieces

Make batter with sugar and butter in the first phase. Then add other ingredients one after another

Take a non-stick mold and bake at 180°C in your oven

Get it out from the oven while baked properly and let the cake cool

Now chop it into 6 pieces and serve
Tips
If you want a strong wine flavor, brush a little rum on your

rum fruit cake

surface before cutting it into pieces. 

To get the taste even better, wrap the whole cake with plastic wrapping paper and put it in the refrigerator for a day. Enjoy more taste the next day. 

Again, you can wrap each slice with a cheesecloth before putting it into the plastic wrapper. It will give you a different yet delicious taste than the typical

rum fruit cake

. 
Nutrition
Nutrition Facts
Old Fashioned Rum Fruit Cake Recipe
Amount per Serving
% Daily Value*
* Percent Daily Values are based on a 2000 calorie diet.
Conclusion
The old fashioned rum fruit cake recipe is famous mainly for its distinct flavor. This unique alcoholic rum ingredient brings an additional spirit that lets people celebrate their holidays in a special way. 
Due to its rich texture and taste, the success rate has been increasing steadily every year. You'll love preparing this unique cake at home as you can add more or fewer ingredients to bring your desired taste. Enjoy your winter festival with rum fruitcake. 
More Cake Recipes:
Old Fashioned Spice Cake Recipe
Paula Deen Lemon Pound Cake Recipe