During dinner time, a plate of pasta offers the easiest and fastest solution. And adding pasta sauce makes it the most effortlessly made tasty dinner. But, many people are concerned about the high sodium in pasta sauce. 
Usually, pasta sauce is a serious concern due to its high rates of sodium. However, you have no option to avoid it while having pasta. No worries if you are also concerned about the sodium fact. In this guide, we'll teach you how to make low sodium pasta sauce recipe. 
In general, pasta sauce that contains less than 150g of sodium in each serving is ideal. Making your recipe for salt free pasta sauce will give your confidence for a healthy diet.
Keep Reading!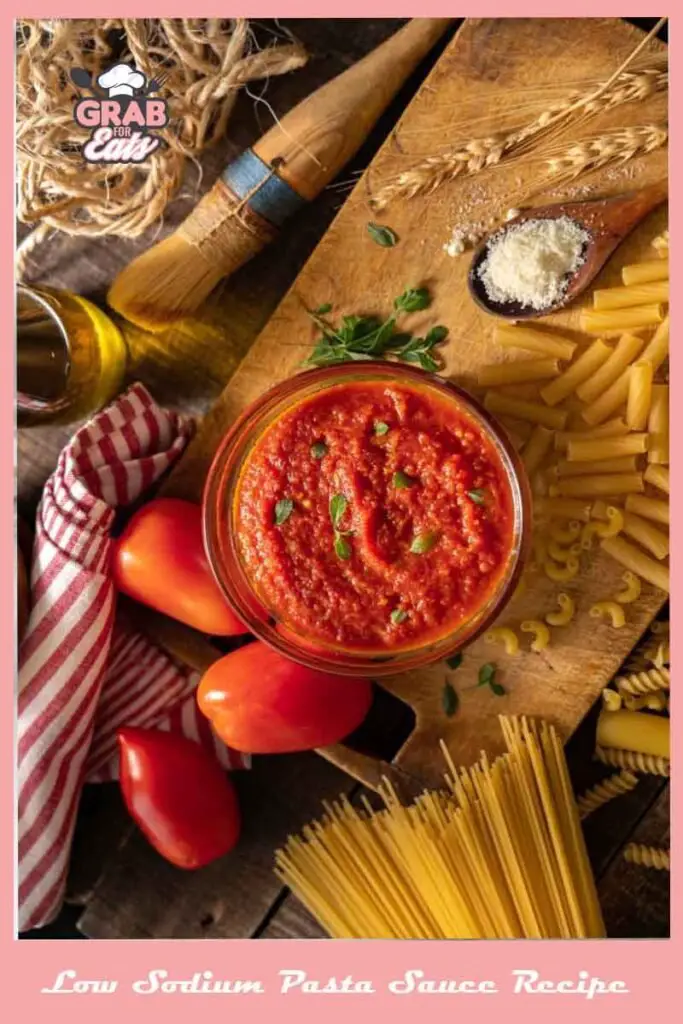 Know About the Low Sodium Pasta Sauce Recipe
Here's our quick recipe guide for low sodium tomato sauce. You also can call it pasta tomato sauce as the main ingredient is tomato. This pasta sauce also perfectly matches other dishes, like meatballs. So, making it at home will benefit you in many ways. Our recipe will also be an ideal diabetic spaghetti sauce recipe.
Ingredients You Need
Crushed Tomatoes
You have the option to choose any tomato type, either canned or fresh. The difference is that fresh tomatoes require added salt. On the other hand, canned tomatoes need no additional salt. You have to keep it in mind while preparing your sauce. So, if you choose canned tomatoes, take a little less than 2 kg. In terms of the fresh tomatoes, take 2.5 kg.
Salt
Low sodium tomato sauce requires a small amount of salt. In this case, a pinch of salt will be enough. 
Olive Oil
You need only 2 tsp of olive oil to prepare this sauce. Vegetable oil can also substitute for olive oil if you have no olive oil at home.
Dried Oregano
To get a strong flavor in your sauce recipe, use 2 tsp of dried oregano. If you cannot manage the dried oregano, go for ground coriander. Both can give your sauce additional flavor. 
Garlic
Take 4 cloves or 2 tsp garlic powder. You can use any type between powder and cloves as per your preference. 
Dried Basil
Like the dried oregano, 3 tsp of dried basil will be required to get extra flavor. You also can use fresh basil if there is no dried basil at home. In this case,  the amount will be 2 tablespoons.
How to Make Low Sodium Pasta Sauce Recipe?
This pasta sauce recipe takes less time than other sauce recipes like the chili pasta sauce. Follow the given steps below to prepare your favorite low sodium pasta sauce-
Step-1
Heat the oven at medium heat and put oil. When the oil is warmed, add garlic. Saute the garlic cloves until they spread pregnant.
Step-2
Once the garlic seems brown, add tomato and saute for 1 minute.
Step-3
After a minute of sauteeing dried oregano and basil, add salt and saute all the ingredients for 2 minutes.
Step-4
When the mixed ingredients are sauteed well, bring them to a simmer. And keep simmering for 20 minutes at low heat. 
Step-5
After 20 minutes of simmering, turn the heat off. Lid off and let the sauce cool.
Step-6 
While the sauce becomes cold, transfer it to the blender and blend until you get your desired smoothness. Your low sodium spaghetti sauce is ready to serve. 
How to Make Sauce Less Salty?
Although we have fixed the amount of all ingredients, including salt, sometimes your pasta sauce can be salty. It's because of your imbalanced ingredients combination. And this situation can spoil all your efforts. 
So, wonder how to make sauce less salty? Here's how to make your no salt spaghetti sauce-
Add Sweet
Adding the opposite taste will help you balance the saltiness. In this case, adding sugar or honey can be a trouble-free solution.
Add Vinegar/ Lemon Juice
If you don't want to increase the sweetness in your sauce, adding lemon juice or vinegar can also be another good solution. Vinegar assists in masking the saltiness in terms of its acidity. You can use any type of vinegar, like- 
All-Purpose Vinegar
White Wine Vinegar
Apple Cider Vinegar
Lemon juice, in a real sense, does an excellent job of balancing saltiness. Because of its sour flavor, it can deliver an additional layer of complexity that mellow out the sauce's saltiness. 
Add Fat
Another good option to lessen to make sauce less salty is to add fat. You can choose any type of fat like 
Butter
Olive Oil
Palm Oil
Coconut Oil
Cheese, or 
Cream 
These fat items are very good at absorbing saltiness.
How to Make Low Sodium Pasta Sauce Thicker?
It's a severe issue when your sauce becomes watery. Because watery sauce will neither give an attractive look nor will it be good to use with pasta. So here are some of the incredibly soluble tips to the watery sauce-
Boil Off
Boiling off and simmering can make the sauce thicker. However, you have to be careful whether the sauce is getting burnt on the bottom. Therefore, keep stirring continuously.
Add Low Sodium Tomato Sauce
You can add some store-bought tomato sauce when the sauce is highly watery. After adding the tomato sauce, keep stirring at medium heat. It will help you thicken your sauce quickly 
Add  Cornstarch
Adding 3 or 4 tablespoons of cornstarch is a great way to thicken the watery sauce. So, you can try this as well.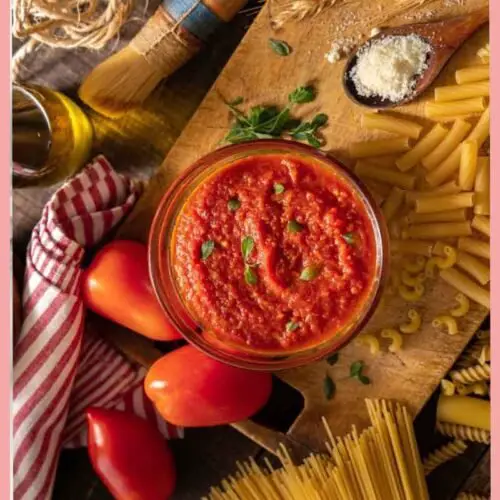 Low Sodium Pasta Sauce Recipe
Wonder how to prepare low sodium pasta sauce recipe? Here's the best recipe guide to follow. Try this time-saving guide to get a quick result. 
Print
Pin
Ingredients
2

Kg

Crushed Tomato

Canned

A

Pinch

Salt

2

Tsp

Olive Oil

2

Tsp

Dried Oregano

2

Tsp

Garlic

3

Tsp

Dried Basil

3

Tsp

Dried Basil
Instructions
Add tomato once the garlic is brown and saute for 1 minute

Now add other ingredients like basil and oregano and saute for 2 more minutes

Saute all the ingredients until they come to simmer

Blend while the sauce is cold
Tips
To get the strong and spicy flavor, add 2 tsp of chili flakes.

The low sodium sauce is a great substitute for regular store-bought tomato sauce. 

It works as a great topping for chicken, fried rice, and pizza.

If you don't like using salt in your pasta sauce, making it a

salt-free pasta sauce

will be no difference in taste.

To enhance the sauce taste, add some vegetables like celery and carrot. In this case, you have to saute a bit longer than we mentioned the timing.
Nutrition
Nutrition Facts
Low Sodium Pasta Sauce Recipe
Amount per Serving
% Daily Value*
* Percent Daily Values are based on a 2000 calorie diet.
Conclusion
The homemade pasta sauce can help you consume low sodium. And this is where this guide comes in handy. You can learn the easiest way to make low sodium pasta sauce recipe. This recipe will be rich in Vitamins, simple, and tremendously satisfying. 
Besides, you can make it with the usual and all the available ingredients. You need not be troubled to follow the cooking steps. Making this pasta sauce recipe at home will save money from store-bought sauce.  
You May Like Also: