Although pickled eggs are a Garman cuisine, English is also like this. So, check out our world's best English pub style pickled eggs recipe today. 
Usually, we have to eat the eggs within a few hours, right after marinating them. However, you can have your eggs for up to 3 or 4 months if you pickle them.  Pickled eggs are considered the staple food in terms of serving beer. 
It's a remarkable item for pubs, taverns, and bars. The popularity of this recipe comes from its long-term preservation process. Therefore, people like to make bar-styled pickled eggs at home. It helps them store for a long way and to eat anytime.
Moreover, you can easily meet some of the crucial health benefits with it. It's a great food item to consume high protein. Also, it comes with extremely low fat. 
Read the detail!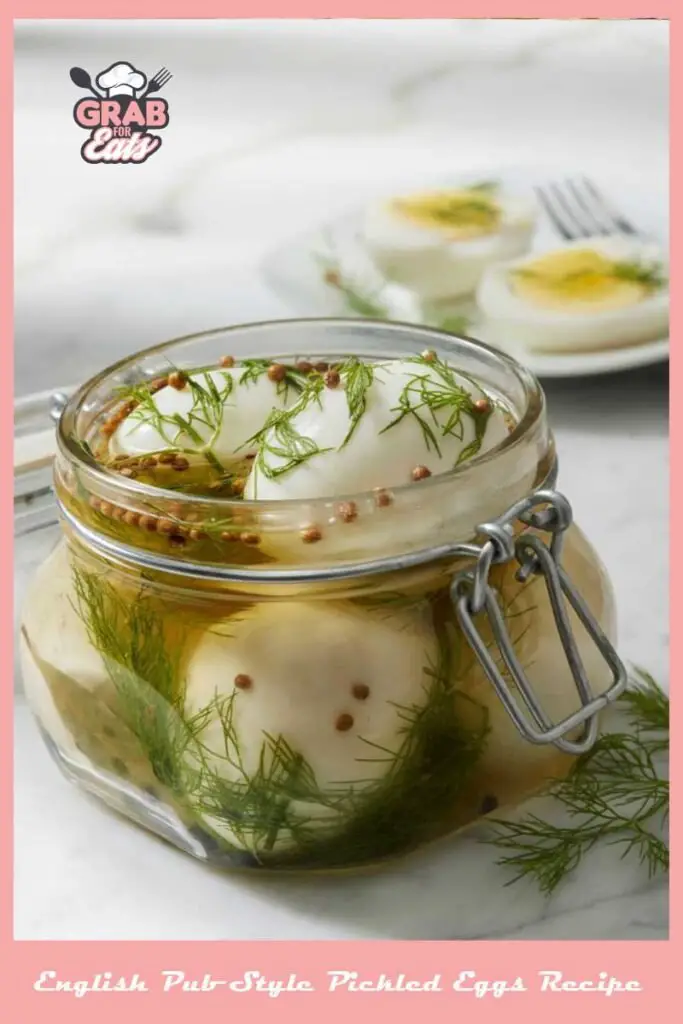 Know About the English Pub Style Pickled Eggs Recipe 
You need only a few ingredients to make the pickled egg recipe. And All these ingredients usually remain available in the kitchen. Let's check out what elements you need to prepare your favorite recipe.
Ingredients You Need
Egg (1 Dozen)
The egg is the crucial element for this classic pickled egg recipe. To make this item, you need a dozen of eggs. You can use any size of eggs, small or big. If the egg size is small, the seasoning will take up to 2 weeks. On the other hand, for the large-size eggs, it will take 4 weeks to season. 
Pickle's Spice
The pickle's spice is readily available in the nearby supermarket. Still, if you don't find this, make it with the following ingredients-
Cloves
Cinnamon
cardamon
Coriander
Mustard Seeds
Blend them all together, and your pickle's spice will be ready. You need 1 tablespoon of it.
Ginger (1.5 Cups)
Take 1.5 cups of regular ginger and spice vinegar ginger with 6 allspice berries. 
Spice Vinegar (1.5 Cups)
Vinegar is the primary ingredient in pickling eggs. We prefer using spiced vinegar. You can go for apple cider or white vinegar too. You need 1.5 cups of spice vinegar. 
Black Peppercorn and Bay Leaves (2 bay leaves)
Take 2 bay leaves and 1 tablespoon of peppercorn. And that's all to prepare the English pub-style pickled eggs recipe. You never have to be troubled collecting the ingredients for this recipe. Because all of them are the most common elements in everyone's kitchen cabinet.
How to Make English Pub-Style Pickled Eggs Recipe
Making the boiled pickled egg recipe is as easy as boiling the eggs. Here's how to make it-
Step-1
Boil and peel the eggs before you use them in the vinegar.
Step 2
Place all the boiled eggs in a jar but ensure the jar has a wide shape and mouth. 
Step-3
Now boil the spiced vinegar for 15 minutes. 
Step-4
This time you have to add all the ingredients to the jar in which the eggs are placed. Now pour the hot vinegar into the jar. Make sure the vinegar is ladled evenly over the eggs. 
Step-5
The lid on the jar tightly and let it cool. Keep it in the freeze when cold properly. Remember, you shouldn't serve before 3 days of refrigeration at least. 
How to Make Pickled Eggs with Pickle Juice?
Pickling eggs in pickle juice is as easy as vinegar. Pickle juice doesn't require boiling like the vinegar method. In this method, you can pickle the eggs directly in the pickle juice and refrigerate them. Here are the most common spice elements you need. 
Ingredients You Need
With very common spice ingredients, you can make pickle your eggs-
| | |
| --- | --- |
| Name of Ingredients  | Amount You Need |
| Hard-Boiled Eggs | 4 |
| Pickle Juice | 300 ml |
| Garlic Powder | 1tsp |
| Red Chili Flacks | 1 tsp |
| Fresh Ground Black Pepper | 1 tsp |
| Paprika | 1 tsp |
NB: This recipe is all about your taste. So you can increase or decrease the amount of each spice we mentioned. 
Method How to Make This Recipe?
Following only four simple steps, you can make this recipe. Here's how to make it-
Step-1 
Take a jar with a bigger size mouth design and pour the pickle juice into it.
Step-2
Add garlic, chili flacks, fresh cracked black pepper, and paprika in the juice. Now stir with a spoon until the ingredients mix well.
Step-3
Take your jar, but always try taking a large jar to pickle more eggs simultaneously. Now put the eggs inside and pour your spicy pickle juice mixture. 
Step-4 
Now lid on your jar and tighten it. Keep the jar in the refrigerator for at least 3 weeks before eating.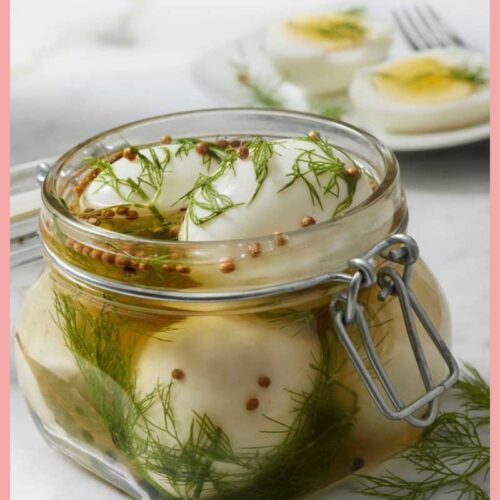 English Pub-Style Pickled Eggs Recipe
Check out the best guide to learning how to cook the English pub-style pickled eggs recipe. This guide will make your toughest job easier to pickle eggs.
Print
Pin
Ingredients
1

Dozen

Egg

1.5

Cups

Ginger

1.5

Cups

Spice Vinegar

2

Leaves

Bay Leaves

1

Tbsp

Black Peppercorn

1

Tbsp

Pickle's Spice
Instructions
Boil the vinegar for 15 minutes

Place the eggs inside the jar

Put all the ingredients in the jar 

Now pour boiled vinegar over the eggs

Airtight the lid and keep the jar in your freezer 
Tips
Don't leave your pickled eggs at room temperature. You must refrigerate them properly.

The longer the pickled eggs can be in the juice, the tastier they will be. So, avoid trying them right after days of cooking.

Vinegar pickling is the fastest process than the traditional fermentation pickling.

Keeping the pickled eggs in the brine for a long time will make the eggs rubbery. Therefore, remove the eggs from the brine when they are set.
Nutrition
Nutrition Facts
English Pub-Style Pickled Eggs Recipe
Amount per Serving
% Daily Value*
* Percent Daily Values are based on a 2000 calorie diet.
Conclusion
Once you learn how to cook the English pub-style pickled eggs recipe, you can cook it anytime. Pickled eggs are much more popular to eat with toast. You also can use it as a topping on the salad. All you need to do is to grate the eggs and spread them on the salad. 
Since this food item contains a lot of protein, you can prioritize it for breakfast or lunch. However, you have to store the eggs properly. Or else bacteria will grow up and spoil the food quality. And this could lead to food poisoning. 
More Recipe Ideas:
Rachael Ray Hard Boiled Egg Recipe