The Old Fashioned Spice Cake Recipe uses a thick layer of tangy cream cheese frosting. The warm spices in this cake make it perfect for chilly fall days. This simple, homey dessert is as easy to make as a loaf of quick bread and only takes a few minutes.
One of the most delicious cake flavors is spice. There's no need for icing because it's rich, juicy, and bursting with flavor. You only need a few everyday kitchen items for a delicious spice cake.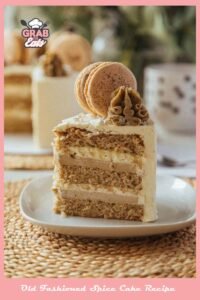 Ingredients for Spice Cake:
Flour: 1 ⅓ cups of cake flour. The flour helps give the cake its shape.
Cinnamon: 2 teaspoons of cinnamon. Cinnamon is mainly used as a fragrant spice and flavoring in sweet and savory dishes worldwide.
Cloves: 1 teaspoon of cloves. Cloves that are used to flavor meals can provide essential nutrients.
Nutmeg: ½ teaspoon of nutmeg. Nutmeg is usually made into a powder and used as a seasoning. 
Kosher salt: ½ teaspoon of kosher salt. Enhancing the flavor of baked goods strengthens gluten and slows fermentation when making bread.
Baking powder: ½ teaspoon of baking powder. Baking powder makes cakes soft and fluffy.
Baking soda: ½ teaspoon of baking soda. Baking soda is a type of salt usually used in baking.
Butter: ⅓ cup and 6 tbsp of salted butter. It gives desserts a better texture.
Brown sugar: ¾ cup of brown sugar. Brown sugar is used very similarly to granulated white sugar but provides a touch of extra flavor.
Granulated sugar: 3 ½ cups of granulated sugar. Granulated sugar sweetens baked goods, drinks, and savory dishes.
Vegetable oil: ⅓ cup of vegetable oil. It stays liquid while the butter solidifies at room temperature. Vegetable oil is a good source of moisture.
Egg: 3 eggs, room temperature. Eggs provide baked foods with structure, leavening, creaminess, color, and flavor. 
Buttermilk: ⅔ cup buttermilk, room temperature. The tartness of buttermilk gives cakes and pastries a nice, mild tang.
Vanilla extract: 2 teaspoons of vanilla extract. Vanilla contains chemicals that are high in flavor and fragrance.
Cream cheese: 6 ounces of cream cheese, room temperature. Cream cheese, a fresh cheese made from milk and cream, is soft and mild in flavor.
Salt: A pinch of fine sea salt. It has a strong taste. It makes things smell stronger and tastes more balanced.
How to Make a Spice Cake?
Step 1: Turn the oven to 350°F. Grease a pan that is 8×8 inches.
Step 2: Mix the flour, salt, baking powder, spices, and soda with a whisk. Set aside.
Step 3: Mix the butter and sugar until smooth and creamy. Put the oil in gradually and stir it in. Add the eggs, beating quickly after every addition and wiping the bowl as needed.
Step 4: Mix vanilla extract with buttermilk. Using a spoon, blend the flour mixture and buttermilk into three separate additions. Combine all the ingredients. 
Step 5: Put the batter into the pan and bake it for 40 minutes, until a toothpick inserted into the centre comes clean. Place it on a pan and allow it to cool.
Step 6: Make the frosting once the cake is barely warm.
Step 7: Mix the butter and cream cheese and beat until smooth. Add the vanilla, brown sugar, and salt and blend on low speed. The mixture is complete; now beat on medium speed until fluffy.
Step 8: Spread frosting on the slightly warm or thoroughly cooled cake. Serve it.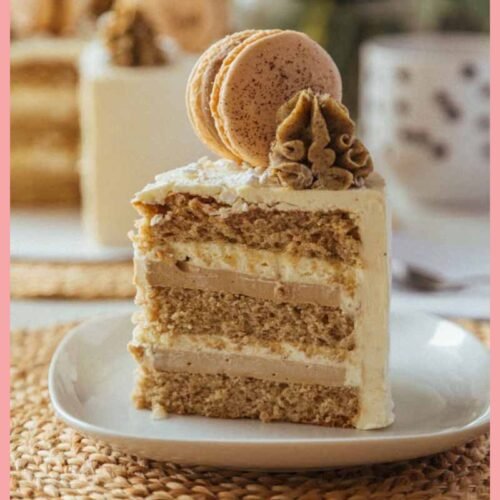 Old Fashioned Spice Cake Recipe
This Old Fashioned Spice Cake Recipe has a thick layer of tangy cream cheese frosting. The warm spices in this cake make it perfect for cool fall days.
Print
Pin
Ingredients
1 ⅓

Cups

Cake flour

2

Tsp

Cinnamon

1

Tsp

Cloves

1/2

Tsp

Nutmeg

1/2

Tsp

Kosher salt

1/2

Tsp

Baking powder

1/2

Tsp

Baking soda

6

Tbsp

Salted butter

3/4

Cup

Brown Sugar

3 ½

Cups

Granulated sugar

1/3

Cup

Vegetable oil

3

Eggs

2/3

Cup

Buttermilk

2

Tsp

Vanilla extract

6

Ounces

Cream cheese

A

Pinch

Sea salt
Instructions
Prepare a 350°F oven. Grease an 8×8-inch baking dish.

Mix butter and sugar. Stir in the oil. Beat quickly after each egg and clean the bowl. Combine buttermilk and vanilla.

Mix the flour mixture and buttermilk in three additions and other ingredients.

Bake the batter for 40 minutes. Cool in a pan.

Mix butter and cream cheese. Mix vanilla, brown sugar, and salt. Complete mixture; beat until fluffy. Spread frosting on a chilled cake. Served.
Tips
Wrap the cake well and keep it in the fridge for two days or in the freezer for three months.

To serve, bring to room temperature, fro

st, and then serve. It is safe to freeze frosted cakes for up to three months.

Use 2 9-inch cake pans for best results, and bake the layers for 30–34 minutes.

The

spice cake icing

can also be prepared and stored in the fridge until it is time to decorate the cake.

You could add a half cup of raisins to the batter for extra texture and chew before baking.

Fill the cup with flour using a spoon. Directly scooping a measuring cup into a flour bag will pack flour, resulting in excess flour.

To check for doneness, use a toothpick.
Nutrition
Nutrition Facts
Old Fashioned Spice Cake Recipe
Amount per Serving
% Daily Value*
* Percent Daily Values are based on a 2000 calorie diet.
Final words: 
A simple but delicious layer cake with cream cheese icing and spicy spices. A homemade spice cake made the old-fashioned with cream cheese frosting is a delightful holiday treat. It doesn't take much effort, but the finished result is excellent enough to wow guests.
These cakes can enjoy after your main course, just like any other dessert. They not only make you feel good, but they also help your body digest food. The cakes are the perfect addition to any meal because they taste so good. People are happy to eat this tasty dessert after any meal, whether lunch or dinner.
You May Also Like: