Need something sweet and crunchy to munch on during your next movie marathon? Old Dutch caramel corn is the ultimate solution. 
Old Dutch Caramel Puffcorn is a snack that needs no introduction. This classic snack has been a staple of late-night snacking for decades, thanks to its irresistible blend of buttery caramel and crispy popcorn. While it's easy to just grab a bag of Old Dutch Puffcorn from the store, making it at home can be a fun experience.
This copycat Old Dutch Caramel Puff Corn recipe will cover everything you need to know to whip up a batch of this classic snack at home. So grab your ingredients and get ready to indulge in the ultimate movie night snack!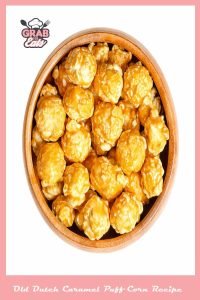 Know About the Old Dutch Caramel Puff Corn Ingredients
The best part about making Old Dutch Puffcorn is that you can customize the recipe to your liking. If you want the puffcorn to be sweeter, you can adjust the amount of brown sugar. Similarly, if you prefer a more salty flavor, you can add a bit more salt to the caramel. Now, let's take a closer look at each ingredient that goes into making Old Dutch puffed caramel corn.
Ingredients: 
Puffed Popcorn: First thing first, you will need a bag of popcorn as the base of this recipe. You can opt for the store-bought ones or make it at home using popcorn kernels. However, if you decide to use the store-bought ones, consider getting a bag of good old Old Dutch puffcorn.
Butter: Next up, you'll need butter for the caramel sauce. Butter is what gives the popcorn its rich, buttery flavor. It also helps the caramel adhere to the popcorn. For this recipe, you'll need ½ lb butter, which will give you plenty of buttery goodness to coat the popcorn kernels evenly.
Brown Sugar: Brown sugar is another ingredient required for the caramel sauce. White sugar will also do the job, but brown sugar has a distinct flavor that goes well with the popcorn. It also adds a nice golden brown hue to the caramel. Around 1 cup of brown sugar will create the perfect caramel coating for the popcorn.
Light Corn Syrup: Light corn syrup plays a vital role in this recipe. It is what gives the caramel sauce a smooth texture. It also helps to prevent the caramel from becoming too hard and sticky. In this recipe, you'll need around 1⁄2 cup of light corn syrup to achieve the desired consistency.
Baking Soda: While it may seem weird to incorporate baking soda in this recipe, you shouldn't skip it. It contributes to the light and creamy texture of  the caramel coating. When heated, baking soda reacts with the other ingredients and produces carbon dioxide gas. The gas creates small bubbles, which results in light and smooth caramel sauce. In this recipe just 1 1 tsp of baking soda will do the job.
Vanilla Essence: This is an optional ingredient. But adding only 1 tsp of vanilla essence to this recipe can change the taste for the better. It will add a subtle hint of vanilla flavor, while complementing the sweetness of the caramel. 
How To Make Caramel Corn Puffs?
Now that you know about all the ingredients to make old dutch corn puffs, let's move on the recipe!
Step 1
In a large saucepan, melt the unsalted butter over medium heat. 
Step 2
Once the butter is melted, add brown sugar and light corn syrup. Stir until the sugar is dissolved and the mixture starts to bubble.
Step 3
Allow the mixture to boil for 2 minutes without stirring. This helps develop the caramel flavor and prevents sugar from crystallizing.
Step 4
Now carefully add the baking soda. When the mixture foams up and expands in size, remove the pan from the stove. 
Step 5
Add vanilla essence to the mixture. Give the mixture a good stir, adding a delightful hint of vanilla aroma.
Step 6
Let the mixture settle for about a minute to cool slightly. While the caramel mixture is settling, place the popcorn in a roasting pan.
Step 7
Pour the caramel mixture over the popcorn in the roasting pan. Give everything a good stir, and make sure the caramel coats the popcorn evenly.
Step 8
Place the roasting pan with the caramel-coated popcorn twists in the oven. Bake at 250°F (120°C) for 15 minutes.
Step 9
Every five minutes or so, take the pan out of the oven and give the popcorn a good stir to prevent burning.

Step 10
Once baked, remove the pan from the oven and let the caramel popcorn cool for a bit before serving.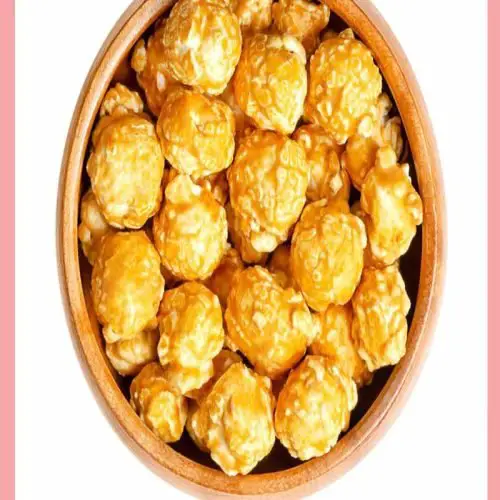 Old Dutch Caramel Puff Corn Recipe
Take your movie nights to the next level with this quick and irresistible Old Dutch Caramel Puff Corn recipe. It will be a big hit and leave you wanting for more.
Print
Pin
Ingredients
1

Large bag

Popcorn

1/2

Cup

Butter

1

Cup

Brown sugar

1/4

Cup

Light corn syrup

1/4

Tsp

Baking soda

1/2

Tsp

Vanilla essence
Instructions
Melt unsalted butter in a saucepan over medium heat.

Add brown sugar and light corn syrup.

Stir until the mixture bubbles and boil for 2 minutes.

Add baking soda and turn off the heat.

Add in vanilla essence and let the sauce cool down for a minute.

Place popcorn in a roasting pan.

Pour caramel over popcorn and stir to coat the popcorn evenly.

Bake at 250°F (120°C) for 15 minutes and stir every 5 minutes.

Allow the popcorn to cool before serving.
Tips
Make sure to use unsalted butter so that the popcorn doesn't become salty. 

If you don't want to bite into an unexpected kernel, then go for kernel free popcorn. Just go to the nearest convenience store, and look for popcorn labeled as "kernel-free.

To add your own spin on the recipe, consider adding some nuts. It will take the regular

caramel corn puff

recipe to the next level.
Consider adding a pinch of salt to the caramel mixture to add some depth in flavor. It will help balance the sweetness of the sauce and create a delicious sweet and savory combination.
Nutrition
Nutrition Facts
Old Dutch Caramel Puff Corn Recipe
Amount per Serving
% Daily Value*
* Percent Daily Values are based on a 2000 calorie diet.
Final Words
Nothing can match the sweet and crunchy goodness of Old Dutch caramel puff corn. With just a few ingredients, you can whip up this classic snack in no time. Not to mention, the ingredients are pretty affordable as well! So, if you're planning to make a snack that will steal the spotlight at your next party, give this recipe a try!