A steak dinner is incomplete without a good steak sauce. And when it comes to steak sauces, the name Peter Luger instantly comes to our mind. This iconic steakhouse from Brooklyn owes much of their popularity to their signature steak sauce. 
Their sauce became so popular that it's now available for purchase even in local stores. But let's be real, in today's economy, spending $12 on a bottle of sauce isn't always practical. So, why not make it at home instead?
Making steak sauce at home is way easier than you may think. All you have to do is combine ingredients like vinegar, ketchup, worcestershire sauce, and a blend of spices. Keep reading this copycat peter luger steak sauce recipe to know more!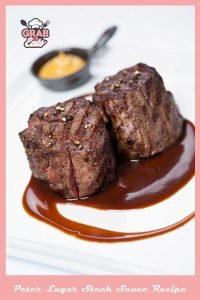 Peter Luger Steak Sauce Ingredients 
The ingredients used in peter luger steak sauce have long been a secret. We've managed to come up with a copycat version that comes pretty close in taste. We're keeping it healthy by ditching any additives or preservatives. This means you can enjoy the rich flavors of the steak sauce knowing  it's as healthy as steak sauce can get.
Ketchup: Ketchup serves as the base ingredient in the steak sauce. It adds thickness to the sauce and provides a sweet and tangy flavor. Ketchup also gives the sauce its vibrant red color and a hint of acidity to balance the richness of the steak. For this recipe, you'll need one cup of tomato ketchup. 
Soy Sauce: Soy sauce has a bit of salty taste that helps  season the sauce. And the dark color of the soy makes the sauce more visually appealing. Around two tablespoons of soy sauce will do the job. 
Worcestershire Sauce: Another crucial ingredient in this recipe. Worcestershire sauce adds a unique umami flavor to the sauce, which is savory and rich. It also adds a tangy and slightly acidic taste, balancing the richness of the flavors in the sauce. This recipe calls for two tablespoons of worcestershire sauce.
White Vinegar: The sharp and acidic taste of white vinegar enhances the overall taste of the sauce. Not only that, vinegar also acts as a natural preservative. Thus, it will help prolong the shelf life of the sauce. Only one tablespoon of white vinegar will be enough for this recipe. 
Dijon Mustard: Dijon mustard gives the sauce a zesty kick, adding depth to the flavor. The creamy texture of mustard also helps thicken the sauce. That being said, if you're not a fan of the pungent flavor of dijon, go for yellow mustard. Whichever one you use, the amount is one tablespoon.
Brown Sugar: As the recipe calls for a lot of ingredients with tangy and acidic flavors, you'll need something sweet to balance out the flavors. This is where brown sugar comes in. The subtle sweetness that complements the savory flavors of the steak. You'll need two tablespoons of brown sugar in this recipe. You can use molasses instead of brown sugar as well.
Garlic Powder: Adding a teaspoon of garlic powder can make a world of difference in this recipe. Powdered garlic works best for this recipe, but you can use minced garlic as well. 
Horseradish: Here comes the secret ingredient that will set your sauce apart from the typical options available on the market. Horseradish adds a fiery kick to the sauce, making it spicy and bold. Just one tablespoon of prepared horseradish will do the job. 
Hot Sauce: To make the sauce slightly more spicy, it's advisable to incorporate some hot sauce into this recipe. Just adding a tablespoon of hot sauce can make the sauce more vibrant and exciting. Feel free to use any hot sauce of your choice, but tabasco will be a good addition in this recipe. 
Salt and Pepper: Here comes the quintessential ingredients used in this recipe. It is recommended to adjust the amount according to your preference. However, make sure to be careful as many of the sauces being incorporated in this recipe already contain salt and pepper. Thus, start with a moderate amount and adjust as you go. 
How to Make Peter Luger Steak Sauce?
Now that we've covered all the ingredients used in this recipe, now let's find out how to diy steak sauce from the comfort of your home! 
Direction: 
Step 1: In a mixing bowl, combine the ketchup, soy sauce, worcestershire sauce, white vinegar, dijon mustard, brown sugar, garlic powder, horseradish and hot sauce.
Step 2: Whisk all the ingredients together until smooth.
Step 3: Taste the sauce and season with salt and pepper according to your preference. If you want it sweeter, add more brown sugar. If you want it spicier, add more hot sauce.
Step 4: Transfer the sauce to an  airtight container.
Step 5: Refrigerate for at least 1 hour before serving.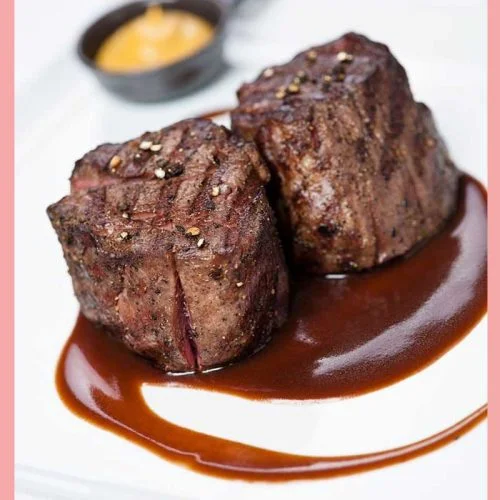 Peter Luger Steak Sauce Recipe
Try this copycat Peter Luger steak sauce recipe at home for a mouthwatering steak experience like no other. This easy-to-make steak sauce will elevate your steak dinners to a new height.
Print
Pin
Ingredients
1

Cup

Ketchup

2

Tbsp

Soya sauce

2

Tbsp

Worcestershire sauce

2

Tbsp

White vinegar

1

Tbsp

Dijon mustard

2

Tbsp

Brown sugar

1

Tbsp

Garlic powder

1

Tbsp

Horseradish

1

Tbsp

Hot sauce

Salt and pepper

To taste
Instructions
Combine all the ingredients in a bowl.

Adjust seasonings to taste.

Refrigerate for at least 1 hour.
Tips
If you love the sauce and want to have it on hand whenever you need it, consider doubling the recipe. This way, you can store a larger quantity and enjoy it over multiple meals.

When combining the ingredients, start by adding smaller amounts and taste as you go. This will prevent the risk of overpowering the sauce with seasonings. 

If you prefer a smoother consistency, use a food processor to puree the sauce after whisking.

Take the sauce out of the refrigerator a little while before serving to allow it to come to room temperature.
Nutrition
Nutrition Facts
Peter Luger Steak Sauce Recipe
Amount per Serving
% Daily Value*
* Percent Daily Values are based on a 2000 calorie diet.
Final Words
There's no point in splurging money on store-bought steak sauce, when making it at home ridiculously easy. Now that you know the peter luger steak sauce recipe, go and give it a try. In only five minutes, you'll have a decadent sauce that will complement the taste of your steak in the best possible way. 
Skip the artificial additives and preservatives and take pride in knowing that you've made a healthier version of the 1926 steak sauce right in your own kitchen.
Read More: