Chamoy pickles recipe is one of the easiest to make when it comes to pickle making. You can gather the ingredients with ease and get started whenever you'd want. You can enjoy the full taste of this dish with meat-based main meals. So keep that in mind.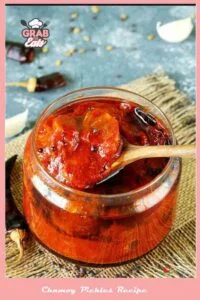 How to Prepare Chamoy Pickles Recipe?
In order to make chamoy pickles recipe you must maintain caution that the ingredients are carefully dealt with. Fun fact, many people use different types of creative solutions to alter the spice levels of this dish. Hot cheetos with pickles is a common occurrence among Americans when enjoying this dish! 
How To Make Chamoy Pickles?
To make a delicious chamoy pickles recipe, all you need to do is gather the ingredients and make sure they are fresh. Then follow through with the step by step process of cooking the flowers and all other ingredients. Handle the spicy ingredients a bit carefully. When straining the liquid from the pulp, make sure you use a slotted spoon so there is zero backsplash and you can take the most out of the blended liquid. 
Ingredients that You Will Need Are:
Ancho chile: You will need one large Ancho Chile for this recipe. Handling this ingredient is a bit tricky. It is very spicy in its original form. So make sure you wear gloves when you handle the chiles. 
Hibiscus flower: Use one cup of dried hibiscus flower. 
Dried cranberries: Measure ¼ of a cup filled with dried cranberries. You can also opt for raisins. But dried cranberries are better to taste. 
Chile limon powder: Add ⅓ of a cup of chile limon powder or tajin. This adds a tangy yet spicy element to the dish, enhancing the flavors that are already present. 
Apricots: 5 large apricots, wash them, remove the seeds and slice them in smaller bits. 
Chile de arbol or Japones: About 10-12 large Chile de arbol can be used in this dish. Remember to remove the stem and clean them up well. 
Lime juice: Juice one lime and remember not to include the seeds. One technique is to juice it with a squeezing machine, this will help you get most out of the lime. 
Salt and sugar: Add two tablespoons of sugar and adjust salt according to taste. 
Step by Step Method of Making the Mexican Fruit Roll up
Step 1: 
In a small saucepan, add water to boil the dried hibiscus. The water should cover the hibiscus flowers. So use around 3 cups of water, make sure the flowers are merged into the water. As the boil bubbles come up, lower the temperature and cook for a few more minutes. Then take it off the stove and let it cool to a normal temperature. Strain the liquid and set it aside. 
Step 2: 
Make sure there are no grits left on the flowers or they might taste like dirt to chew on. Take another pan and add chile mulato, cranberries, chile de arbol, and apricots. Add water to the pan, about 4 cups. As the boil comes on, lower the temperature and let it simmer. The apricots and other ingredients must be soft to know when it is fully cooked. 
Step 3: 
Take the ingredients off the pan with a spoon or tongs, transferring them to a blender. Obviously start doing this process when they have cooled down a bit. Remove excess water from the hibiscus flowers, and the other ingredients when you transfer them to the blender. Add a cup of water later on when all the ingredients are in the
blender. Blend them at high speed for about a minute or so. Check to see if they have mashed well. If needed, repeat the process. Then when they are completely blended, strain them into a bowl,make sure that you get rid of all the remaining pulp. Do not use the pulp. 
Step 4: 
Heat the strained mixture in a saucepan over medium heat. Use the conserved hibiscus water,  chile limon powder, sugar, lime juice, and salt. Adjust if needed. Reduce the temperature to low and simmer for another 10-12 minutes after it reaches a boil. Taste and adjust sugar and salt according to taste.
Allow the whole thing to cool fully before refrigerating in an airtight container. You can serve this dish with your meals as a side dish and enjoy it to the fullest. Appetizing and versatile as it is, the flavors will complement any heavy dish especially containing any type of meat.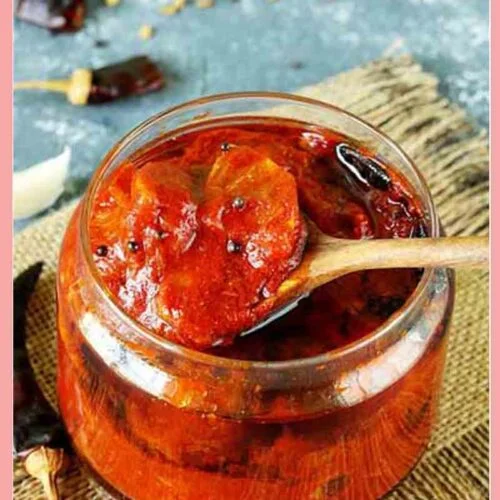 Chamoy Pickles Recipe
Spice up your meals with this chamoy pickles recipe. Easy to make and tastier than it sounds, it might just be the element you need. Try it out!
Print
Pin
Ingredients
5

large Apricots

10-12

chile de Arbol

or Japones

¼

Cup

dried cranberries

1

lime

(freshly squeezed)

⅓

Cup

chile limon powder

or Tajin

1

large ancho chile pepper

1

Cup

dried hibiscus flowers

Salt

(according to taste)

sugar

(according to taste)
Instructions
Wash all the ingredients thoroughly, boil hibiscus with water.

Place the sauce ingredients in a blender and mix.

Cook apricots, cranberries, japones and ancho chiles until soft.

Season as necessary and mix up together. Store when it cools down.
Tips
You can use tart plums for this dish too. Generally with the amount in this recipe, you can use 2 tart plums. 

To add even more flavor, you can clean and cut some fresh pineapple, add it to the mix. It will be a great addition to this fruit roll up pickles dish!

Make sure you remain cautious when handling the ancho chiles. Wear gloves when handling them before they are mixed with other ingredients. They are delicious but very spicy and if you touch anything else after handling them with bare hands, not only will your hands face irritation, so will the surface of your body you touched with that hand. So, be careful.
Nutrition
Nutrition Facts
Chamoy Pickles Recipe
Amount per Serving
% Daily Value*
* Percent Daily Values are based on a 2000 calorie diet.
Wrapping Up
This recipe is also known as the mexican fruit roll up. The ingredients and the process which this recipe follows is very similar to the ones that originated from Mexican ancestry. This great tangy yet sweet dish is a delicacy in a way. If you can master making the dish perfectly, you can cook it and have it as you wish at any time!
You May Like Also: