There are many recipes for homemade red beans and rice. But you may have tried out Cheddars seasoned rice in their restaurant, and that probably is the best version. But you don't get the same taste when cooking at home. Yes, we can understand, and at first, we even had problems making Cheddars red beans and rice recipe. But after trying out a couple of times and testing with different ingredients, we were able to copycat the recipe.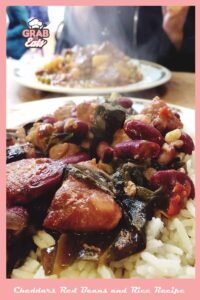 So, here we have shared this recipe for a single serving. If you ever feel hungry for homemade red beans and rice, follow our instructions thoroughly to get the best results. We have instructions that are super easy to follow, and even a cook with minimum cooking skills can follow our recipe. So, let's dive in. 
How Do You Make Red Beans and rice?
You will find different recipes using red beans and rice. Even the variation among the seasonings may surprise you. But when you are looking for authentic Cheddars seasoned rice with red beans, you are sure to follow the authentic recipes. Now, while trying our skills on the recipe, we had to face the same problems too. 
First of all, what type of meat should you use for this rice and red bean recipe? Ham is the most popular choice for this recipe. However, you can use pickled pork, sausages, salt pork, pork chops, bacon, smoked or tasso meat too. If you have any leftover meat from the night, you can use them as the main meat ingredients. However, the taste is better using ham for this recipe. 
If you can pick the right meat, the rest is not a big problem to prepare. All you need to do is soak the red beans overnight and collect all the ingredients we guide you here. The rest of the ingredients are simple like onions, ground black pepper, salt, vinegar, vegetable oil, red bell pepper, etc. 
The main process for this recipe is obviously the meat and red beans. Keeping a simple seasoning to the recipe will generate a mild flavor but will satisfy your taste buds. Cooking the rice doesn't mean you put all the ingredients together and stir fry them. Instead, you have to divide the cooking process into two. First, you have to prepare all the ingredients and then set them for the stove. 
Stir fry may be a quick way to cook your red beans and rice. However, it won't help you get the right flavors. So, never rush while cooking this recipe. Following our simple recipe, you can cook a tasty treat for yourself. 
How to Prepare the Red Beans and Rice Ingredients?
Using leftover pork from the night is a quick way to prepare the recipe. However, we have used ham and used fresh ingredients. Make sure you dice the ham into small pieces otherwise, it won't blend with the rice and red beans. 
You can use any leftover rice or cook them before making them. However, make sure you don't buy sticky rice for this recipe otherwise, you will taste a mushy texture in the rice. Now, soak the red beans overnight in 6 quarts of water. Drain the water for 5 minutes before cooking the rice. 
Mince 3 large onions and chop 3 garlic cloves for the recipe. Also, you need to seed 3 green bell peppers. If possible, use red bell peppers to add more flavors to your rice. Finally, finely chop ¼ cup of fresh parsley into a cup. After preparing all the ingredients, just assemble all the other ingredients in separate bowls.
Ingredients that You Will Need Are:
You need the following ingredients to start cooking this recipe: 
Smoked Ham: Cut 3lb smoked ham into 1-inch cubes. You can use other types of pork if you want. But it's better to use ham for the seasoned rice. 
Red Beans: You have to soak 3lb red kidney beans overnight on 6 quarts of water. 
Vegetable Oil: you 2 tablespoons of vegetable oil for the rice. Well, using bacon drippings is a good alternative but we like to keep the flavor simple. 
Onion: Mince 3 large onions so that the rice gets a sweet flavor. 
Bell Pepper: You need to use 3 bell peppers for the recipe. Seed out the bell pepper and mince them finely. If possible use red bell peppers over the green ones. 
Bay Leaves: Bay leaves will deliver a better aroma to your rice. You need 9 bay leaves for this recipe. 
Dry Thyme: Add one tablespoon of dry thyme for a better aroma and flavor. 
Parsley: Finely chop 1/3 cup of fresh parsley to add flavors to your red bean and rice. 
Salt: The salt depends on the amount of rice you are cooking. For 3 servings, you need 2 tablespoons of salt. 
Black Pepper: For 3 servings, you need 1 tablespoon of ground black pepper. 
White Rice: Warm-cooked white rice is preferred for this recipe. 
Step by Step Instructions for Chedders Red Beans and Rice Recipe
Step 1: First, you need to put the soaked red beans in a heavy soup pot. You need to put 6 quarts of water to fill the soup pot. 
Step 2: Bring the water to a boil and lower the heat of your stove. Let the red beans simmer for an hour till the beans are tender. 
Step 3: Use a frying pan and put 2 tablespoons of oil. Now, put the onions, garlic, bell peppers and stir fry the ingredients until they begin to change color. After 10 minutes, add them to the bean pot. 
Step 4: Use the same frying pan to brown the smoked ham cubes. When the ham is browned, add them to the bean pot. 
Step 5: Now, add parsley, vinegar, bell pepper, thyme, and salt into the bean pot. 
Step 6: Let all the ingredients simmer for at least 30 minutes. You have to wait until the red beans are tender and have made a thick sauce inside the bean pot. You can add some water if the beans become too dry. You have to wait till the beans are cooked completely.
Step 7: Stir occasionally, otherwise, red beans will start to stick to the bottom of the bean pot. Use a wooden spoon and avoid breaking the beans.
Step 8: You can adjust the seasonings and give a taste test. Now, throw away the bay leaves. 
Step 9: Serve the hot beans over the warm cooked white rice.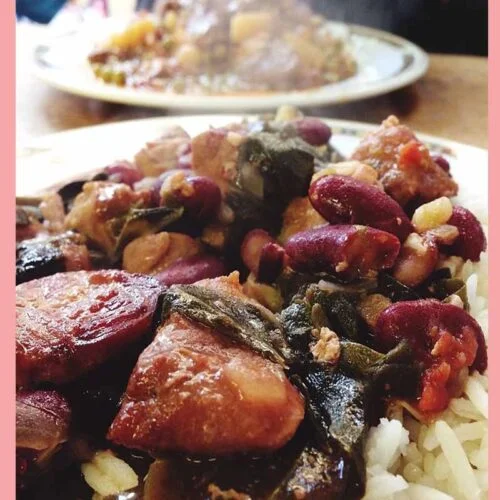 Cheddar Red Beans and Rice Recipe
There are many varieties of red beans and rice. Here we have the authentic Cheddar Red Beans and Rice Recipe.
Print
Pin
Ingredients
3

lb

smoked ham

3

lb

Red Kidney Beans

2

tbsp

Vegetable Oil

3

Onions

3

Bell Peppers

9

Bay Leaves

1

tbsp

Dry Thyme

1/3

Cup

Parsley

2

tbsp

Salt

1

tbsp

Black Pepper

White Rice
Instructions
Put the red beans in a heavy soup pot and add water

Simmer the beans for an hour

Use vegetable oil to saute the garlic, onions, bell peppers for 10 minutes, and add them in the bean pot.

Brown the smoked ham and put them in the bean pot

Add salt, pasley, vinegar, dry thyme into the bean pot

Let all the ingredients simmer for 30 minutes

Stir occasionally so that the beans don't stick to the bottom of the pot.

Serve it hot, over warm whie rice.
Tips
If you are in a hurry and don't have time for soaking red beans overnight, we can offer an easy alternative. Put the red beans in a large saucepan first. Add water, and the water should cover your beans by 3 inches. Boil the red beans for 20 minutes and turn off the heat. Finally, you have to let the beans stand for at least an hour.
Nutrition
Nutrition Facts
Cheddar Red Beans and Rice Recipe
Amount per Serving
% Daily Value*
* Percent Daily Values are based on a 2000 calorie diet.
Wrapping Up
You can use this recipe to serve 3 people one at a time. It's a simple way to finish your lunch or breakfast.
You May Also Like: