Even visited La Madeleine and never had the La Madeleine coconut cake? Well, you gotta try this french coconut cake at home. We visited the French cafe last year and tried this cake – gotta say, it's a cake that tantalizes your taste buds. When you try to make something at home – sometimes it happens, and sometimes it doesn't.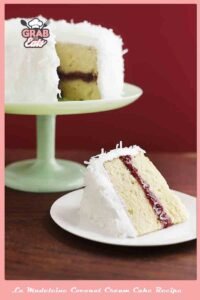 Here's why we tried this recipe at home – the coconut cake is too delicious to use any restraints. You are sure to come back for the La Madeleine Coconut Cream Cake Recipe. Now, we wanted to make a copycat recipe for any novice chef. So, let's have a look at the moist, creamy, flavorful cake recipe. 
Know about La Madeleine Coconut Cake
To be honest, our La Madeleine coconut cream cake version will not be similar to the french cafe version. La Madeleine's version is moister and more creamy. Of course, the original icing is more sturdy than ours. Well, it's evident as commercial places can add better texture and ingredients. 
The magic is within the layers, of course. We will make the custard layer much thinner to get a smooth texture. It will also let the custard sweep between the layers quickly.
So, we have to be careful while preparing the coconut icing. Mainly, the coconut flavor will be complex for us to gain. However, you don't need original coconut to make the icing. For the icing, we need coconut cream. Well, there's a slight difference between coconut cream and coconut milk. The cream is much thicker than coconut milk. 
Finally, we have to spend time assembling the cake layers. It will cost you plenty of time, but you are sure to fall in love with the cake once you are done. 
Coconut cream is quite easy to make at home. But if you are in a hurry, just get them from any nearby grocery store. The final challenge is always going to be adding the layers. It's hard – so what if you are a novice? Just stay calm, follow all our instructions, and stay sharp while adding the layers. 
Ingredients We Need
White Cake Mix: We need a 16-ounce white cake mix for our coconut cake. You can get any cake mix for this dish. We have used the Jiffy White Cake Mix for the cake, and you can also follow our cake mix recipe here. 
Eggs: Eggs will play a vital role in our cake batter. It will create stable structures and stability within the cake. Not to mention, it will help us get a moist cake. Further, eggs will thicken the coconut cake custard. For our dessert, we need 3 large sized eggs. 
Buttermilk: Buttermilk will help us break down long strands of gluten and proteins in the cake batter. Also, buttermilk helps in tenderizing the cake. For our dessert recipe, we will add 1 cup of buttermilk. 
Canola Oil: Of course, you are in for a sugar rush with this coconut pie cake. So, we have to take the heart condition into consideration. That's why we will use ⅓ cup of canola oil instead of olive oil. In short, canola oil is low in artery-clogging saturated fat. So, it's a healthier option for our dessert. 
Almond Extract: Just as we said, our cake custard will not deliver the same flavors as the original La Madeleine. So, we will add 1 teaspoon of almond extract. 
Vanilla Extract: Of course, we need 2 teaspoons of vanilla extract to prepare our coconut cream. 
Flaked Coconut: 14 ounces sweetened coconut will be the toppings for our cake. 
Coconut Custard Mix: 3 ounces of coconut custard mix will help us reach the peak of our custard. 
Whole Milk: To keep things fresh, we need 2 cups of whole milk for the batter. 
Heavy Cream: We need 2 cups of heavy cream for our custard. 
Granulated Sugar: Instead of confectioners sugar, we will be using 1 cup of granulated sugar. It helps gain a consistent texture in the coconut cream icing. 
Mascarpone Cheese: We need a 1 to 8 ounces container of mascarpone cheese for a smoother texture. 
Step by Step Instructions
Step 1: Preheat your oven to 325 degrees Fahrenheit. 
Step 2: Take two 9-inch round baking pans and spray them with cooking spray. Then flour the pan lightly. 
Step 3: Use a stand mixer to combine eggs, canola oil, butter, and cake mix. 
Step 4: Pour the batter evenly between the two pans.
Step 5: Bake in the oven for 35 minutes
Step 6: While baking, start preparing the buttermilk. Use a bowl and whip together granulated sugar, vanilla extract, almond extract, mascarpone cheese, coconut custard mix. Whisk until the custard reaches peak form. 
Step 7: After complete baking, assemble the cake layer by layer.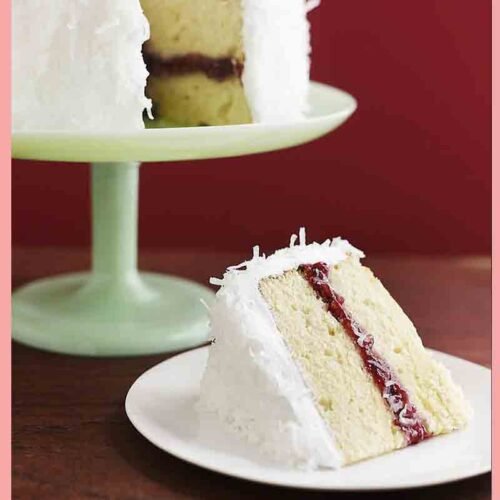 La Madeleine Coconut Cream Cake Recipe
Follow our La madeleine coconut cream cake recipe to make creamy, moist and tasty dessert at home.
Print
Pin
Ingredients
16

oz

White Cake Mix

3

Large

Eggs

1

Cup

Buttermilk

1/3

Cup

Canola Oil

1

tbsp

Almond Extract

2

tbsp

Vanilla Extract

14

oz

Sweetened Flaked Coconuts

3

oz

Coconut Custard Mix

2

Cup

Whole Milk

2

Cup

Heavy Cream

1

Cup

Granulated Sugar

1-8

oz

Mascarpone Cheese
Instructions
Preheat the oven to 325 Degrees F and prepare two 9-inch baking pans.

Combine the batter ingredients with a stand mixer and prepare the batter.

Pour the batter into prepared pans. Bake for 35 minutes.

Prepare the buttermilk icing with sugar, vanilla, cheese, almond extract, and custard mix.

Assemble the cake layer by layer.
Tips
Use a toothpick and insert it at the center of the cake. If the toothpick comes out clean, our coconut cake is ready. 

You can keep the cake standing for 2 hours after baking. After 2 hours, you can refrigerate the leftovers. 

You can freeze the coconut pie cake and store it for 2 months.
Nutrition
Nutrition Facts
La Madeleine Coconut Cream Cake Recipe
Amount per Serving
% Daily Value*
* Percent Daily Values are based on a 2000 calorie diet.
Wrapping Up
So, the magic is assembling the layers in the coconut cake. Once you make this delicious and creamy treat, there's an option for refrigerating and freezing. Also, you can use the leftovers to make coconut cupcakes. However, this is an excellent dessert for an eccentric dessert.
You May Also Like: