If you're looking for something spicy with a hint of sweetness, then the Mexi Corn Dip recipe would be the perfect course to serve with any main course. This is a crowd-pleasing item. There are several variations of one recipe, and based on your spice tolerance, you can make it really hot. Or you can make it indulgent by adding more cheese to the mix. To make a corn dip recipe, you don't have to be a seasoned cook. Even when you have never stepped in the kitchen, the Mexi corn dip won't fail you.  
The recipe included here is a family recipe. Growing up, my uncle would make a mouthwatering corn dip that would literally bring tears (the real ones!). It was heavenly spicy. And there was also the sweetness from the corn kernels. So here we'd be including my Uncle Paul's Mexi Corn Dip recipe.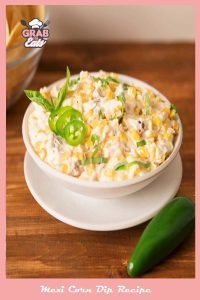 Know About the Mexi Corn Dip Recipe Ingredients  
The Mexi corn dip recipe got its name from two things. First, the sweet corn and then the bell peppers. Jalapeño peppers are also added to the spice. Thus, the Mexi corn dish was presented for all occasions. The recipe would consist of several spicy elements; if you want, just skip one or two to suit everyone.  
Ingredients  
Here we include all the ingredients used to make the Mexi corn dip recipe. Some of the ingredients are optional, so skip them or reduce the amount to suit yourself.  
Sweet Corn Kernel: 1 Entire can of sweet corn would be the first ingredient to look for. The sweetness of the corn will help balance out the peppers you add. Drain the corn from the can and use them straight.  
Sour Cream: ¼ Cup of sour cream will add a savory element to the dish. Sour cream tends to bind the ingredients, and the cheese added wouldn't be overpowering. Mexican corn dip with sour cream also has the element of tanginess. 
Cream Cheese: You need the creamy ness with the Mexi corn dip recipe. You can definitely use mayonnaise and sour cream and skip the cheese. But for me, cream cheese makes the dish thick and on the creamier side. It's perfect to counter the excessive spice we use. Thus, go with half a package of cheese. 
Mayonnaise: 2 Tablespoons of mayonnaise is enough for the corn dip. You can alternate the mayonnaise with Veganize if you want a healthier diet.  
Lime Juice: Something sweet, something spicy, and something sour. This would be the perfect way to describe our corn dip. ½ freshly squeezed lemon will take care of the sour part. 
Garlic Powder: Garlic will bring everything together. So ½ teaspoon would balance out the recipe and will bring out the savory taste. 
Salt: Salt is a must. We say go for ¾ teaspoon of salt. But you can add salt according to your taste. 
Black Pepper: To season the Mexi corn dip, salt, and pepper is a must. ½ teaspoon of black pepper is perfect for adding a mild smell and spice.  
Bell Peppers: 2 Tablespoons of bell pepper are added to the corn dip. You can go with 1 tablespoon of red bell peppers and 1 tablespoon of green pepper and add the yellow ones to make the dish more colorful.  
Jalapenos: This will add a nice smell and crunch to the recipe. We use ¼ cup of jalapeños. 
Blend Cheese: This is an optional opinion. Different kinds of blended cheese can be added for an extra hint of flavor. 
Green Onion: ¼ Cup of freshly chopped green onions are perfect for adding crunch to the dish. 
Tabasco Sauce: If you want to add more spiciness, then a dash of Tabasco sauce would do the trick. 
Green Chilies: My uncle would dip 1 can of chili in the dip. This would make even your enemy's cry. 
Cilantro: This is also optional. Add 1 tablespoon of cilantro for flavor.  
How To Make Mexicorn Dip Recipe? 
This recipe is known in our house as the summer corn dip. But my uncle would shout it as the Mexican sour cream dip. Here we are including a step-by-step guide to make the Mexi corn dip. 
Step 1
Grab a large bowl and throw the salt, pepper, garlic powder, cream cheese, sour cream, and mayonnaise in it. 
Step 2
Use a mixer at medium speed to turn it into a creamy texture.  
Step 3
Chop the vegetables like the jalapeños, bell peppers, green onions, etc. Drain the corn as well. 
Step 4
Add all the vegetables to the creamy mixture you made before. 
Step 5
Use a wooden spatula and start mixing. Mix well until all of the vegetables are coated with creaminess. 
Step 6
Add the Tabasco sauce and mix again. 
Step 7
Serve it right away or store it in a container to serve later.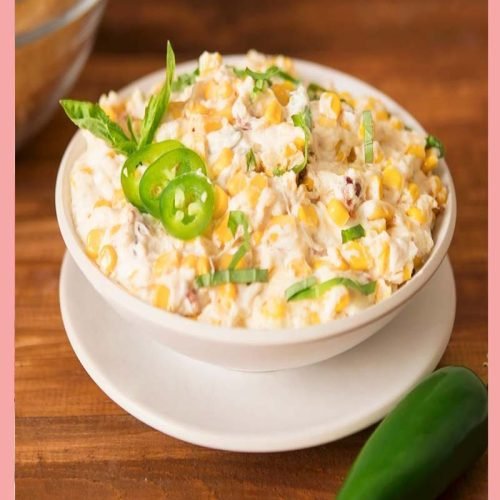 Mexi Corn Dip Recipe- A One-bowl Appetizer
The Mexi Corn Dip Recipe Is A Simple Yet Perfect Appetizer To Be Served Alongside Any Main Course. They Are Super Simple To Make.
Print
Pin
Ingredients
1

Can

Corn kernel

¼

Cup

Sour cream

4

Ounces

Cream cheese

2

Tbsp

Mayonnaise

½

Lime juice

½

Tsp

Garlic powder

¾

Tsp

Salt

½

Tsp

Black pepper

¾

Cup

Blended cheese

¼

Cup

Jalapenos 

¼

Green onions

2

Tbsp

Bell pepper

1

Tbsp

Cilantro

Dash of Tabasco sauce

As you need

1

Can

Green chilies
Instructions
In a bowl, add cheese, sour cream, lime juice, salt, garlic powder, and pepper.

Mix them well with a mixer Until they are creamy in texture.

Add the corn and the rest of the vegetables to the mixture.

Mix all of it together so they are completely coated.
Tips
To make the perfect summer corn dip, here are some additional tips: 
Chop all the vegetables finely.  

Add different colors of bell peppers to make the Mexi corn dip colorful. 

Mix the sour cream and cheese mixture well so the sauce is creamy. 

Use freshly cut vegetables so they stay crunchy. 

Store the recipe in an airtight box in a freezer to serve fresh.
Nutrition
Nutrition Facts
Mexi Corn Dip Recipe- A One-bowl Appetizer
Amount per Serving
% Daily Value*
* Percent Daily Values are based on a 2000 calorie diet.
Sum Up
The Mexi corn dip recipe is appetizing and has the perfect balance of spice, sugar, and creaminess. You can serve it on a game day or with a barbecue. As for the nutritional value, the dish will not disappoint either. If you're craving something spicy, then just add more chili to the recipe.
Read More: