If you are looking for an authentic Butterscotch Moonshine Recipe, scroll no longer. From this article you will have a complete guideline for butterscotch moonshine and so on.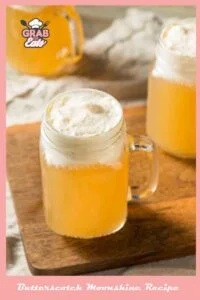 I prepared my butterscotch moonshine for the first time in my home because the nearest shop was 1 hour 30 minutes away. So, I couldn't afford going there thrice or more a week. I have a friend who works as a bartender. He advised me to talk with for the authentic recipe. 
And guess what! It turned out much more tastier when I tried it at home! However, let's learn about the recipe. 
Know about butter pecan moonshine drinks ingredients and recipe:
Moonshine: Moonshine is an alcoholic drink, first produced in England in 18th century and our main ingredient for this recipe. 
Butterscotch extract: Buttery and sweet with hints of vanilla and cream, this butterscotch extract  has a rich, buttery flavor. However, this flavor can also be used in most still and carbonated drinks. Most beverages are recommended to use levels between 0.10% and 0.30% as a starting point. 
Brandy: Brandy is a distilled liquor produced from the distillation of wine. In general, brandy has an alcohol content of 35 to 60% by volume and is typically consumed as a digestif after dinner. Also, one of the vital ingredients in our recipe. 
However, our drink contains 225 calories per serving. The amount we are making can provide 6 yields. So, let's learn how to make it.
How to Make Butterscotch Moonshine Recipe
To make the butterscotch moonshine, we will need a saucepan, a mixing spoon or spatula, mason jar with a finely secure lid. However, at first you need to prepare a simple sugar syrup. 
In a small saucepan, melt sugar with water. Remove it and let it cool. When cool completely, add food coloring for a nice look. Fill the mason jar with moonshine. Then add butterscotch extract, brandy and keep at the room temperature for 48 hours. 
If you want to have variations, try this. Fill a mason jar with moonshine. Dissolve the butterscotch candies, and add to the mason jar. Add sweetened condensed milk and vanilla cream soda. Keep in the refrigerator for up to 2 week and enjoy!
However, let's jump to our authentic recipe. 
Ingredients we need:
1 Cup of Water
1 Cup of Moonshine
a Pinch of Food Coloring
1 Tsp of Butterscotch Extract
1 Cup of Sugar
1/2 Cup of Brandy
Methods of Preparing Step by Step: 
Step 1: Bring out a small saucepan. Over medium-low heat, add 1 cup of sugar, and 1 cup of water. Let them cook until the sugar is completely dissolved. You need to be careful and don't let the sugar burn or stick at the bottom of the pan.
Step 2: the whole process won't take more than 5 minutes. When done, remove the small saucepan from heat and let it cool finely.
Step 3: When the sugar syrup has completely cooled, you can add food coloring to get the excellent brown color. If you have added raw sugar, it will show a nice brown hue color.
Step 4: Now, take out a mason jar and fill the jar with 1 cup of moonshine. Make sure your mason jar is completely clean.
Step 5: Now, pour the sugar syrup you have prepared earlier.
Step 6: Drizzle ½ cup of brandy. If you don't have brandy you can add ½ cup of red wine or orange juice for a similar color.
Step 7: You have to pour 1 tsp of butterscotch extract now. The pouring ingredients is over now.
Step 8: Close the lid tightly so that there is no leakage while shaking. Now, shake for 30 seconds to 1 minutes to mix all the ingredients together.
Step 9: Let the jar sit on a flat surface for 2 days at simple room temperature.
When done, your clear butterscotch moonshine recipe is ready to delight-in.
Tips to follow:
In some countries, moonshine is still illegal. Can't they enjoy this recipe? Yes they can! Here is a simple legal recipe of homemade moonshine. 
Ingredients: 
190 proof grain alcohol (1 Liter)
Fresh blackberries, 36oz containers
4 cups of water 
3 cups of sugar 
Directions:
Step 1: Fill a 1/2 gallon jar with grain alcohol.
Step 2: Include all blackberries. Use a wooden spoon to crush the blackberries.
Step 3: Put the jar in the refrigerator for 3 weeks.
Step 4: Shake the jar every two days.
Step 5: After 3 weeks, stir sugar into boiling water and bring to a boil. Pour the sugar in   and stir until it dissolves. Let cool to room temperature.
Step 6: As the simple sugar mixture cools, strain out the remaining blackberries from the alcohol and blackberry mixture.
Step 7: Mix the simple sugar with the alcohol mixture before returning it to the jar.
Step 8: Let the jar sit for at least two weeks.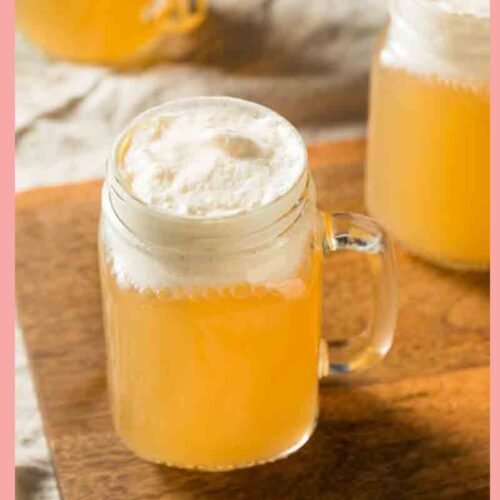 Butterscotch Moonshine Recipe
Can't find how to make Butterscotch Moonshine Recipe? Follow our recipe  step by step with a proper ingredients list and directions here for an absolutely delightful and refreshing drink for all time!. 
Print
Pin
Ingredients
1

Cup

Water

1

Cup

Moonshine

1

pinch

food coloring

1

tbsp

Butterscotch extract

1

Cup

Sugar

1/2

Cup

Brandy
Instructions
In a small saucepan with water and raw sugar, make a simple syrup.

Fill a mason jar with moonshine

Keep at room temperature for 2 days.
Nutrition
Nutrition Facts
Butterscotch Moonshine Recipe
Amount per Serving
% Daily Value*
* Percent Daily Values are based on a 2000 calorie diet.
Wrapping Up
Here we have all about the homemade butterscotch schnapps. Prepare it two days before any occasions and enjoy the fullest. However, want to freshen up your tastebuds? This special drink will surely satisfy you along with your friends and family members.