I was not familiar with the melting pot court bouillon recipe until last week. I went to my friend's house and her aunt prepared it. So, I asked for the recipe because it was damn tasty. She prepare a vegetable bouillon fondue.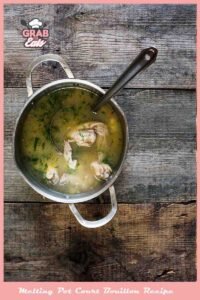 However, I prepared the recipe 3 days ago and the taste was amazing. Let's learn how I prepare.
Know about Your Ingredients and Recipe:
Yellow Onion: Yellow Onion has a great nutritional value and enhance flavor in this recipe. Take 2 yellow onions and chop very finely. Measure 3 tbsp of chopped yellow onion and set aside. 
Water: Measure 5 ½ cup of warm water We will be using it in this recipe. Water has to be warm, don't use cold water or normal temperature water. 
Celery: This vegetable is a popular snack because of its crunchy stalks, as well as for its various health benefits. Take fresh celery and chop very finely using a sharp knife. Then, measure 1 tbsp from it. 
Carrot: Take ½ carrot, and chop very finely. It's better be called minced. However, measure 1 tbsp from it and set it aside. 
Black Pepper: All over the world, black pepper is the most commonly used spice. The freshly ground spice is full of antioxidants and has a strong flavor. A spoonful can make this recipe taste great.
Garlic Powder: Garlic powder is used to enhance the vegetable flavors here. Also, it has a nice odor of garlic. 
Chicken: Chicken pieces provide the meaty flavor drippings here and increase the taste of bouillon. 
Sea Salt: The majority of sea salt is sodium chloride, a compound that helps control fluid balance and blood pressure. A pinch of sea slat will be fine. But you can add as per your taste. 
How to Make Court Bouillon Step by Step:
Preparing this court bouillon at home is no big deal if you have fondue pot at home. 
Step 1: Take out a bowl and pour 5 ½ cups of warm water into it. 
Step 2: Add 3 tbsp of yellow onion, 1 tbsp of celery, 1 tbsp of carrot,1 tbsp of freshly ground black pepper, 2 tbsp of sea salt, and 2 tsp of garlic powder. Whisk them finely to combine. 
Step 3: Bring a fondue pot and pour the prepared mixture. 
Step 4: Place the fondue pot over medium-high heat and bring to a rapid simmer. 
Step 5: Thread a piece of chicken on each fondue fork and allow to cook. 
Step 6: Cook the broth to medium heat for 15 minutes or more until the chicken piece is completely cooked. 
Remove from heat and ladle to the serving bowl.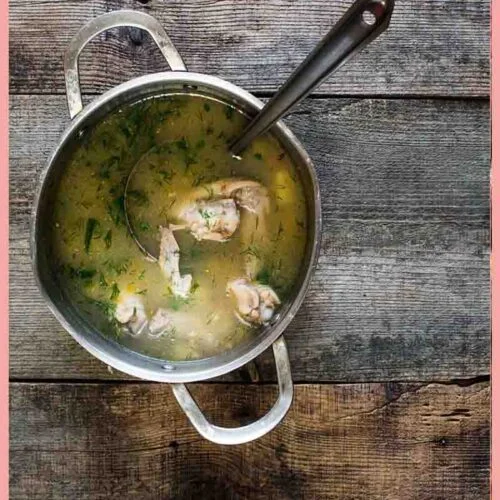 Melting Pot Court Bouillon Recipe
Enjoy melting pot court bouillon recipe at home with your family members or guests. Make every day special with this amazing recipe.
Print
Pin
Ingredients
5 ½

Cup

warm water

3

tbsp

yellow onion

1

tbsp

fresh celery

1

tbsp

carrot

2

tbsp

sea salt

1

tbsp

Ground black pepper

2

tbsp

Garlic powder

4

boneless, skinless chicken pieces
Instructions
In a mixing bowl, mix all the ingredients except chicken pieces

Put the mixture in the fondue pot

In the fondue pin insert the chicken pieces

Cook the dish for 15 minutes
Tips
When cooking melting pot broth, don't overheat or else the dish won't infuse that taste. 

You can serve the bouillon fondue with big mac sauce, salad dressing, seafood drippings, beef drippings, or ravioli dressing. 

If you want to prepare all vegetable broth fondue recipes, then you can insert any vegetable pieces in the fondue pin.
Nutrition
Nutrition Facts
Melting Pot Court Bouillon Recipe
Amount per Serving
% Daily Value*
* Percent Daily Values are based on a 2000 calorie diet.
Conclusion:
The whole recipe is very easy and quick. No need to wait for tons of time to have this dish. However, I'm going to add this recipe to my special menu. I'm sure if you prepare this you will love it, as it is tasty and healthy as well. Bon appetit!