We love old Dutch sweet and sour salad dressing but finding it is not easy. Furthermore, the sweet and sour dressing is pretty expensive. So, you would want to prepare the dressing at home. Well, it's not that hard to make the dutch salad dressing. We wanted to create an exact version of the salad dressing for us.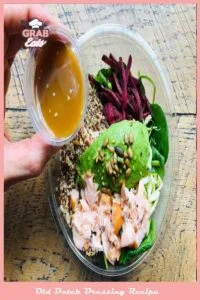 So, here's our light and thickener version of an Old Dutch dressing recipe. We had to figure out the measurements for our dutch dressing. So, without further ado, let's have a look at the recipe here. 
Know About the Recipe and Ingredients
Water: Generally, oil is not a good ingredient for salad dressing. If you want a healthy alternative, water is the best ingredient. People with a strict diet especially can get an oil and fat-free salad during summer. 
Brown Sugar: We can use white sugar, but brown sugar will add caramel notes in the salad dressing. Mainly, we use sugar to balance flavors in all the ingredients. Brown sugar will mellow other flavors in the salad dressing.
White Vinegar: White vinegar has an intense flavor, and it will work perfectly with our dressing. Why? The old dutch dressing is sweet and sour – adding white vinegar can help us balance the sweetness or citrusy kick, 
Salt: You can't expect to bring out flavors without adding salt, can you?
Paprika: We don't want our dressing to look pale, or do we? Paprika is not that hot in itself. But it has a mellow spiciness to tip off your tongue. Also, paprika will add more color. 
Black Pepper: The classic spiciness of black pepper is what we want. Also, it's a healthy alternative over savory dressing spices. 
How to Make Old Dutch Salad?
Our recipe for old dutch sweet and sour dressing is relatively easy. It's a completely oil-free dressing – so people with health concerns can enjoy sweet and sour salad during summer. There are salad dressings available in grocery stores or supermarkets. But the price doesn't add up. 
Also, you are not sure whether they have used any natural ingredients or not. If you invest just a tiny bit of time gathering ingredients, you can make this classic dressing at home. This delicious dressing can transform a bowl of veggies into an instant savory dish. 
All you need is five ingredients for making this salad dressing. And most of them are available in your pantry. Once you follow our instructions carefully, you will be making this beautiful recipe for the whole summer. 
However, it would help if you took precautions for the first time. There are chances that you might get the recipe wrong. So, it's better to cut the Old dutch salad dressing ingredients in half. Once you are successful with your first trial, you can make them in batches. 
Ingredients We Need
1 Cup of Normal Water 
1/4 Cup of White Vinegar
1/2 Teaspoon of Salt
1/2 Teaspoon of Paprika
1/4 Teaspoon of Black Pepper
3/4 Cup of Brown Sugar
Step by Step Instructions
Step 1: Take a small saucepan and heat water and sugar. 
Step 2: Stir until the sugar is dissolved into the water.
Step 3: Get the pan out of the stove and let it cool for 10 minutes.
Step 4: Now, use a blender to grind all the ingredients. 
Step 5: Add the water and finally blend for 30 seconds. 
Step 6: Store the dressing in the refrigerator and bring it out before use.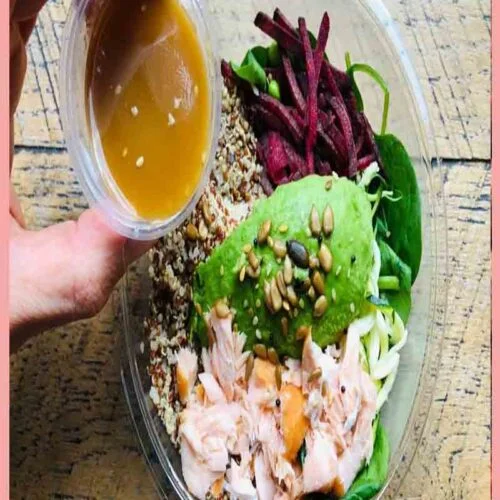 Old Dutch Dressing Recipe
Follow our Old Dutch Dressing Recipe to make the dressing from pantry staple.
Print
Pin
Ingredients
1

Cup

Water

3/4

Cup

Brown Sugar

1/4

White Vinegar

1/2

tbsp

Salt

1/2

tbsp

Paprika

1/4

tbsp

Black Pepper
Instructions
Heat water and brown sugar in a small saucepan

Remove the pan from the stove and let it cool for 10 minutes

Use a blender to grind all ingredients

Then, add the sugar water and again grind for 30 seconds
Tips
You can refrigerate the salad dressing for at least 2 weeks.

If you add a little bit of Olive oil, you can preserve the dressing in the refrigerator for 2 months.
Nutrition
Nutrition Facts
Old Dutch Dressing Recipe
Amount per Serving
% Daily Value*
* Percent Daily Values are based on a 2000 calorie diet.
Wrapping Up
See? It's not that hard to make the Dutch sweet and sour dressing at home. Just follow the instructions and make sure to get the ingredients right. Use the dressing for your favorite Dutch salad anytime you want.
You May Also Like:
Contadina Sweet and Sour Sauce Recipe