Cooking the bay scallops and shrimp recipe contains a pretty lengthy process. And it requires more ingredients than the other type of regular recipes. For that reason, you need to collect all the ingredients before you start cooking.
It's the recipe for professionals, though; everyone can try it. We have shared the easiest way so that you won't get troubled. However, the bay scallops and shrimp recipe is extremely tasty. Thus, making it once will lead you to make for several times. 
It's the most popular food item, especially in the winter. Because winter is the best time to get the freshest scallops. Here's the recipe guide to show you the best way to cook this item. Keep Reading!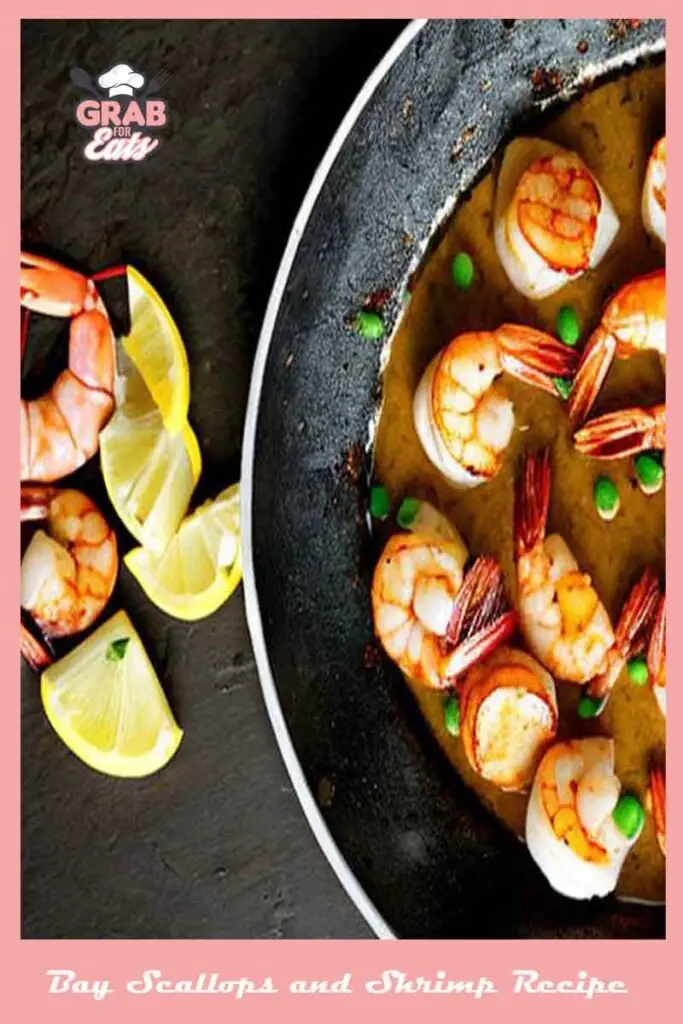 Know About the Bay Scallops and Shrimp Recipe
Cooking the shrimp and scallop recipe will keep you engaged in a chain. Because you have to cook it in 3 different steps. And, all these steps have their own several steps. 
Here's what ingredients will be needed for this delicious scallops and shrimp recipe-
Shrimp (500 grams)
When buying shrimp, buy the large size of 500 grams. We recommend a large size for two reasons. Large-size shrimp are full of high protein and low calories. Also, they will provide a variety of minerals and vitamins. So, having them won't cause any health issues. 
Scallops (500 grams)
You need to take the amount of scallops as same as shrimp. We are going to make this recipe with bay scallops, not sea scallops. So, buy 500 grams of bay scallops, not the sea ones. Bay scallops are easy and quick to broil and saute. It delivers more delicious results compared to sea scallops. 
Salt and Pepper (1 ½ tablespoons)
We prefer taking 1 ½ tablespoons of salt. But you should take it according to your taste. Use pepper as you like.
Olive Oil (1 tsp)
1 tsp of olive oil will be enough to cook this item
Garlic (5 Cloves)
Using garlic will bring an extraordinary flavor to your recipe. We like to take 5 cloves. Adding 2 more will also be alright.
Chicken Stock (½ cup)
You have to make ½ cup of chicken stock to add to the recipe during cooking.
Butter (1 Cup) 
We need 1 cup of butter. However, you can increase the amount to 2 cups. 
Onions (1 Cup)
Take onions 1 cup, but you also can use shallot instead.
Basil Leaves (1 Cup)
Take the fresh basil leaves, either 1 cup or 10 in number. 
Beans (340 grams)
Beans require 340 grams that should be rinsed and drained well.
Paprika (2 tsp )
Like red pepper, paprika also spreads flavor in this recipe. Adding 2 tsp will be good to increase the flavor properly.
Red Pepper Powder (2 tsp)
Just to add a strong flavor, you need to use red pepper. So, using 2 tsp of this spice is sufficient.
Zest Lemon Juice (½ tsp)
Lemon zest ½ tsp to enhance the taste. But it's optional, and you can avoid it if you want. 
How to Cook Shrimp and Scallops?
Cooking the low-calorie shrimp and scallop recipes are a lengthy process. However, if you cook it according to our instructions, it will be pretty easier. Follow the given steps below-
Get the Beans Ready
Step-1
Take a frying pan, put olive oil, and let it warm. Now add the onions and sauté for 5 minutes at medium heat. Add garlic when the onions become golden brown and sauté for 3 minutes at low heat. Ensure the onions and garlic cloves aren't burning. 
Step-2
At this stage, add butter and let it melt well. Once the butter is melted, add rinsed beans. Keep tossing the beans in the butter for 5 minutes. Add salt, red pepper, and paprika ad keep seasoning for 3 more minutes. 
Step-3
This time, add the chicken stock and boil. Keep stirring for 5 minutes. Ensure the mixture is simmering. Let it simmer for 25 minutes at low heat. But out the lid off the pan. 

Get the Scallops & Shrimp Ready
Scallops are almost the same as oysters. So, you already know how to prepare them. Still, if it's your first time, follow our instructions. 
Step-1
Remove the outer shell from the scallops. Now separate the flesh. 
Step-2
Now, take the shrimp and get them ready. Don't rinse after removing them from the brine. Rinsing will reduce the salt in your shrimp. 
Step-3
Pat both the shrimp and scallops with a paper towel and dry them. Let them season using pepper and salt. Keep the shrimp and scallops in separate bowls. Now keep the bowls aside. 
Get the Basil Leaves Ready
Wash and clean 10 fresh basil leaves. Chop the leaves into tiny sizes and put them in a bowl. You'll need them later when the recipe is cooked.
Cook the Shrimp and Bay Scallops
Once you've finished getting the shrimp, scallops, and beans, you're almost there to finish this recipe. Let's check out how easily you can cook this delicious recipe at this stage-
Step-1
Take your frying pan and put the leftover butter after using it to prepare the beans. Set the heat to medium temperature. 
Step-2
When the frying pan is hot properly, put the shrimp. As the amount of shrimp is 500 grams, you need to fry them in batches. Fry each side of the shrimp for 1 and 30 minutes. Make them look golden brown. Add more butter halfway if necessary.
Step-3
Place the fried shrimp in a bowl and keep it aside. 
Step-4 
This time, fry each of the scallops the same way you fried the shrimp. You need to fry them in batches as they are large in amount. 
Step-5
Place the fried scallops in another bowl and keep the bowl aside. 
Step-6
Now retake the pan of beans and add lemon zest and cook for 3 minutes.
Step-7
Your recipe is almost ready. Take another bowl and pour the beans into it. Spread the shrimp and scallops on top of the beans. Now this recipe is perfectly ready to serve. Add the chopped basil leaves to each plate while serving your dish. 
Best Side Dishes
You might wonder what side dishes to serve with the shrimp and bay scallop casserole. Here are the best ones-
Grains like rice
Pasta 
Peas 
Beans 
Potatoes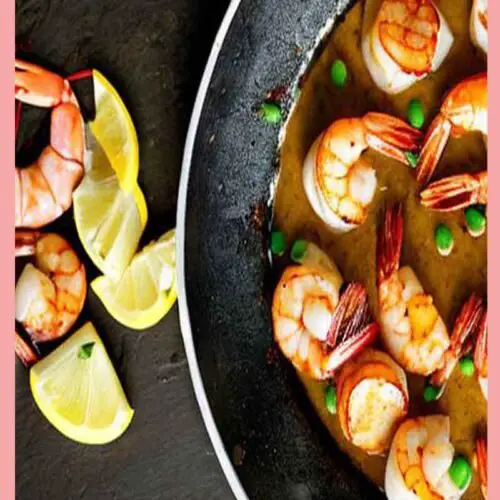 Bay Scallops and Shrimp Recipe
If you haven't tried the bay scallops and shrimp recipe yet, try it today. It's the most delicious recipe prepared with shrimp and scallops. You'll love it.
Print
Pin
Ingredients
500

Grams

Scallops

1 ½

Tbsp

Salt and Pepper

1

Tsp

Olive Oil

5

Cloves

Garlic

½

Cup

Chicken Stock

1

Cup

Butter

1

Cup

Onions

1

Cup

Basil Leaves

340

Grams

Beans

2

Tsp

Paprika

2

Tsp

Red Pepper Powder

½

tsp

Zest Lemon Juice
Instructions
Take a frying pan and put butter on it. Fry the shrimp in batches. Fry both sides of each shrimp and make them brown. Once the shrimp are fried, put them on a plate.

When the shrimp are finished frying, go for the scallops.

Fry the scallops the same way you fried the shrimp.

Now take the pan of beans you prepared and add lemon zest and cook for 3 minutes.

Take the beans on a plate and spread them evenly.

Now spread the shrimp and scallops on top of the beans
Tips
If you serve this recipe immediately right after cooking, it will taste better than the normal.

Try cooking your scallops and shrimp simply. Don't go for overcooking. Or else they will be chewed and rubbery sometimes.

Remove the shrimp and scallops from the frying pan when they seem firm to the touch. It's the best time to get a good texture with softness.

Pat both the scallops and shrimp and make them dry before cooking. Wet scallops or shrimps won't fry well .
Nutrition
Nutrition Facts
Bay Scallops and Shrimp Recipe
Amount per Serving
% Daily Value*
* Percent Daily Values are based on a 2000 calorie diet.
Conclusion
If it's your first time cooking the bay scallops and shrimp recipe, read the instructions thrice before cooking. It will make your way easier and help you quickly prepare the ingredients. Also, it's essential to understand what spices and side dishes you should use. 
This garlic butter shrimp and scallops recipe are popular worldwide because of its variety of tastes. You can change the taste, including different ingredients according to your preference. 
More Recipe Ideas: