La Madeleine Pasta Salad Recipe is a combination of zesty flavors that no one can refuse. As a side or snack, this pasta salad is perfect. Sudden guest is no problem at all. With all pantry ingredients, anyone can prepare it just within 30 minutes. 
The veg combination of bell peppers, sun-dried tomatoes, black olive, and savory dressings makes it the best dish from the french pasta salad recipe. So, food lovers, grab your spoon and let's learn the recipe!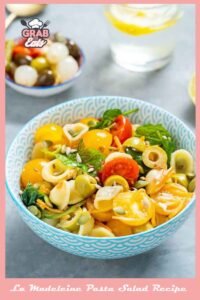 Know About the Ingredients for Bow Tie Pasta Salad with Pesto
Bowtie Pasta (Farfalle): La Madeleine Pasta Salad is always made with bowtie pasta, so try to have this one. If you don't have any, prepare with any type short cut pasta like penne, ziti, etc. For this recipe, you will need 1 package of bowtie pasta (12 oz.)
Sun Dried Tomatoes: Get 15-20 sun dried tomatoes. You can buy sun-dried tomatoes from the supermarket or you can make them at home. You can make it in the oven or dehydrator.
All you need to do is to preheat the oven or dehydrator to 160 degrees F. On a cookie sheet place the tomatoes, and sprinkle salt. If desired, add herbs like dried basil, oregano, etc. Bake for 7 hours. In the refrigerator, you can have them stored for years.
Bell Peppers: Have 1/3 cup of both green and red bell peppers for this French pasta salad recipe. They are rich in vitamin C and antioxidants, making this salad healthy and tempting.
Red Onion: ¼ cup red onion, finely diced, will make enough savor to the salad.
Black Olive: Black olive is enriched with monounsaturated fats and Vitamin E. Gather ½ cup of sliced black olive.
Parmesan Cheese: Grate about 1 cup of Parmesan cheese to have some cheesy flavor to the dish.
Salt: For cooking the pasta 1 tbsp of salt would be needed.
For the Pesto:
Fresh Parsley: In this pesto, parsley is one of the main ingredients and ½ cup of fresh parsley would give a green flavor to the pesto.
Pine Nuts: It gives a nutty flavor to the pesto and 1/3 cup of pine nuts would be enough.
Lemon Juice: For savory tang, use 2 tbsp of lemon juice, squeezed from a fresh lemon.
Dried Basil: ¼ tsp of dried basil gives a minty flavor to the pesto. Rather than fresh basil, dried basil is easily available and more flavorful.
Oregano: ¼ tsp of oregano is used for enriching the flavor of pesto with a mild sweet and peppery kick.
Onion Powder: In pesto it is better not to use raw onions, cause it may go bad easily as a whole ruining the entire pasta salad. ¼ tsp of onion powder would be enough here.
Garlic powder: ¼ tsp of garlic powder would do some great flavouring in the pesto.
Thyme: Thyme is one of the interesting flavored herb, with woodsy yet flowery flavor. 1/3 tsp of thyme would add some distinct flavor to paste.
Tomatoes: In dressing it is not necessary to have sun-dried tomatoes, so measure ½ cup of roma tomatoes.
Olive oil: 2 tbsp of olive oil would be necessary for this recipe. 
Salt & Pepper: I prefer to use ½ tsp of Kosher salt and ¼ tsp of freshly ground black pepper You can add more or less as per your taste.
How to Make Pasta Pesto Salad With Sun Dried Tomatoes
Step 1: Take out a large saucepan and add 1 package of pasta. Fill up with water and add 1 tbsp of salt. Turn on the stove over high heat and allow the pasta to boil for 6 minutes to 8 minutes until al dante. Don't over boil or else the pasta would be mushy.
Step 2: Meanwhile, prepare the pesto. Add parsley, pine nuts, roma tomatoes, oregano, garlic powder, thyme, dried basil, salt, pepper, lemon juice, and onion powder in a food processor. Process for 2 minutes at first at low speed.
Step 3: Pour olive oil slowly while processing in order to have a smooth dressing. When done, scrap to a bowl and keep in the refrigerator.
Step 4: When pasta is done cooking, drain and rinse under cold water.
Step 5: Transfer the pasta in a large bowl and add sun-dried tomatoes, 1/3 cup of bell pepper, ½ cup of black olive, ¼ cup of red onion, and 1 cup of grated Parmesan cheese.
Step 6: Toss them to combine and finally add the dressing. Fold in to mix properly.
The la madeleine pasta salad is ready to enjoy! The recipe is adjustable enough. Feel free to add any type similar genre vegetables and enjoy!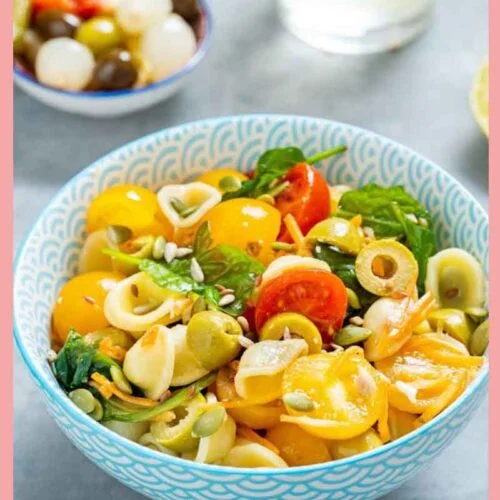 La Madeleine Pasta Salad Recipe
Check out La Madeleine Pasta Salad Recipe that is very easy to prepare at home in no time. This is considered as one of the best veg pasta salads in the world.
Print
Pin
Ingredients
For the Pesto:
1/2

tbsp

Salt

1/4

tbsp

freshly ground black pepper

1/4

tbsp

garlic powder

1/4

tbsp

oregano

1/4

tbsp

dried basil

2

tbsp

Olive oil

2

tbsp

Lemon juice

1/2

Cup

roma tomatoes

1/3

Cup

pine nuts

1/2

Cup

parsley
For pasta salad:
1

package

bowtie pasta

15-20

sundried tomatoes

1

tbsp

salt

1/3

Cup

bell pepper

1/4

Cup

red onion

1/2

Cup

black olive

1

Cup

Grated Parmesan Cheese
Instructions
Prepare the dressing/ pesto with parsley, Roma tomatoes, pine nuts, olive oil, and seasoning

Cook the bowtie pasta with salted water

Add veggies to the bowl of pasta and lastly add the pesto
Nutrition
Nutrition Facts
La Madeleine Pasta Salad Recipe
Amount per Serving
% Daily Value*
* Percent Daily Values are based on a 2000 calorie diet.
Sum Up:
Here you have a nice recipe to enjoy. My family loves this pasta salad and thus we almost prepare this once a week. The pasta salad becomes more flavorful if you use fresh vegetables, as we do, picking up right from our garden. Store properly or else the tasty salad would ruin. Bon appetit!
You May Also Like:
La Madeleine Chicken Salad Recipe