Tired of trying several dishes containing red meat? Wishing to try something more healthier with less fat? Then, I think the baked dover sole recipe is the right choice for you. Dover sole fillets covered with traditional spicy seasonings baked without heavy oil are truly nutritious for gym freaks who desire to have quickly digestible protein. 
Crispy sole fish can be used both as snacks and side dishes for lunch. Making baked dover sole merely takes around half an hour or less. So, it's a quick scapegoat too when you have sudden guests in your home. The expense of the ingredients is also quite affordable in many ways. So, let's check out how you can make this healthy item.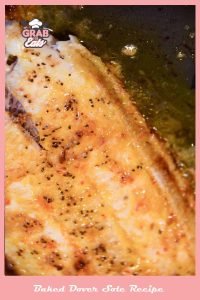 How to Cook Dover Sole in Oven?
You can either cook or bake dover sole lime fillets. But my opinion says baking the dover sole requires less oil and provides more crispness to the fillet. Furthermore, baking doesn't need too much caution while processing. Thus, I'm describing how you can have lemon dover sole baked at home.
Ingredients You Need
Sole Fillets: In the fish market or supermalls, you'd find packed dover sole fillets with a minimum thickness that you can easily bake. Don't go for thick ones as they're hard to cook or bake properly. 
Lemon: Lemons used for making lime or juice are the perfect ones to add to this dish. Other lemons might change the taste of the whole dish. The intention to add lemons is to melt the thick fibers of the fish meat and bring the proper crust. 
Onion: 1 onion would be enough to enhance the taste of the baked dover. Adding too much onion can make the whole dish sweeter than usual. So, be careful while adding onions to the dish. 
Onion Leaves: The best thing to garnish the baked dover sole is the onion leaves. Perfectly chopped onion leaves can be a perfect way to decorate even the simplest dish. 
Flour: The thin crust over the fillets can only come when you use the all-purpose flour for coating. Don't forget to add this item to your shopping list. 
Butter: Using butter is as important as picking up the perfect sole fillets from the market. The melted butter over the top brings juiciness to the crispy fillets when you bake them. 
Seasonings: To remove the taste of bare fish from the baked lime fillets, you must use the right type of seasoning along with flour to coat the fish. Here, you have the freedom to pick any type of seasoning you want. 
Garlic: Garlic is a necessary item to add when you're cooking meat or fish. It removes the smell of raw fish quite efficiently. 
Method of Preparing
Step 1
Take a bowl of water and put some ice cubes on. Put the dover sole fillets in the icy water too. Then, put them out from the water after 3-4 minutes and dry them a bit. 
Step 2
Now, cover up both sides of the fillets with flour and seasoning mix properly. Remember to completely cover the fillets. Otherwise, any gap or leakage can burn the fillets. 
Step 3
In another bowl, take the melted butter, garlic, some more seasoning, salt, and lemon juice. Mix everything properly. 
Step 4
Next, take an oven tray and put a baking sheet over it. Spray some cooking oil on top of the sheet and place the fillets one by one. Don't keep the fillets too close to each other. 
Step 5
Now, pour the butter mixture on top of the fillets slowly. Then, sprinke chopped onion leaves and some more seasoning along with onion slices on each sole fillet. 
Step 6 
Put the tray in a preheated oven and wait for around 15-20 minutes. When the baking is finished, bing out the tray and put some lemon slices over the fillets for the final touch.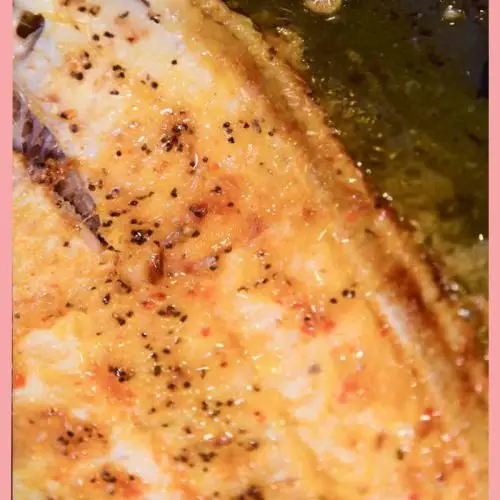 Baked Dover Sole Recipe
Lemon baked dover sole recipe is an ideal dish that can go with boiled rice, fried rice, and many other dishes from any cuisine. 
Print
Pin
Ingredients
13

Ounces

Dover Sole Fillets

3 1/4 Ounces each fillet

2

Tbsp

Flour

2

Tsp

Butter

Seasoning

As you need

1

Lemon

Onion

As you need

Onion Leaves

As you need

3

Cloves

Garlic
Instructions
Soak the fillets in cold water and wrap with flour.

Put the fillets on an oven tray covered with baking sheet.

Mix melted butter, seasoning, garlic paste, and other required ingredients in another bowl and pour it over the fillets.

Then put the tray into the preheated oven for 20 minutes.

After taking out the fillets, decorate and garnish according to your wish.
Tips
The over should be kept preheated on 375 degrees for about 5 minutes or so. 

You can also use fresh salmon fillets if you don't find dover sole nearby. 

You need to make a paste from the garlic before using with butter. Garlic paste gets mixed up pretty easily with other ingredients. 

Sometimes, you can also add coriander powder on top of the baked fillets for added flavor. 

You better eat rice along with baked sole with lemon. Pasta or speghatti won't taste good with dover sole I swear. 

If you have some extra time in your hand, then buy vinegar, tomato, red chilli, coriander leaves,  and 2 or 3 types of seasoning for making a sause. Use a electric mixer and mix all those ingredients together for a thick paste. Pour the sauce over the dish making a cathcy design to enhance both taste and decoration. 

If you see that fillets haven't gained the proper crust yet, you can flip the fillets and put them in the oven again for 5-7 minutes. So, you better check the crispiness of the dover sole before decorating or garnishing with any other item.
Nutrition
Nutrition Facts
Baked Dover Sole Recipe
Amount per Serving
% Daily Value*
* Percent Daily Values are based on a 2000 calorie diet.
Summary
I don't think there are too many dishes like baked Dover sole fillets with lemon that can be made so easily. Without a doubt, you'd surely love this dish along with other food in your diet chart. 
If you want to build muscles and lose some extra weight, then try out this recipe that has a very low amount of fat that won't bother you at all. After all, fish protein and fat are way more edible than red meat to every type of person.