Jake Cohen challah recipe is a traditional jewish dish that has been inspired by old recipes in Jewish households. It can be called a deconstructed or revamped version of the dish. The guaranteed part of it is that it will enhance the flavor and taste amazing. The mixing and preparation part is a little time consuming but the dish comes out really good because of all that effort. If you keep faith in yourself and trust the process as you follow through the recipe, you will end up with a great dish that you can try out that is healthy as well!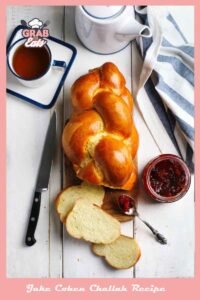 Know about the Ingredients and the Recipe
Sourdough bread: You need to get 1 pound of sourdough bread. Cut into one inch cubes.
Challah bread: You will need 1 pound of challah bread. Cut into one inch cubes.
Butter: Use 1 stick of butter for the recipe. It must be softened and unsalted.
Leeks: Get 3 medium-sized leeks. Thinly slice only the white and green parts of the leeks. 
Kosher salt: Add kosher salt according to taste. Kosher salt is a little different than regular sea salt. So, try using less of it first then gradually add more if you feel the need to.  
Black pepper:  Freshly ground up black pepper and use according to taste. If you want more pepper spiciness, use around a teaspoon of the ground  black pepper. If not, use less than a teaspoon accordingly. 
Carrots: Get 2 medium-sized carrots. During the preparation time make sure to finely chop them up.
Celery: Get 2 full-size celery stalks. You must finely chop them up when you are preparing the ingredients.
Parsnips: Get 2 full-sized parsnips. During the preparation time make sure to finely chop them up.
Sage: Add 1 tablespoon of sage. You have to pick them fresh and mince them up nicely.
Thyme: Make sure you get fresh 2 teaspoons of thyme. Mince them up nicely before adding them to the recipe. 
Garlic cloves: Add 3 garlic cloves to the recipe. You will need to make sure that you finely mince them up.
Vegetable stock: for the recipe you will need 2 cups of vegetable stock. You can use store bought vegetable stock or make the stock yourself. To make the homemade vegetable stock, you need to separately chop up vegetables of your choice and boil them. Then strain the insoluble part of the broth and separate the stock. 
Apple cider: Get 2 cups of apple cider and use it in the recipe. It will enhance the flavor of the recipe. 
Almonds: Clean-up ¾ of a cup of almonds. Rid them of the skin. Sliver them or chop them up before using. 
Heavy cream: You need to add ½ a cup of heavy cream to the recipe.
Parsley: Pick out fresh parsley leaves. Mince them up real nice which will get you around ½ a cup of parsley to use in the recipe.
Apple cider vinegar: Use 1 tablespoon of apple cider vinegar to enhance and balance the flavors in the dish.
Eggs: Beat up 4 eggs, salt them separately. 
Apples: Get 1 sweet apple, it is better if it is a Honeycrisp apple. Skin it and cube it up. Or if you like it chopped, you can do that too. Leave out the seed and middle part. 
How to Prepare the Grilled Challah
You can make Jack Cohen recipes at home now, as you can see. But this recipe calls for a baked challah dish. You can also make grilled ones. 
To alter that process, you will need a heat proof pan where you can grill the bread. The entire process will almost be the same for the preparation part but when it will come to grilling, you will need to butter up a dish and stuff the dough there. Then cook it on low heat for around 45-50 minutes. You can glaze the top with an egg wash before putting the dish on the stove.
Check the bread with a fork. If it comes out clean with no uncooked dough, then it is ready. You can also check if the bread is ready by sticking a cooking thermometer in the bread and if the temperature is around 300 degrees Fahrenheit, then it indicates that thw dish is almost done! 
Other than that, you can follow this step by step instructions for jake cohen garlic bread recipe below for a baked challah dish. 
Step 1: Preheat the oven to 300 degrees (in Fahrenheit Temperature) On a sheet pan, combine the sourdough and challah bread pieces and bake for 15 to 20 minutes, or until dry and crisp. Allow to cool.
Step 2: Again, preheat the oven to 375 degrees (in Fahrenheit Temperature) in a separate big skillet, melt the butter. Cook for about 10 minutes, until the leeks are jammy, with a strong dose of salt and pepper.
Step 3: Cook, stirring occasionally, until the carrots, celery, and parsnips are cooked but still somewhat crisp, about 6 to 8 minutes. Cook for another 2 minutes, or until the sage, thyme, and garlic are aromatic.
Step 4: Remove the pan from the heat and season with salt and pepper once more. Allow the vegetable combination to cool completely before using to avoid curdling the eggs in the next step.
Step 5: Toss the toasted bread with the veggies, almonds, parsley, and apples in a large mixing dish.
Step 6: Add two large pinches of salt and pepper to taste. Combine the heavy cream and eggs in a large mixing bowl. Fill a baking dish halfway with the wet stuffing mixture.
Step 7: Bake for about an hour, or until brown and firm. Remove the dish from the oven and set aside to cool for 10 minutes before serving.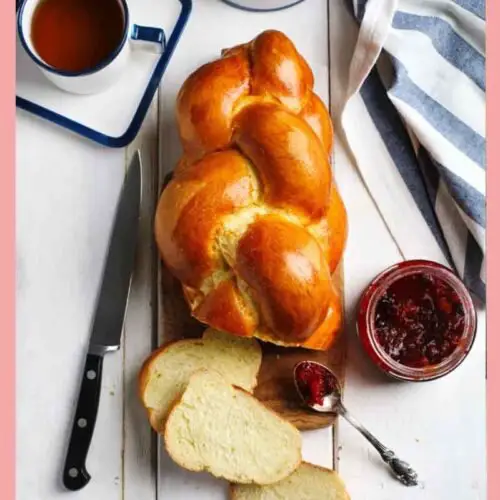 Jake Cohen Challah Recipe
Jake Cohen challah recipe is an amazingly easy and delicious recipe that you should definitely try out your hand in. Check this out today!
Print
Pin
Ingredients
1

pound

sourdough bread

1

pound

challah bread

1

stick

butter

3

thinly sliced medium leeks

Kosher salt

to taste

freshly ground black pepper

to taste

2

medium

carrots

finely chopped

2

celery stalks

2

parsnips

1

tbsp

minced fresh sage

2

tbsp

 minced fresh thyme

3

finely minced garlic cloves

2

Cup

vegetable stock

2

Cup

Apple cider

 ¾

Cup

Slivered almonds

½

Cup

Heavy cream

½

Cup

Minced parsley

1

tbsp

Apple cider vinegar

4

Eggs

1

chopped sweet apple
Instructions
In a large bowl, toss the toasted bread with the vegetables, almonds, parsley and apples.

 Season with two heavy pinches of salt and pepper.

Add heavy cream and eggs and mix thoroughly to combine.

Transfer wet stuffing mixture to a baking dish.

Bake until golden and set, about an hour or so.
Tips
To make challah croutons, the process is easier than you'd imagine. Just cut the bread into 1 inch cube sized pieces and you can enjoy it with a good warm bowl of soup (that you prefer) The beauty of this dish is that you can have it with any type of main course meal!

Glaze the top of the bread properly with the beaten eggs. It's better if you beat the eggs with a sprinkle of salt (around a teaspoon amount of sea salt or kosher salt) This will help the breads flavor to enhance and give out a beautiful golden cored crust on top of the bread.
Nutrition
Nutrition Facts
Jake Cohen Challah Recipe
Amount per Serving
% Daily Value*
* Percent Daily Values are based on a 2000 calorie diet.
Wrapping up
As you can see, this jewish challah recipe is very easy and simple enough. Although the process might seem hard but once you get cooking it doesn't seem that difficult. You must follow the process for the bread to come out perfectly. If everything goes well, you will have a great side dish to have with soup, mashed veggies or any main course you'd like to have it with!