Want to try something cozy yet delicious for dinner? This crowder peas recipe is exactly what you're looking for! With just a few basic ingredients and easy steps, you can cook this southern delicacy in no time.
Crowder peas, also known as cowpeas, are a staple in southern cuisine. Simmered in chicken broth and seasoned with spices, crowder peas are cooked until tender and creamy. But it's the bacon that adds a bit of smokiness to the dish and takes it to a whole new level. 
So, on days when you need something wholesome and satisfying for dinner, indulging in the creamy goodness of crowder peas would be a fantastic choice!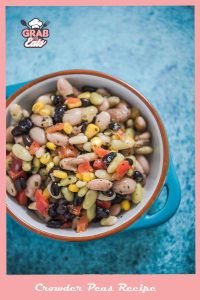 Know about the Crowder Peas Ingredients 
Now, let's have a look at the ingredients needed for the recipe. You can find all the ingredients at your nearest convenience store. And the best part? Not only are they affordable, but they are also packed with essential vitamins and minerals that are good for your health.
Crowder Peas: You'll need 5 cups of fresh crowder pea for this recipe. These peas are small, round, and have a creamy texture when cooked. If you can't find crowder peas, you can substitute them with black-eyed peas. However, the authentic southern-style recipe calls for fresh crowder peas. 
Garlic and Onion: Two of the most vital ingredients in the recipe. Finely chopped onions and garlic add a savory flavor to the dish, enhancing the overall taste. One chopped onion and a few cloves of garlic will do the job. However, you can opt for a powdered version if you prefer a mild flavor. 
Chicken Broth: Chicken broth is a crucial ingredient in this recipe. It provides the necessary moisture and flavor to cook the crowder peas to perfection. You will need enough chicken broth to cover the crowder peas. Around 6 cups of broth should do the trick. If you happen to be a vegan or vegetarian, you can use vegetable broth or water as a substitute
Vegetables: Veggies will add extra flavor and nutritional value to this dish. They also bring vibrant color and crunch. So, consider adding two chopped bell peppers and carrots for added depth of flavor. That being said, feel free to choose any veggies of your choice. 
Seasonings: Get creative and customize the flavor of your crowder peas by adding seasonings of your choice. Along with the salt and pepper, you can experiment with herbs and spices like oregano, paprika, or thyme. But make sure to taste the broth and adjust the amount while cooking. 
Bacon: Adding chopped bacon will add a great smoky flavor to this dish. The rich flavor of bacon complements the creamy texture of the crowder beans. You can adjust the amount of bacon according to your preference. But adding at least six strips of fried bacon is recommended.
Bay Leaf: Adding just 3-4 bay leaves can make a noticeable difference in terms of flavor. However, make sure to remove the bay leaf before serving.
Oil: Last but not the least, vegetable oil to saute the veggies and fry the bacon strips. The recipe calls for around 5 tablespoons of oil.
How to Cook Fresh Crowder Pea?
If you want to recreate the authentic southern peas recipe, all you have to do is follow the directions down below!
Step 1
Heat up some oil in a large pot over medium heat. Fry the chopped bacon strips until they're crispy and brown. Let them drain on a paper towel and then chop them finely. 
Step 2
In the same pot, throw in the chopped onion and garlic. Saute until they're nice and soft.
Step 3
Add the chopped bell peppers and carrots and let them cook for a few minutes.
Step 4
Now, it's time to add the crowder peas. 
Step 5
Pour in the chicken broth until the peas are covered. Add the bay leaves as well. 
Step 6
Season with salt, pepper, thyme and spices of your choice. 
Step 7
Once it starts to boil, turn down the heat to low. Cover the pot with a lid and let it simmer for about 1 to 1.5 hours until the peas are tender. 
Step 8
Take out the bay leaves and add the chopped bacon.
Step 9
Serve while piping hot.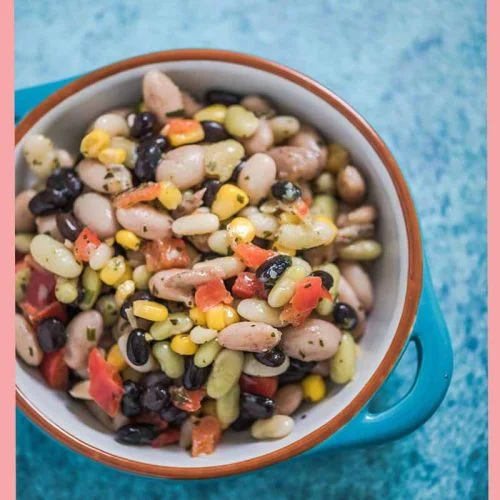 Crowder Peas Recipe
Embrace Southern cuisine with this comforting crowder peas recipe. Packed with nutrition, this dish will make a wholesome addition to your dinner table.
Print
Pin
Ingredients
5

Cups

Crowder peas

Fresh

1

Chopped onion

Few

Cloves

Garlic

6

Cups

Chicken broth 

2

Chopped

Bell peppers

2

Chopped carrots

Salt and pepper

To taste

6

Strips

Bacon

Chopped

3-4

Bay leaves

½

Tsp

thyme

Oil

As you need
Instructions
Fry the bacon until crispy, chop them up and then set aside.

Sauté the chopped onion and garlic.

Add the bell peppers and carrots, and cook for a while.

Add the crowder peas, chicken broth, bay leaves, and seasonings.

Bring to a boil, and let it simmer for 1-1.5 hours.

Add the crispy bacon back into the pot and remove the bay leaves.
Tips
It's a good idea to soak the peas for a few hours before cooking. This helps soften the beans and reduce the cooking time. 

It's very important to cook the peas over low heat. Otherwise, you might end up with peas that are not evenly cooked. 

At the same time, make sure not to overcook the peas. If the peas are overcooked, there's a good chance they will break apart and turn into mush. 

If you prefer a thicker broth, you can mash some cooked crowder peas with a spoon. This will help  thicken the liquid and create a creamy texture.
Nutrition
Nutrition Facts
Crowder Peas Recipe
Amount per Serving
% Daily Value*
* Percent Daily Values are based on a 2000 calorie diet.
Final Words
Those who live under the impression that delicious meals have to be fancy, clearly haven't tried crowder peas. This is a dish that truly captures the essence of the South. And it's not just delicious, but also packed with protein, fiber, and essential vitamins. 
This crowder peas recipe proves that great food doesn't have to be complicated. Just gather all the ingredients, follow the steps mentioned above and see for yourself. It's a recipe worth trying!