Mashed potato, also known as "mash," is a dish made by mashing boiled or steamed potatoes with milk, butter, salt, and pepper. Most of the time, it comes as a side dish with meat or vegetables. "Smashed potatoes" is another name for creamy mashed potatoes.
The Paula Dean Mashed Potato Recipe has always been super easy to put together. It has the right amount of butter and seasoning, but eating right out of the pot is hard. If you know how to cook right, you don't need to fuss with extra ingredients! Serve with all meals.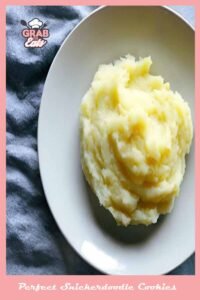 Know About Your Ingredients:
Potatoes: 3 medium potatoes (peeled, coarsely chopped). Fresh potatoes are boiled, baked, or fried and used in various recipes.
Butter: 4 tablespoons of butter (at room temperature). For butter, churn cream until butterfat and buttermilk separate.
Garlic: 1 teaspoon of garlic (finely minced). Garlic is used as a flavouring agent but can also be eaten as a vegetable.
Sour cream: ¼ cup of sour cream (at room temperature). The cream is mixed with a lactic acid culture to make sour cream. The bacteria in the culture thicken and sour the cream.
Milk: 1 tablespoon of milk (plus some extra at room temperature). It adds moisture to batter or dough and gives baked goods protein, colour, and flavour.
Salt: 1 teaspoon of salt. Salt is used to season food and make it taste better.
How to Make Paula Deen Mashed Potatoes:
Step 1: Put some water and a little bit of salt in a medium saucepan. Add the potatoes and boil them for about 15 minutes. Then, pour off the water and put the potatoes back in the pan.
Step 2: Add garlic, butter, and sour cream to it. Mash the potatoes with a potato masher until they are well-mashed and everything is mixed together.
Step 3: Mix in a tablespoon of milk and stir the mixture. If you feel like the consistency isn't right, add more.
Step 4: Mix well after adding salt and pepper. Your tasty mashed potatoes are ready.
Paula Dean Potato Cakes Recipe
Potato cake is a name for many different kinds of potato dishes worldwide, such as a patty of hashed potatoes, a fried patty of mashed potatoes, a slice of potato that has been battered and fried, or a flatbread made with mashed potatoes and flour. In some parts of Australia, a thin piece of battered and deep-fried potato is called a potato scallop, potato cake, or potato fritter.
Know About Your Ingredients:
4 cups of Chive and Onion Mashed Potatoes; the recipe follows leftover mashed potatoes
2 cups of divided panko breadcrumbs
1 large lightly beaten egg
1/4 cup plus more (if needed) vegetable oil
1 ½ lb of peeled and cubed potatoes
1/2 cup of softened chive and onion cream cheese
1/4 cup of softened butter
How to Make Paula Deen Potatoes Cakes:
Step 1: Mix the mashed potatoes, 1 cup of panko, and the egg in a large bowl. 
Step 2: Make patties about 3 inches across from the potato mixture. Use the last cup of panko to coat the cakes.
Step 3: Put the vegetable oil in a large nonstick skillet on medium heat. Add half of the patties and cook for 2 to 3 minutes until golden brown. Repeat the process with more oil and the remaining patties if you need to. Serve warm.
Step 4: Chive and Onion Mashed Potatoes:
Boil the potatoes until done. Add the potatoes, cream cheese, and butter to a medium bowl. Use a potato masher to make the potatoes into the texture you want. Serve right away.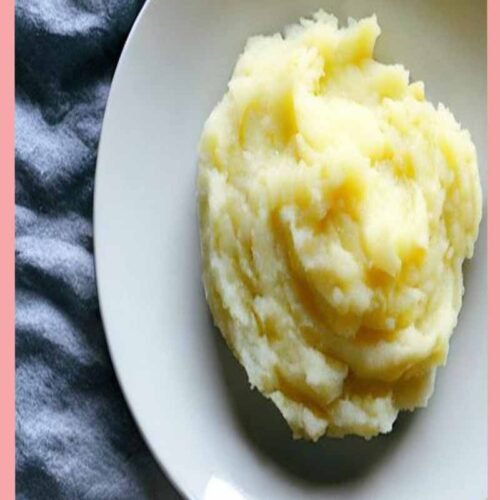 Paula Dean Mashed Potato Recipe
This Paula Dean mashed potato recipe is rich and creamy, full of great flavour, easy to make, and always a crowd favourite. It can go with everything.
Print
Pin
Ingredients
3

Medium potatoes

Peeled, coarsely chopped

4

Tbsp

Butter

At room temperature

1

Tsp

garlic

Finely minced

1/4

Cup

sour crea

At room temperature

1

Tbsp

milk

Plus some extra at room temperature

1

Tsp

salt
Instructions
Put water and salt in a saucepan. Cook potatoes for 15 minutes. Then drain and return the potatoes to the pan.

Add garlic, butter and sour cream. Mix the potatoes well with a potato masher.

Add milk and whisk. If there's inconsistency, add more.

Mix salt and pepper. Delicious mashed potatoes are ready.
Tips
If you only want to prepare the raw potatoes ahead of time, you can keep them in a stockpot (or large bowl) of cold water for up to 4 hours. 

Don't add cold milk to the mash. Too much cold milk can make the mixture sticky.

If you want to keep the water out of your potatoes while you boil them, leave the skins on and take them off after they are done.

When boiling potatoes, don't cut them too small, or they'll lose flavour.

If you want a creamy taste and texture, you can't let the boiled and drained potatoes cool before mashing.

Don't even think about touching your blender or food processor. Using the power of your own two hands is better, and you'll be rewarded with an airy, fluffy purée.
Nutrition
Nutrition Facts
Paula Dean Mashed Potato Recipe
Amount per Serving
% Daily Value*
* Percent Daily Values are based on a 2000 calorie diet.
Final words: 
This is the perfect recipe if you love good, old-fashioned mashed potatoes. This easy recipe for Paula Dean mashed potatoes is a classic holiday dish. You only need potatoes, milk, butter, and garlic when you want it. 
Find out how to make mashed potatoes that always look smooth, creamy, and tasty. Serve with extra butter or gravy on top. It's on the side of plates with big steaks dripping with garlic butter and buried under a pile of meatballs swimming in delicious sauces.