Looking for a simple dinner, you can make at home? Try the imperial chicken recipe for once. The best thing about Imperial chicken is that it is fancy and delicious to pass as a gourmet. Not to mention, even kids love this recipe. This delicious chicken recipe is easy to make, and you will come back event after event. 
Today, we will give you a simple yet delicious Imperial chicken bake recipe. We loved the chicken over a bed of flavorful rice. Also, you can pair it with any carbs on the platter. So, without further ado, let's check how to make this simple dish.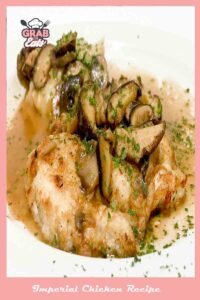 What is Imperial Chicken?
Imperial chicken is not a new type of chicken or anything. Instead, it means a chicken dish that implements boneless and skinless chicken. Mainly, it would help if you had boneless chicken breasts and baked them. However, the magic is with the preparation process. 
First, brush the chicken breasts with melted butter and give them a cream bath with different ingredients. After baking the chicken, you will get tender and juicy chicken meat. So, the central part will be up to the cream mixture you will prepare. Now, let's look at the cooking process and ingredients we need for an imperial chicken dish. 
How to Make Chicken Bake?
Just as we said, an intriguing part of this dish is that you can make this dish in a single pan. Therefore, we are going to bake this special dish easily at home. It's important to make the marinade and then bathe the chicken in the marinade. Yes, the marinade makes the chicken bake so appetizing. 
Once you bake the chicken, it will turn out juicy and tender. Yes, after bringing it out of the oven, you can transfer the dish to a skillet. But we like to serve the chicken hot over the pan. We don't like to ruin another dish. This way, cleaning up after stuffing yourself becomes easy. But if you go for a better presentation, transfer the chicken to a skillet. Serve the extra gravy in a separate bowl and use it as a dipping sauce. 
Just the chicken alone is delicious enough. If you serve the chicken and gravy with flavorful rice, it calls for a great dinner. There is no need to throw away the leftover sauce – dip any bread in the dipping sauce during breakfast. This recipe is so versatile that you can use it as a side dish or the main course. 
So, we have to get the ingredients suitable for the baked chicken. Now, you may be wondering about the preparation time. Surprisingly, we don't need a lot of time to prepare the chicken broth and cream. Follow all our instructions given below, and making the dish at home is easy peasy. 
Ingredients We Need
Make sure you gather all the following ingredients for our baked chicken recipe:
Boneless Chicken Breast: We need 4 boneless chicken breasts for our imperial chicken dish. Make sure you trim the skins and cut off excess fats. 
French Baguette: Just as we mentioned, we will need breadcrumbs for the dish. Going gluten-free is always the best choice. For an exact measurement, buy 4 ounces of French Baguette or gather 3 to 4 slices of bread. 
Parmesan Cheese: Grate 1/3 cup parmesan cheese for the chicken dish. The parmesan will work perfectly with the breading on the chicken. 
Butter: For our imperial chicken, we need 5 tablespoons of butter. However, we need 3 tablespoons of softened butter and 2 tablespoons of melted butter. Using the butter will bring out the complex flavors from the chicken. Also, it helps us get a delicate crust and tender meat. 
Parsley: Mince up 3 tablespoons of fresh parsley for our recipe. Fresh parsley can deliver an extra kick while you enjoy your chicken. 
Garlic: Garlic can quickly get rid of any extra parasites on the meat. Also, garlic can deliver a great deal of aroma. 
Fresh Thyme: This Mediterranean herb can generate delicate flavors and aromas. In this recipe, we will mince 2 teaspoons of fresh thyme. 
Heavy Cream: We will bath the chicken in heavy cream. Prepare 1 cup heavy cream so that our chicken becomes tender and gathers moisture. 
Chicken Broth: We also need 3/4 cup of chicken broth. 
White Wine: White wine brings out the flavors from the herbs. And the flavors are essential for our baked chicken. Prepare 1/3 cup dry white wine for our dish. 
Shallot: Using 1 shallot can deliver sweetness to our dish. 
Dijon Mustard: This is the tenderizing agent for our chicken. Also, adding 2 teaspoons of Dijon Mustard can enhance the chicken's flavor. 
Step by Step Instructions
Step 1: Sprinkle 1/2 teaspoon of salt over the chicken breasts. Cover the chicken in plastic wrap and refrigerate it. 
Step 2: Preheat your oven to 425 Degrees Fahrenheit and start preparing the breading. 
Step 3: Use a food processor to grind the bread coarsely. 
Step 4: Bit by bit, add parmesan, 3 Tablespoons softened butter, parsley, garlic cloves, thyme, and ground pepper in the breadcrumb. 
Step 5: Bring out the chicken from refrigeration and season it with pepper. 
Step 6: Use a large pan to arrange the chicken in a cross shape. And brush them with melted butter. 
Step 7: Pile the chicken with breadcrumbs on top. 
Step 8: Combine shallots, dijon mustard, cream, chicken broth, and dry white wine. Whisk them together. 
Step 9: Carefully start to pour the mixture over the chicken breast. 
Step 10: Bake for 35 minutes in the preheated oven. Wait until the crumbs are golden brown. 
Step 11: Remove the chicken from the pan and cover it with foil. 
Step 12: Now, transfer the sauce to a pan and bring it to a boil over medium-high heat while whisking. 
Step 13: Cook for 5 minutes until the sauce is thick. 
Step 14: Season the sauce with salt, pepper, and parsley.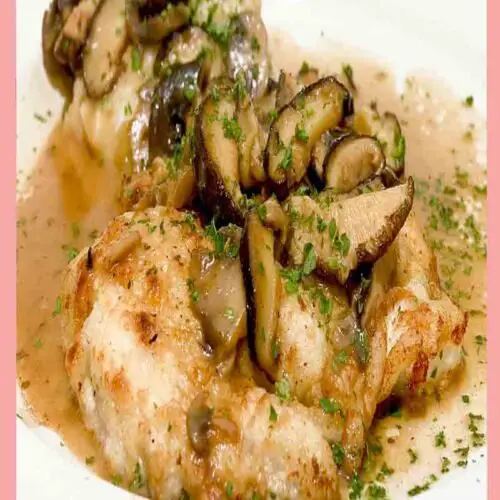 Imperial Chicken Recipe
Imperial Chicken Recipe is a pretty easy and delicious recipe that resembles any gourmet dish.
Print
Pin
Ingredients
4

Boneless Chicken Breast

4

Ounces

French Baguette

1/3

Cup

Parmesan Cheese

5

tbsp

Butter

3

tbsp

Parsley

2

Garlic Cloves

2

tbsp

Fresh Thyme

1

Cup

Heavy Cream

3/4

Cup

Chicken Broth

Salt

Black Pepper
Instructions
Season the chicken breasts with salt and refrigerate.

Set the oven preheating and prepare breadcrumb mixture with butter, parsley, garlic, thyme, and black pepper.

Season the chiken again with pepper.

Prepare a mixture with shallot, cream, broth, white wine, and mustard and pour over the seasoned chicken.

Bake for 35 minutes and by this time cook the sauce to thicken.
Tips
You need to brine the chicken in saltwater. This way, you can keep the chicken away from drying out.
Nutrition
Nutrition Facts
Imperial Chicken Recipe
Amount per Serving
% Daily Value*
* Percent Daily Values are based on a 2000 calorie diet.
Final Verdict
See? It's not that hard to prepare imperial baked chicken at home. All you need is just a pan to cook all the ingredients together. Try it out for dinner, your family and friends are sure to enjoy this dish.
You May Also Like: