Last summer, I was obsessed with Barefoot Contessa Haddock Recipes. All of them was super amazing. After a pretty long time, I'm sharing this with you guys because my 7-year-old angle wanted to have herb roasted fish and the only fish recipe she liked was one of the recipes from Barefoot Contessa.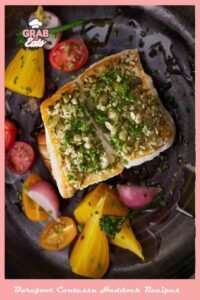 Know about Your Ingredients and Recipe:
Fish Fillet: If you are using a codfish fillet like me, you should know these facts. Phosphorus, niacin, and vitamin B-12 are all found in this fish fillet. Three ounces of cooked cod contain 15 to 20 grams of protein. Here, you will need 8 oz. of fish fillet. 
Salt: For seasoning the fillet you will need ½ tsp of kosher salt. 
Black pepper: This will also need seasoning. The best result comes if you ground freshly the black pepper using a spice grinder. Here you will need ¼ tsp of black pepper. 
Thyme: Fresh thyme provides a nice flavor to this dish. Make sure you finely chop it, about 2 tbsp. 
Eggs: Here, you will need eggs for closing the parchment paper. Ger 2 eggs and prepare the egg wash. 
Extra Virgin Olive Oil:  Researchers have shown that extra virgin olive oil is more beneficial than other varieties like virgin oil, olive oil, etc. However, in my cooking where health is an issue, I always try to use extra virgin olive oil.
The Vitamin E in extra virgin olive oil can protect the body against eye and skin problems, as well as make hair and skin healthier. Each tablespoon of extra virgin olive oil contains about 1.9 mg of Vitamin E. Use 1 tbsp of extra virgin olive oil here. 
Fresh Lemon Juice: Fresh lemon or lime juice enhances the tanginess of the recipe. Besides, it is full of vitamin C that should be consumed daily even if in a little amount. 1 tbsp of lemon juice will be fine here. 
How to Make Barefoot Contessa Fish Recipe?
Preparing this recipe is actually very easy. All you need to do is follow the instructions step by step grabbing the ingredients. 
You will need Cod fish fillet (recommended), extra virgin olive oil, fresh lemon juice, seasonings (salt, pepper), eggs, fresh thyme, etc. 
Let's check out what we have with fresh haddock recipes and how to prepare it step by step: 
Step 1: At first, you need to set the oven for preheating at them temperature of 400 degrees F. 
Step 2: take out a piece of parchment paper and place your fish fillet on it. 
Step 3: Season with ½ tsp of kosher salt and ¼ tsp of freshly ground black pepper. 
Step 4: Squeeze 1 tbsp of lemon juice and pour 1 tbsp of extra virgin olive oil over the top of the seasoned fish fillet. 
Step 5: Prepare the egg wash with 2 eggs and 2 tbsp of water. 
Step 6: Brush the egg wash generously around the rim of the parchment paper. 
Step 7: Fold the paper rim, covering the fish fillet like a packet. 
Step 8: Place the prepared fillet on a sheet pan. 
Step 9: Keep the sheet pan in the preheated oven. 
Step 10: Set the timer for 15 minutes or until the fish fillet is completely cooked. 
Remove from the oven and serve hot with haddock casserole.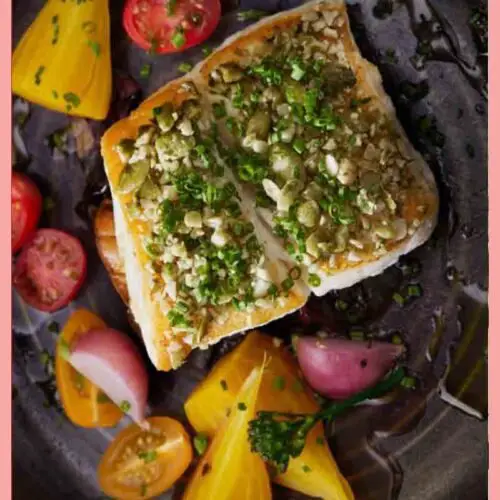 Barefoot Contessa Haddock Recipes
Follow these Barefoot Contessa Haddock Recipes in order to have delicious dishes at home without any hassle.
Print
Pin
Ingredients
8

oz

fish fillet

boneless

1/2

tbsp

Kosher salt

1/4

tbsp

black pepper

1

tbsp

Lemon juice

1

tbsp

extra virgin olive oil

2

tbsp

Fresh thyme

2

Cerignola

2

large

Eggs
Instructions
Preheat the oven to 400 degrees F.

Season the fish fillet with salt and pepper

Fold the parchment paper around the fish fillet.

Place in the oven and cook for 15 minutes.
Tips
Choose the fish fillet of snapper or cod as they are boneless and easy to prepare.

If you don't have extra virgin olive oil, you can use canola oil. But normal vegetable oil is prohibited to use.
Nutrition
Nutrition Facts
Barefoot Contessa Haddock Recipes
Amount per Serving
% Daily Value*
* Percent Daily Values are based on a 2000 calorie diet.
Conclusion:
If you have read the whole article, you will eventually understand how easy it is to prepare. I shared my story and don't forget to share yours if you would try the recipe. Enjoy the ritz cracker cod with your family members and Bon appetit!