Last year I tried this geechee girl pound cake recipe in the halloween. This old fashioned cake had turned out too good.
On my little daughter's 9th birthday, she for the first time demanded that she wanted the specific orange cake. Anyone can imagine that precious moment. All guests appreciated the taste and some of them wanted the recipe as well. So, I have decided to share this recipe with you guys.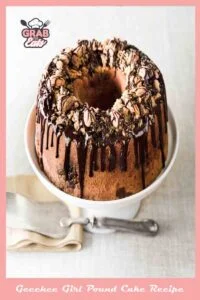 Know about Your Recipe and the Ingredients: 
Unsalted Butter: Butter is a vital ingredient for any type of cake. It helps to blend all other ingredients smoothly and maintain the balance. You need to use unsalted butter in this recipe so that you can control the amount of salt in your recipe.
Eggs:The eggs are essential for our batter, also eggless cakes are not that much popular. You must keep 6 eggs at room temperature or else they can't be beat finely. 
Vanilla Extract: Vanilla extract adds flavor to the batter. However, I suggest you use pure vanilla extract for the best flavor. If you are looking for any substitute for that then you can use mint extract, almond extract, lemon extract, etc. 
Sour Cream: In this southern style sour cream pound cake, sour cream is the one of the best ingredients. You can also use milk as a substitute, but the batter won't be quite as creamy. So, the idea will not be wise. 
Kosher Salt: Salt helps to balance out the sweetness of the batter. I always use kosher salt in all my recipes, but you can use sea salt or whatever salt available in your pantry. 
How to Make Geechee Girl Pound Cake Recipe?
Preparing this pound cake is not a big deal if you have proper ingredients and instructions. To prepare the pound cake, first I prepare the batter. In a mixing bowl I always beat butter with sugar. Then I add eggs, one at a time. This makes it easier to prepare.
Then I mix the dry ingredients, flour, mace, salt, baking soda, etc. After that I add the dry ingredients mixture and  wet ingredients mixture along with sour cream. 
Transfer the batter in the prepared pan and bake in the preheated oven at 300 degrees F. Let's proceed to the amount and step by step instructions. 
Ingredients that You Will Need Are:
2 Cups of Unsalted Butter or Margarine, Softened at Room Temperature
1 Cup of Sour Cream
1 Tsp of Vanilla Extract
3 Cups of White Sugar, Brown Sugar Will Work as Well
6 Eggs, Room Temperature
3 Cups of All-Purpose Flour or Whole Wheat Flour
¼ Tsp of Baking Soda
½ Tsp of Kosher Salt
1 Pinch of Ground Mace
2 Tbsp of Confectioners' Sugar, or as Needed
Methods of Preparing Old Fashioned Sour Cream Pound Cake Step by Step:
Step 1: At first, you need to set the oven for preheating at the temperature of 350 degrees F.
Step 2: Bring out a 10-inch fluted tube pan and grease it with a non-stick cooking spray. Then, lightly flout the tube pan.
Step 3: Take out a large mixing bowl and add 2 cups of butter.
Step 4: Using an electric mixer, start beating the butter. Along with the butter add 3 cups of sugar in 3 or 4 batches. Beat until the mixture become super fluffy and light. There will be no longer any color of butter.
Step 5: When the sugar is completely dissolved, add one egg and continue beating. Likewise add 4 eggs and beat until fully mixed up. With the last egg add 1 tsp of vanilla essence.
Step 7: Take another mixing bowl and add 3 cups of all-purpose flour, ¼ tsp of baking soda, ½ tsp of kosher salt, and 1 pinch of mace in a bowl. Mix them finely.
Step 8: Now, add the flour mixture to the prepared butter and egg mixture.
Step 9: Add 1 cup of sour cream to the mixture and beat until you get a super smooth batter.
Step 10: Now, you need to transfer the batter to the greased pan.
Step 11: Tap and finely spread the batter to the pan just in case there is no empty room left or bubbles left.
Step 12: Place the tube pan to the preheated oven and set the timing for 1 hour 20 minutes.
Step 13: When done, insert a toothpick in the middle of the cake to check whether the sour cream pound cake is completely done or not. The toothpick has to come out total clean. If not, then bake for 10 minutes more.
Step 14: Remove the pan from the oven and let cool for at least 10 minutes in the wire rack.
Before serving dust with 2 tbsp of confectioners' sugar or as per your desire. This step is optional but the original recipe has this.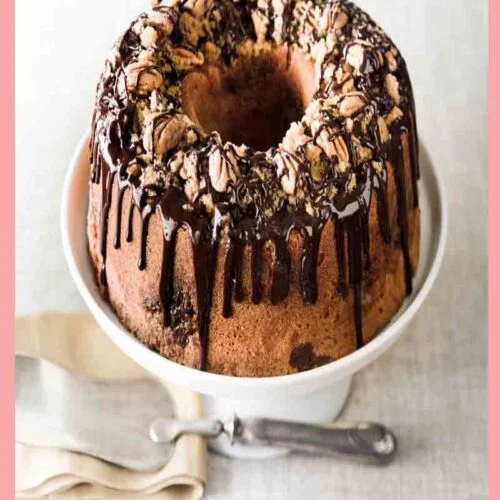 Geechee Girl Pound Cake Recipe
The exact geechee girl pound cake recipe that you can easily be prepared at home. However, be careful about timing and enjoy!
Print
Pin
Ingredients
2

Cup

unsalted butter

1

Cup

sour cream

1

tbsp

vanilla extract

3

Cup

white sugar

6

eggs

3

Cup

all-purpose flour

1/4

tbsp

baking soda

1/2

tbsp

Kosher salt

1

pinch

ground mace
Instructions
Beat butter, sugar, eggs and vanilla extract in a large bowl using an electric mixer.

In another bowl mix flour, mace, salt, and baking powder.

Transfer the dry ingredients mixture to the wet ingredients mixture and whisk with sour cream. The batter is prepared.

Preheat the oven at the temperature of 300 degrees F and prepare the tube pan.

Pour the batter to the tube pan and bake in the oven for 1 hour 20 minutes.

When done, dust with powdered sugar.
Tips
While measuring the all-purpose flour, make sure you spoon it and level it properly. If you take more, it will result in the dry cake at the end. 

Remember that when you are making cake no ingredients should be frozen. Egg, butter, sour cream, has to keep in room temperature at least 2 hours before preparing.
Nutrition
Nutrition Facts
Geechee Girl Pound Cake Recipe
Amount per Serving
% Daily Value*
* Percent Daily Values are based on a 2000 calorie diet.
Warping up:
As snacks, this old fashioned geechee girl pound cake is one of the best items on the table. With tea, coffee you can have great evening snacks. However, you can store this cake in an airtight container for up to 5 days at room temperature. Enjoy!
You May Also Like: