People who have tried Redrock Grilled Shrimp Longhorn once will surely love to try them again. For those shrimp lovers, we have bought this Redrock Grilled Shrimp Longhorn Recipe which will bring you the same taste at home just in an hour. Also, the process is so easy that you can try it anytime at any moment. So if you don't want to miss the fabulous item check out the recipe right now.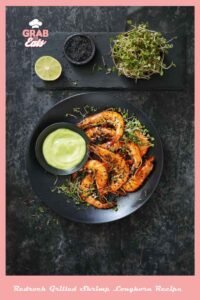 Ingredients For Marinating The Redrock Grilled Shrimp
The things you will need for the marination are easily available so you can prepare them anytime you wish. Now let's know about the ingredients you will need to prepare the item.
Cayenne Pepper: Cayenne pepper is usually used in the item to increase the test more than the usual one. It brings a little smokey spice to the flavor. Generally, chefs have used ¼ tsp of cayenne pepper on the long horn shrimp but you can change it according to your taste. 
Salt: Salt is an essential item that is almost the base of your cooking. To bring the accurate taste of longhorn Redrock grilled shrimp, chefs have used ½ tsp of salt but you can change the range if you like more or less salt in your meal.
Garlic: Garlic will help your shrimp to cook from the inside. So 1 tbsp finely minced garlic is better to make the item. Otherwise, you can also use garlic paste instead of minced garlic if you want. In that case, you will have to add ½ tsp of garlic paste to balance the cooking.  
Red Wine Vinegar: Red wine vinegar is used in the item so the duration of the marination becomes less and the shrimps can cook earlier than the usual ones. 1 tbs of red wine vinegar will go best for the red shrimp menu.
Basil: To bring a little freshness inside you need to add basil. 2 tbsp freshly chopped basil will bring the real freshness inside. 
Olive Oil: Olive oil will help your shrimp to hold on to the accurate moisture inside. So to bring the perfect softness to your shrimp it's important to add some oil. As olive oil is best for cooking so we will add ⅓ cup of olive oil which is enough for the item. 
Tomato Sauce: To bring more taste chefs have added tomato sauce to this grilled shrimp. ¼ cup of fresh tomato sauce of any brand can do the magic. It will not only bring a little sweetness but also will balance the whole flavor. 
Methods of Preparing Redrock Grilled Shrimp Loghorn Recipe
Preparation For Marination 
Step 1: Stir everything nicely so they mix really well. 
Step 2: Take a small amount from the mixture to use later when it's needed. You will need this mixture especially when your Redrock grill is totally done.
Step 3: take 10 shrimps for marination. You can even easily Marinate up to 15 shrimps inside the mixture. 
Step 4: For marination you can take 1 hour to 45 minutes but not more than that as the vinegar has acid which will start to cook your shrimp faster so you won't need to marinate for a long term. Best you take 45 minutes in the refrigerator to marinate your shrimp.
Once the shrimp comes out from the refrigerator it's time to prepare them for cooking. 
Cooking Preparation
Place the shrimps on a plate and get them inside a Skewers one by one. Don't place more than 5 shrimps inside a Skewers. Put a little gap in between so it can breathe easily.
Cooking Procedure 
Step 1: Now take the shrimp Skewerss, place them on your prepared grill with hot coal. 
Step 2: Take 2 minutes for each side to cook your shrimp. 
Step 3: Covering the grill will help more, to cook evenly. So cover it. 
Step 4: After 2 minutes of cooking one side, shift it to the other side.  
Step 5: When only one minute is left for the cooking, take the mixture you saved for later use and spread them on the shrimp with a brush or a spoon. Brush spreads mixture evenly so it's better if you can arrange a brush to spread the item.
This mixture will create a smell that will take you to a different world. It will be hard to resist your temptation when the smell will reach your nose. 
Step 6: When it's done serve the item in a proper manner. 
Serving
If you haven't noticed, longhorn serves the shrimp on the bed of rice pilaf. It is their traditional way to serve the item. So if you want to create the exact atmosphere, it will be nice if you serve it in the same manner.
Which Smoking To Use For Grill
You can use any brand for your grilled shrimp. If you count the chef's recommendations, cherry wood smoke goes best for this type of grilled shrimp. It's not strong at all and brings a mild smoke inside the food which creates amazing flavor and brings you the perfect satisfaction.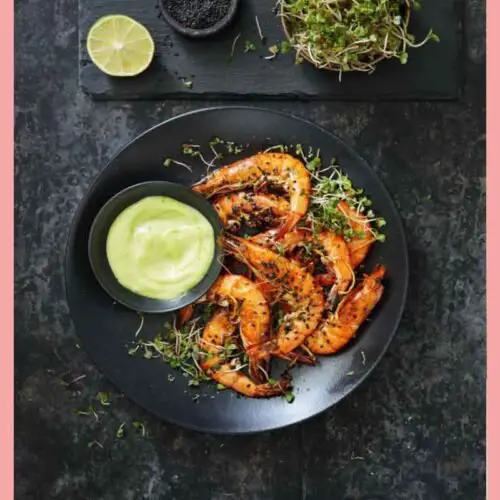 Redrock Grilled Shrimp Longhorn Recipe
Missing the amazing taste of red grilled shrimp of longhorn steakhouse? Try this Redrock Grilled Shrimp Longhorn Recipe and recreate the same taste at home.
Print
Pin
Ingredients
¼

tbsp

Cayenne pepper

½

tbsp

Salt

2

tbsp

Fresh chopped basil

1

tbsp

Finely minced garlic

2

tbsp

Red wine vinegar

⅓

cup

Olive oil

¼

Cup

Tomato sauce

10-15

Shrimp

2

Skewers
Instructions
Make a mixture with cayenne pepper, salt, basil, garlic, vinegar, olive oil, and tomato sauce, save a little for the later use and marinate the shrimps with the mixture.

Refrigerate the marination for 45 minutes then bring out and set them inside the skewers.

Cook the shrimp on hot coal for 2 minutes on each side and 1 minute before you take the shrimp off the grill, spread the mixture on the top that you saved before.
Nutrition
Nutrition Facts
Redrock Grilled Shrimp Longhorn Recipe
Amount per Serving
% Daily Value*
* Percent Daily Values are based on a 2000 calorie diet.
Wrapping Up
This amazing recipe is the treasure of Longhorn steakhouse which is a wonder item you should never miss. But when the recipe is in your hand, why not enjoy it at home? Enjoy the recipe and let your friends and family taste the wonderful item.