H. J. Heinz is a food processing company that was established in 1869 in America. The founder of this company was Henry J. Heinz. Among all other food products, the Heinz mix was one of the popular items to make a quick filling.  
For sandwiches or any other similar items. Adding the Heinz mix to any recipe would double the taste. However, it has been not that available on the market. 
So, here's the homemade Heinz sloppy joe recipe guide for you. Making this homemade Heinz sloppy joe will get you the exact taste of this old-fashioned flavor and taste.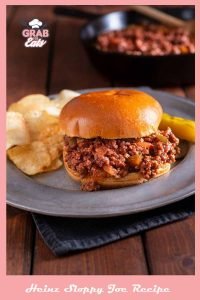 Heinz Sloppy Joe Ingredients
The Ingredients that we're going to instruct are the must-have ingredients. If you can add all the ingredients with accurate measurement, your recipe will be delicious as same as the original Heinz sloppy joe.
Ground Beef (1 LB)
You need ground beef as the key ingredient. We'll take cooked ground beef. But you can take the uncooked beef as well. Taking the cooked ground beef will lessen your cooking time. So, we suggest cooking the beef before making your Sloppy Joe mix.
Butter (2 Tbsp)
To get a rich color and a creamy texture, add butter instead of cooking oil. In this case, you need 2 tbsp of melted butter. 
Chopped Yellow Onion (1 Cup)
You need a cup of chopped onion. Now it's your choice whether to take the yellow onion or the white onion. However, the yellow onion comes with a more mildly sweet flavor compared to the white onion. Adding this onion will increase the taste. So, we prefer adding yellow onion to today's dish. 
Minced Garlic (3 Cloves)
You'll also need minced garlic to increase the flavor. Take 3 cloves only and make a paste of them. 
 Minced Bell pepper (⅓ Cup)
When you want to add additional zing, and flavor to your sloppy joy mix, you must add bell pepper. Choose any color of bell pepper like yellow, red, or green. All of them are super flavorful to increase the taste and heat. We'll take ⅓ cup of chopped bell pepper.
Tomato Paste (1 Tbsp)
Adding tomato paste to this recipe will increase the taste and also will thicken the mixture. So, you'll require 1 tbsp of tomato paste.
Ketchup (⅔ Cup)
Like tomato paste, you'll also need to take ketchup of ⅔ cup. It's also a thickening agent and will increase the taste and flavor of your recipe.
Water (⅓ Cup)
A little amount of water you'll need to cook the ingredients. Take ⅓ cup of water. Adding more will make the mixture runny. So, ensure you take the right amounts of water. 
Sugar (1 Tbsp)
The sloppy Joe mixture comes with a bit of sweet flavor. Thus, adding 1 tbsp of sugar will make a different taste. Try taking brown sugar if available in your kitchen. It will get a nice color.  But, white sugar will also be perfect to add.
Worcestershire Sauce (½ Tsp)
As a flavor-influencing agent, you also can add Worcestershire sauce. Adding only ½ tsp will bring you a great result. 
Chili Powder (¾ Tsp)
The sloppy joe mix recipe is about a combination of sweet and spicy tastes. So, you'll have to add some of the chili powder. Take ¾ tsp of these ingredients. 
Kosher Salt (½ Tsp)
Kosher salt comes with much more saltiness compared to regular salt. So, if you choose kosher salt, you must lessen the amount. Here, you'll require ½ tsp only. Adding kosher salt will help you get an amazing taste in your recipe. However, if you don't have kosher salt, apply 1 tsp of white salt.]
Toasted Buns (1 Packet)
Take a packet of toasted buns and chip them into two parts. Brush the buns with melted butter. To give an extraordinary taste and texture to the recipe, these buns will come in handy. Cut each bun into two pieces in the middle. 
Red & Black Pepper (¼ Tsp)
You should add red pepper powder and black pepper powder. Again, it will be all right to substitute the red pepper powder with red pepper flakes. It will bring a nice aroma to your dish. 
Yellow Mustard (1 Tsp)
To get a strong flavor, add 1 tsp of yellow mustard. It will bring an extraordinary flavor to your dish. 
How to Make Heinz Sloppy Joe?
You need only 4 simple steps to make this recipe. It's extremely hassle-free to prepare teh ingredients. Due to its trouble-free cooking process, anyone from beginning to pro can give it a try. So, let's see how to make your favorite Heinz sloppy joe recipe-
Step-1
Heat butter and olive oil in a skillet. Ensure the skillet is large enough to hold all the ingredients at a time. Keep the heat at medium-high. This time add yellow onion, bell pepper, and garlic paste. Saute them for 5 minutes. 
Step-2
Add ground beef when the butter and onion mixture is sauteed well. Let the beef saute for 5 minutes. Then add tomato paste, ketchup, brown sugar, Worcestershire sauce, chili powder, mustard, kosher salt, red pepper flakes, black pepper, and water. 
Continue stirring to mix all the elements together and cook for 10 minutes. This time keep the heat at medium-low. Transfer the beef to a bowl and set it aside. 
Step-3
Now take the divided toasted buns and put the beef mixture between two pieces of buns. These will look as same as burgers.
Step-4
Your Heinz sloppy joe recipe is ready. Add any of your favorite sauces or cream filling with it and serve. You also can serve side dishes to make your time more fun. 
Best Side Dishes to Serve With 
Potato Chips
Baked Beans
Tater Tots
Mac & Cheese
Potato Salad
Sweet Potato Hash
Macaroni Salad
Coleslaw
Stuffed Peppers
Onion Rings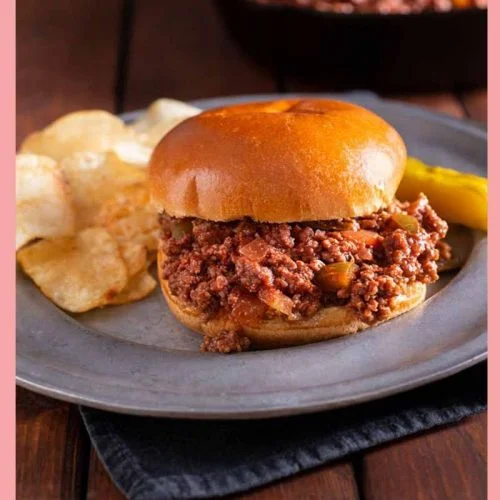 Heinz Sloppy Joe Recipe || Make Your Weekend Night's Dinner
Go for Heinz Sloppy Joe recipe when you're in need of a special arrangement. Also, to make your weekend night more delightful, the Heinz sloppy joe can be your best choice.
Print
Pin
Ingredients
1

LB

Ground Beef

2

Tbsp

Butter

1

Cup

Chopped Yellow Onion

3

Cloves

Minced Garlic

⅓

Cup

Minced Bell pepper

1

Tbsp

Tomato Paste

⅔

Cup

Ketchup

⅓

Cup

Water

1

Tbsp

Sugar

½

Tsp

Worcestershire Sauce

¾

Tsp

Chili Powder

½

Tsp

Kosher Salt

1

Packet

Toasted Buns

¼

Tsp

Red & Black Pepper

1

Tsp

Yellow Mustard
Instructions
Warm butter and olive oil in your large skillet at medium-high heat

Saute yellow onion, bell pepper, and garlic paste for 5 minutes 

This time add ground beef and saute for 5 minutes

Now add all the remaining ingredients and cook with water for 10 minutes

Take the toasted buns and put the beef mixture between two pieces of buns
Tips
If you like spiciness, add 1 tsp of cayenne pepper to the beef mixture.

Adding chili sauce will also make the sloppy joe spicy.

Add mayonnaise to the beef mixture to give it a thick texture and make more delicious.
Nutrition
Nutrition Facts
Heinz Sloppy Joe Recipe || Make Your Weekend Night's Dinner
Amount per Serving
% Daily Value*
* Percent Daily Values are based on a 2000 calorie diet.
Conclusion
When you need a light dinner or a great snack, check out the homemade Heinz sloppy joe recipe. Its delicious taste and flavor will make your day. This versatile dish is ready to be served for several purposes. 
You can choose it for special day celebrations or for regular days. It's a good source of light dinner or heavy snacks. Make your tea time more fun with this Heinz sloppy joe dish.