Patti Labelle Collard Greens Recipe is a popular southern-style veg recipe combined with meat. Because of its savory flavor and tasty blast, it is now popular worldwide. Cooking this recipe is really fun. Tearing the greens and chopping the meats.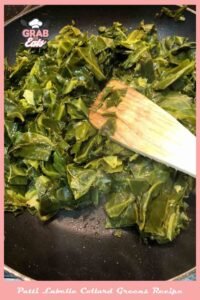 My 9-years-old boy always helps me in cooking and he loves cutting vegetables and fruits. Last autumn, I had prepared this dish for the first time and everyone in my family loves the dish. Also demands to have these healthy tasty sides with basmati rice or with cashew nut salad.
Mean Greens Ingredients that you will need are:
1 Lb of Collard Greens
1 Lb of Kale
1 Lb of Turnip Greens
1 Lb of Mustard Greens
¼ Cup of Medium Onions, Finely Chopped
1⁄4 Cup of Extra Virgin Olive Oil
1 1⁄2 Lbs of Turkey Wings, Smoked
a Pinch of Kosher Salt, for Seasoning
¼ Tsp of Freshly Ground Black Pepper
1/3 Cup of Jalapenos, Nicely Seeded and Chopped 
Methods of Preparing Patti Labelle Greens Step by Step:
Washing and Cutting the Greens:
Step 1: This is most probably the easiest method of washing any vegetables or greens. First of all, fill your kitchen sink with water and let the greens(1 lb of collard greens, 1 lb of kale, 1 lb of turnip greens, 1 lb of mustard greens) soak for a few minutes.
Step 2: Wash them finely and if needed wash them again. When you lift the greens from the sink, any grit that may have fallen to the bottom will sink to the bottom.
Step 3: Now, using hands or knife cut the greens into large pieces. From the bottom cut off the rough stems.
Step 4: Transfer the greens to a large bowl and don't wash. This is prohibited, especially using colander for washing.
Cooking the Patti Labelle Greens:
Step 1: Bring out a large saucepot and add ¼ cup of onions, ¼ cup of extra virgin olive oil, and 1/3 cup of jalapenos.
Step 2: Over high heat, bring the mixture to a boil.
Step 3: Softly stir the jalapeno-onion mixture to the greens.
Step 4: Now, allow the batch to wilt before you add the next batch.
Step 5: Carefully, place the 1 ½ lbs of turkey wings between the greens.
Step 6: Adjust the seasoning with a pinch of kosher salt, and ¼ tsp of freshly ground black pepper or depending to your taste.
Step 7: Cover the saucepot with a lid, reducing the heat to medium-low.
Step 8: Stirring often, cook the mixture until you notice the greens are translucent. This won't take more than 30 minutes.
Step 9: Discard bones and skins from turkey and chop the meat finely.
Step 10: Transfer the chopped meat to the saucepot and cook it again for 5 minutes.
The best southern collard greens recipe is prepared just within 45 minutes. Serve hot and enjoy!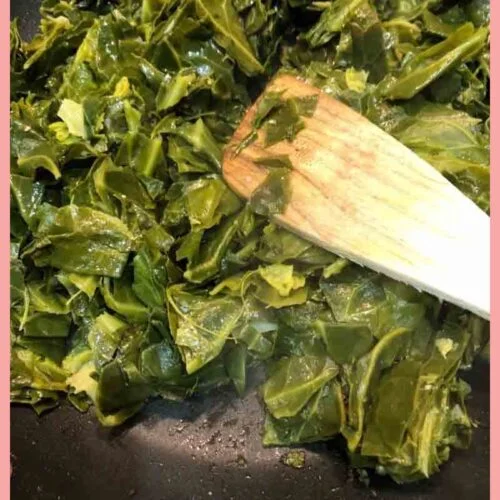 Patti Labelle Collard Greens Recipe
Check out this classic patti labelle collard greens recipe with very delicious smoked turkey wings for flavor. Must give it a try!
Print
Pin
Ingredients
1

lbs

collard greens

1

lbs

kale

1

lbs

turnip greens

1

lbs

mustard greens

¼

Cup

Medium onions

 (finely chopped)

1⁄4

Cup

extra virgin olive oil

1 1⁄2

lbs

turkey wings

1

pinch

Kosher salt

¼

tbsp

Freshly ground black pepper

1/3

Cup

Jalapenos
Instructions
Wash and cut the greens finely.

In a large saucepan add oil, onion, and jalapenos.

Stir in the greens and let them cook.

Adjust the seasoning and after 30 minutes, more or less, you will have wilted greens.

Chop the meat of turkey and add to the prepared greens.

Cook for a while and serve hot with your favorite meal.
Tips
In order to transfer the greens to the serving dish, always use a slotted spoon.

You should stir them often for this recipe. Also, always have an eye for not sticking at the bottom of the saucepan.

To prepare this recipe you need to know how to cut the greens nicely. Besides, the whole cooking process is pretty easy However, it is not necessary to strip collards of their tender young leaves. But washing before cutting the greens is a mast task.  By stacking 6-8 leaves together, rolling them up, and slicing them into 1/2-inch slices.
Nutrition
Nutrition Facts
Patti Labelle Collard Greens Recipe
Amount per Serving
% Daily Value*
* Percent Daily Values are based on a 2000 calorie diet.
Conclusion:
Enjoy patti labelle neck bones with your family members and friends in a small get-together. If you are still looking for an amazing recipe, search no more! After preparing this recipe you will completely understand how tasty this recipe is. Also, share this recipe with your friends to let them know about this amazing recipe.
You May Also Like: