When you hear a restaurant is operating its business for over 1000 years, your gut will drag you there to taste their food at least once in your lifetime. Cattlemen's Steakhouse is no different. This has been Oklahoma's favorite restaurant forever and out of all the delicious cattleman's steakhouse recipes, one item that they truly mastered is Cattlemen's Steakhouse House Dressing Recipe. This dressing can make you fall in love with the usual, boring salad even if you are not a big fan. But the twist is, it is so simple to make you can just go through your pantry and prepare this dish in under 10 minutes. 
So, why procrastinate? Let's jump to the recipe.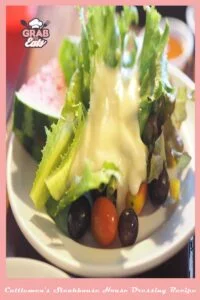 Ingredients for the Cattleman's House Dressing
Mayonnaise- what makes the creamy garlic salad dressing unique is the basic ingredient of dressings which is mayonnaise. You are at liberty to use homemade or store-bought mayonnaise. Just make sure it is fresh and has a creamy texture. For this cattlemen's steakhouse house dressing recipe, you will need 1/4 cup of mayonnaise. 
White vinegar – white vinegar is great to tone down the sweetness and incorporate nicely with the dressing. Here 1 tsp of white vinegar will be required. 
Granulated Sugar- this will uplift the taste of the dressing and balance out the ingredients. Add 1 tsp of granulated sugar. 
Garlic- One thing you can't miss from the cattlemen's steakhouse house dressing recipe is garlic. The garlic-y texture is fundamental to the recipe. You can opt for chopped garlic or powder form. But if you want to make the dressing creamy, the powder form is advantageous. You will need 1 tsp of garlic powder. 
Worcestershire sauce- For this steakhouse salad dressing, Worcestershire sauce is a must. No salad dressing is complete without it since it adds deep flavor to uncooked salads. You will need 2 tsp of this sauce. 
Milk- Yes, milk is not so popular salad dressing ingredient. That is what makes cattleman's house dressing surprisingly special. Depending on your preference, add 2/3 cup to 1 cup of milk. 
Cheddar cheese: Extra cheese can never go wrong. For this recipe, the cheese should be shredded nicely. You will need 1/2lb of cheddar cheese. 
How to Prepare Cattlemen's Steakhouse House Dressing?
Step 1: In a bowl, combine all the ingredients minus the cheddar cheese nicely. 
Step 2: Lastly, add the cheese and stir well.
Step 3: Refrigerate for at least 4 hours. 
Step 4: Sprinkle over some more cheddar cheese and paprika before serving.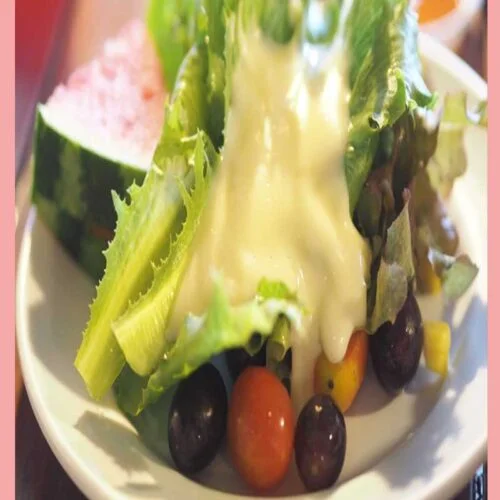 Cattlemen's Steakhouse House Dressing Recipe
Check out this great condiment Cattlemen's Steakhouse House Dressing Recipe for salads and dips. This is a very healthy choice and very easy to prepare.
Print
Pin
Ingredients
1/4

Cup

Mayonnaise

1

Tsp

White vinegar

1

Tsp

Granulated sugar

1

Tsp

Garlic powder

2

Tsp

Worcestershire sauce

2/3

Cup

Milk

1/2

Lb

Cheddar cheese
Instructions
Mix all the ingredients together except cheese.

Add cheese at last and stir well. 

Serve them with a sprinkle of cheddar cheese and paprika.
Nutrition
Nutrition Facts
Cattlemen's Steakhouse House Dressing Recipe
Amount per Serving
% Daily Value*
* Percent Daily Values are based on a 2000 calorie diet.
Sum up:
Salad has the misconception of being bland and boring. So, to erase this misconception, salad dressings made their way into this world. Even though many flavors and options are available nowadays. But authentic salad dressing has still their fame and popularity. Cattlemen's Steakhouse house dressing recipe is one of the few that still is operating triumphantly all across Oklahoma for a reason. So, must try out this creamy garlic salad dressing recipe at home and enjoy it with any kind of salad. 
Bon appetite!
You May Also Like:
Sweetie Pies Cornbread Dressing Recipes