The L&L katsu sauce is a famous side dish to enjoy chicken. No worries if you have no L& L restaurants nearby. We'll share the L &L katsu sauce recipe guide. It's easy to make and will take only a few minutes to prepare. Its tangy, lightly sweet, and savory taste will amaze you. 
The L&L chicken katsu sauce differs from the ordinary katsu sauce in its taste and flavor. In most cases, the simple katsu sauce is made of sugar, oyster sauce, and tomato ketchup. 
However, L & L apply some more unique ingredients that make their sauce different from any other restaurant's katsu sauce.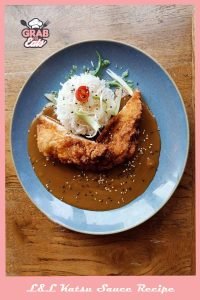 L&L Katsu Sauce Ingredients
Although the L &L apply some different elements, these all are easy to find. You can use the store-bought ingredients. And, as there's no hand-made ingredients are used, it will take a little time to prepare your katsu sauce. Check out the ingredients list-
Dwarf Chester (¼ Cup)
The first element that you need is the dwarf Chester. Take ¼ cup of this liquid. Take from any of the brands that you rely on the most.
Sugar (1 Cup)
The L &L katsu barbeque sauce is a full-sweet sauce recipe. So, you'll be required to have 1 cup of white sugar. If you want to add some more flavor, add the granulated sugar. 
Ketchup (1 Cup)
To get a combination of sweet and tangy flavors, add ketchup of 1 cup to your sauce recipe. 
Salt & Black Pepper (1 Tsp)
You'll also need 1 tsp of salt in your sauce. It will make a good balance between sweet and salty flavors. Also, take 1 tsp of black pepper to add a good aroma. 
Garlic Powder (½ Tsp)
L & L prefers adding garlic powder to their katsu sauce recipe. It will bring a different strong flavor. As a result, having this sauce with chicken will let you enjoy each of your bites. So, take ½ tbsp of garlic powder. However, don't add the raw minced garlic to this sauce. 
Tabasco Sauce (1 Tbsp)
Adding Tabasco sauce will develop a complex flavor. But this ingredient is optional. Skip the Tabasco sauce if you don't like this strong flavor.
Chicken Bullion (1 Cube)
Take a tiny chicken bouillon cube to lessen your sauce-making time. Take 1 little cube. You also can substitute it with chicken broth as well. In that case, you should make teh chicken broth before you step forward for the katsu sauce. Or, making the sauce will require lots of time.   
How to Make L&L Katsu Sauce?
If it's your first time making the L &L katsu sauce, you will enjoy making it. Because it requires only a simple mixing and boiling process. Explore how-
Step-1
Take a mixing bowl and put dwarf Chester, ketchup, sugar, and salt. Dissolve them altogether. Ensure the sugar and salt are mixed well.
Step-2
When these four elements are mixed well, add black pepper, garlic powder, and Tabasco sauce. Give them a good stir. All the ingredients should be dissolved properly. 
Step-3
This time take a saucepan and add 1 ¼ cup of cold water, and drop the little cube of chicken bouillon.  Since you don't use the chicken broth, you'll need to boil the chicken bouillon cube. It will take as same as the chicken broth flavor. Let the cube boil for 5 minutes. 
Step-4
Now take the bowl of sauce mixture and add it to the boiled water with the chicken bouillon. Keep the heat medium-high. Keep stirring for 10 minutes and let it become thick. 
Step-5
Your L&L Katsu sauce recipe is ready. 
Best Side Dishes to Serve With 
Steamed Rice with Chicken 
Sandwich 
Hamburgers
Chicken Wings
Baked Potatoes with Fried Chicken
Roasted Spinach 
Baked Vegetables
Cabbage Slaw with Grilled Jalapeno
Spicy Carrot Salad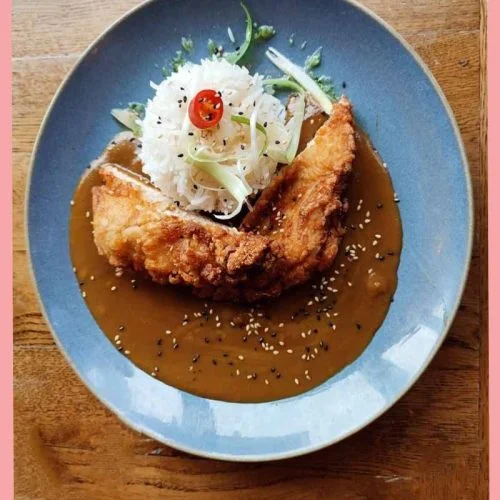 L&L Katsu Sauce Recipe || Enjoy Your Crunchy Chicken-Based Meals
When crunchy and creamy chicken pieces  are in your main course, enhance the taste with the sauce. In this case, the L&L katsu sauce recipe goes well with chicken. 
Print
Pin
Ingredients
¼

Cup

Dwarf Chester

1

Cup

Sugar

1

Cup

Ketchup

1

Tsp

Salt & Black Pepper

½

Tsp

Garlic Powder

1

Tbsp

Tabasco Sauce

1

Cube

Chicken Bullion
Instructions
Mix all the ingredients in a mixing bowl

Put your saucepan on the stove and add water and bouillon cube in the water

Now add teh sauce mixture in the water 

Boil for 10 minutes to thicken the sauce mixture
Tips
Add Italian seasoning to the katsu sauce will increase its taste and flavor

Add red chili flakes to get an extraordinary aroma 

If you like to have spiciness, add few chopped pieces of jalapenos 

Adding 1 tsp of lemon zest will give a lemon flavor 
Nutrition
Nutrition Facts
L&L Katsu Sauce Recipe || Enjoy Your Crunchy Chicken-Based Meals
Amount per Serving
% Daily Value*
* Percent Daily Values are based on a 2000 calorie diet.
Conclusion
Usually, the chicken katsu sauce delivers a Japanese flavor profile. It suits various delicious food items to match with. If you like the katsu sauce, you must like the L &L katsu sauce as well. 
When you're not in the situation to go to L& L restaurant to enjoy their food with delicious sauce recipes, try making it at home. Making the L &L katsu sauce recipe at home is as easy as making the spicy dip. Take the required ingredients and boil them in water. Your katsu sauce will be ready. 
Because the L &L makes their katsu sauce by applying a few unique ingredients. Thus it tastes more delicious than the ordinary katsu sauce.
Explore These Too: