The Bob Evans Dinner Roll Recipe is a small round loaf of bread usually served as a side dish with a meal. The name "dinner rolls" comes from the fact that they were originally made to be gulped at dinner. Dinner rolls were created at a time when other foods were too oddly shaped or soft to be soon passed from person to person.
You can make dinner rolls that are both soft and fluffy by following this easy recipe for dinner rolls. We can make these quick dinner rolls with simple ingredients.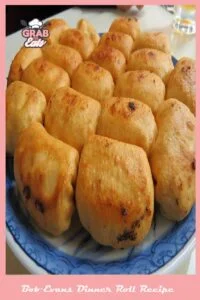 Know About the Recipe and Ingredients
Dinner rolls are the best side dishes that would outshine any type of meal. Preparing them at home is like ultimate satisfaction. 
Yeast: 2 packages of active dry yeast. It is used in baking because it helps the dough rise and gives it a good flavor.
Sugar: 1/4 cup granulated sugar. Granulated sugar imparts sweetness without altering the color of baked goods.
Salt: 2 teaspoons of salt. It's very noticeable in the food's flavor. It balances flavors and enhances fragrances.
Egg: 2 eggs, beaten. Eggs improve the dish in many ways, including texture, richness, volume, taste, and color.
Milk: 2 cups milk, scalded, refrigerated to lukewarm, divided. Milk has many essential roles in baking.
Vegetable: Scant 1/4 cup vegetable shortening or margarine. Vegetables are a good source of nutrients.
Flour: About 5 cups of all-purpose flour. Flour is essential to all baked goods.
Butter: Melted butter. It enhances and complements the flavors of the food. 
How to Make Bob Evans Yeast Dinner Roll?
Step 1: Mix yeast with half a cup of milk. Mix the rest of the milk, sugar, salt, eggs, shortening, and 5 cups of flour. Mix until the dough is smooth, adding more flour as needed to make it easy to work with. 
Step 2: To create a smooth and elastic dough, place the ingredients on a floured board and knead for 5 minutes.
Step 3: Put it in an oiled bowl and turn it lightly soft-sided up.
Step 4: Place in a warm area, cover, and let rise until doubled in size.
Step 5: Roll up the dough. Dip it in melted butter and cover it with it. Put it in greased muffin tins or space them on baking sheets by about 3 inches. Let it rise again, and bake for 20-30 minutes at 325 degrees F.
Step 6: Apply more melted butter and brush it in.
Potato Rolls
Some wheat flour in a potato roll is replaced with potato flour, a Pennsylvania Dutch tradition. This makes the roll sweeter and softer than regular white rolls. Potato flour is made by drying potatoes and grinding them into flakes or granules.
Ingredients You Need:  
2 ¼ teaspoons active dry yeast
¼ cup of warm water
1 cup scalded milk, cooled
¼ cup vegetable shortening
½ cup prepared mashed potatoes
1 egg, beaten
¼ cup white sugar
1 ½ teaspoons salt
4 ½ cups all-purpose flour
How to Make Potato Rolls?
Step 1: In a bowl, mix the yeast and the warm water. Let it sit for about 5 minutes until the yeast gets soft and makes a creamy foam.
Step 2: Add the yeast mixture and egg to milk, mashed potatoes, shortening or butter, sugar, and salt. Blend 2 cups of flour into the liquid milk. Add 2 cups of flour and mix until a soft dough forms.
Step 3: Knead the dough for 7 minutes on a lightly floured surface. Turn the dough once to butter on all sides. The dough needs an hour to rise, so cover it and set it somewhere warm.
Step 4: Make a ball out of the dough by punching it down and shaping it. Leave the bowl covered for 10 minutes.
Step 5: Adjust the temperature in the oven to 400 degrees F. (200 degrees C). Spread oil on two baking sheets.
Step 6: Make 24 rolls from the dough and lay them on the baking sheets; let them rise for 25–40 minutes, or until the dough springs back when touched on the side with a fingertip.
Step 7: Set the timer for 10–12 minutes and bake the rolls until they are golden brown.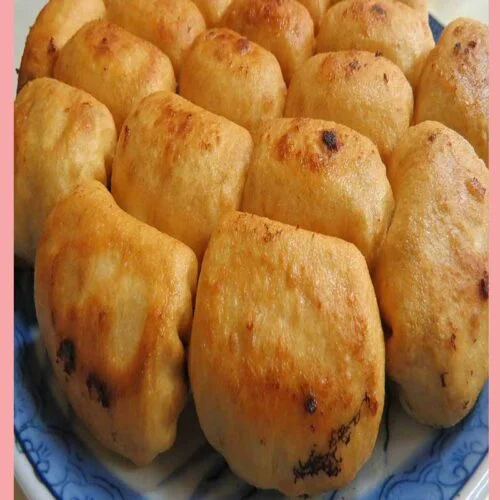 Bob Evans Dinner Roll Recipe
The Bob Evans Dinner Roll Recipe is a small round loaf of bread usually served as a side dish with a meal. You can create soft, fluffy dinner rolls using this simple recipe.
Print
Pin
Ingredients
2

packages

Active dry yeast

1/4

cup

Granulated sugar

2

tbsp

Salt

2

Eggs

1/4

cup

Vegetable shortening or margarine

2

cups

Scalded lukewarm milk, divided

5

cups

All-purpose flour

Melted butter
Instructions
Mix yeast with milk. Mix milk, sugar, salt, eggs, shortening, and 5 cups of flour. Beat until smooth, adding flour as needed for easy handling

Move the dough to a board dusted with flour and knead it for about five minutes until it is smooth and elastic. Turn it oiled side up in a basin. Allow it to double in size when covered and rising in a warm place

Roll it up and brush it with melted butter. Set them up in greased muffin cups on oiled baking pans, spaced out by 3 inches. Continue baking it at 325 degrees for another 20-30 minutes. Apply more melted butter and brush it in
Tips
If the dough is too sticky to the touch, add extra flour, 1 tablespoon at a time.
Spread a lot of melted butter on the rolls before putting them in the oven to warm them up. As the rolls warm up, they will soak up some delicious flavour and become moist and soft.
After brushing the rolls with melted butter, sprinkle them with finely chopped fresh herbs. Use what you already have. Rosemary, thyme, sage, and oregano are all excellent choices.
Adding a touch of flaky sea salt right before serving can enhance the flavour of almost any dish.
Nutrition
Nutrition Facts
Bob Evans Dinner Roll Recipe
Amount per Serving
% Daily Value*
* Percent Daily Values are based on a 2000 calorie diet.
Final words: 
The best dinner roll recipe ever, these rolls are soft and fluffy and double brushed with butter! Once you try these Homemade Dinner Rolls, you won't want to make or eat any other rolls again. I could be making anything for Thanksgiving, but I've settled on these perfect, tantalizing pillows of deliciousness. And soon, you will have the chance to try it out for yourself! I've included tips on preparing them in advance, storing them in the freezer, and even tweaking the flavour to your liking!
You May Like Also: