Anna Olson Chocolate chips cookies recipe is a very famous recipe. Especially since the recent pandemic hit, the majority of people were stuck at home and were trying out new recipes every day. Cookies and other baking dishes were the most popular. 
Much to their surprise, chocolate chip cookies seemed to be the easiest to bake and most enjoyable out of all the other experimental baking experiences. The cookie 2 secret element of Anna's recipe is the cornstarch and the use of two types of sugar ingredients.
Without further ado, here is the recipe for your convenience!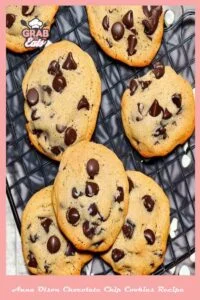 Ingredients
Butter: ½ cup unsalted butter. It is better if you start using the butter when it normalizes down to room temperature. It should be perfect for mixing the other ingredients and make it easier to combine them well for a perfect texture.
Brown Sugar: ½ cup of light brown sugar. Brown sugar has a different taste than regular sugar. The slight difference in taste makes a huge difference in the entire baking process. 
Granulated Sugar: ½ cup of granulated sugar. This type of sugar is used for a more generic flavoring of sweetness in baking.
Egg: 1 egg. The egg should normalize to room temperature, just like the unsalted butter.
Vanilla Extract: 1 teaspoon of vanilla extract. Vanilla extract enhances the flavor of the cookies. 
Flour: 1 ¼ cups of all-purpose flour. Flour is the basic element of these cookies and all-purpose flours are very useful and versatile. 
Cornstarch: 1 tablespoon of cornstarch. Cornstarch is a unique element used in this particular recipe because it provides that extra crunch even after the cookies have cooled down.
Baking Soda: ½ teaspoon of baking soda. Baking soda starts the cooking process and combines the ingredients into baking properly and evenly.
Salt: ½ teaspoon of salt. Salt is always necessary for any dish to bind the flavoring properly.
Chocolate Chips: 1 ½ cups of milk or dark chocolate chips. You can have your choice of chocolate chips to make the perfect cookies that you would love to have and share with people, as you wish.
Pecans: 1 cup of pecans. Pecans are an additional element that boosts the nutty earthy flavor of the homemade cookie-baking experience. 
How To Make Anna Olson Chocolate Chip Cookies
Step 1: By hand, thoroughly combine the butter, brown sugar, and granulated sugar. Mix in the egg and vanilla extract.
Step 2: Sift the flour, cornstarch, baking soda, and salt in a separate basin. Stir this into the butter mixture until combined.
Step 3: Combine the chocolate chips and pecans in a mixing bowl.
Step 4: Scoop spoonfuls of dough (about 2 tablespoons each time) with a small ice cream scoop or a tablespoon, shape into balls, and place on a parchment-lined baking tray or plate.
Step 5: Chill the scooped cookies for at least an hour, or freeze them once cooled for later baking.
Step 6: Preheat the oven to 325 degrees Fahrenheit. Place the cooled scooped cookies on baking pans lined with parchment paper, allowing 3 inches between them.
Step 7: Bake for 20-25 minutes, or until the edges are golden. Cool the cookies on a baking sheet. Serve warm.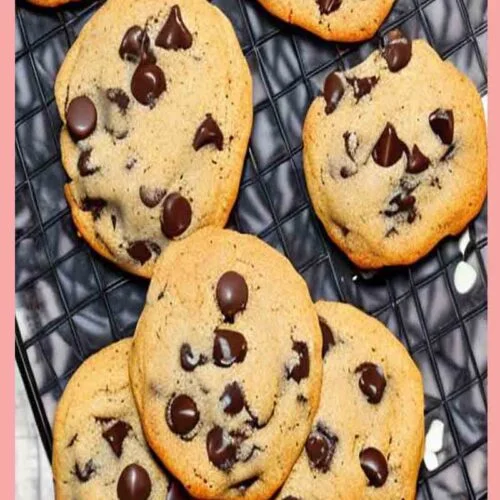 Anna Olson Chocolate Chip Cookies Recipe
Craving some freshly baked cookies out of the oven? Why not try baking them yourself? Try out this delicious Anna Olson Chocolate chip cookies recipe at home today!
Print
Pin
Ingredients
1/2

Cup

unsalted butter

At room temperature

1/2

Cup

Packed light brown sugar

1/2

Cup

 Granulated sugar

1

Egg

1

Tsp

Vanilla extract

1 ¼

Cups

All-purpose flour

1

Tbsp

Cornstarch

1/2

Tsp

Baking soda

1/2

Tsp

Salt

1 ½

Cups

Milk or dark chocolate chips

1

Cup

Pecans
Instructions
Beat the butter with the brown sugar and granulated sugar together well by hand, then beat in the egg and the vanilla.

Beat in the flour with cornstarch, baking soda, and salt.

Stir in the chocolate chips and pecans and stir until blended.

Chill the scooped cookies for at least an hour, or once chilled, the cookies can be frozen for baking later. 

Scoop spoonfuls of dough & shape them into a ball and place them onto a parchment-lined baking tray or plate.

Bake for about 25 minutes, until browned around the edges. 

Serve warm with milk or ice cream.
Tips
When baking anna cookies, the dough has been frozen, arrange the frozen cookies on the baking tray and let them thaw for 20 minutes at room temperature before baking as above.

Since this is a chocolate chip cookie with cornstarch, you can warm them every time when you want to have them and it will still have a nice crunch to them. 

You can store the cookies in a glass mason jar that will taste fresh for up to 3 weeks.
Nutrition
Nutrition Facts
Anna Olson Chocolate Chip Cookies Recipe
Amount per Serving
% Daily Value*
* Percent Daily Values are based on a 2000 calorie diet.
Final Words
Hopefully the instructions are easy enough for you to follow to get the perfect results you desire. These chocolate chip cookies are hard to resist from tasting and once you taste them, it is hard to not keep making them and keeping them stored as a delightful treat!
You can put this out in front of guests, especially during the upcoming holidays. Children are bound to love stacking up these cookies because not only do they taste good, the extra crunch sets them apart from normal cookies. So, what is there not to like? Happy baking!
You May Like These Cookie Recipes:
Wegmans Chocolate Chip Cookie Recipe